Goth Chick News: Cosplayers, an Author Exclusive, and a Zombie Tramp, or Our Trip to C2E2 2022
Goth Chick News: Cosplayers, an Author Exclusive, and a Zombie Tramp, or Our Trip to C2E2 2022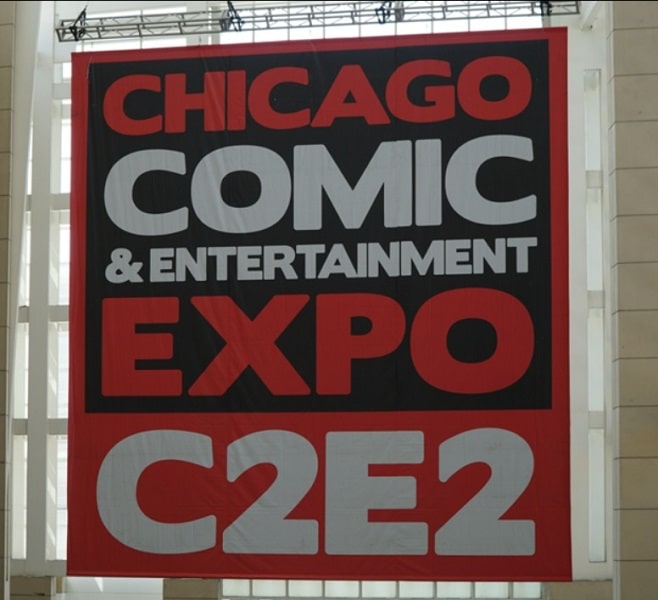 Two weekends ago, Chicago's largest convention space, McCormick Center, played host to over 100K attendees to the 12th annual Chicago Comic and Entertainment Expo (C2E2 for you cool kids), and I am once again reminded why Chicago ranks in the top cities for people-watching. Amidst the oodles of MCU, Star Wars, and anime merchandise, aisles of comic illustrators (many of whom appeared to have a near cult-like following) and celebrity autograph queues, mingled individuals who seemed to have ample expendable income for use on high-end costumes.
Though the mother of all cosplay costume contests occurred on Saturday (the Cosplay Central Crown Championships), it didn't stop the Friday attendees from turning out. In fact, we learned that plenty folks have 3-day passes and appear in a different persona each day. And though I could have easily grabbed a spot on the floor opposite the entrance and spent the day people-peeping, Black Gate photog Chris Z and I waded in with the rest of the press at the opening bell on Friday morning.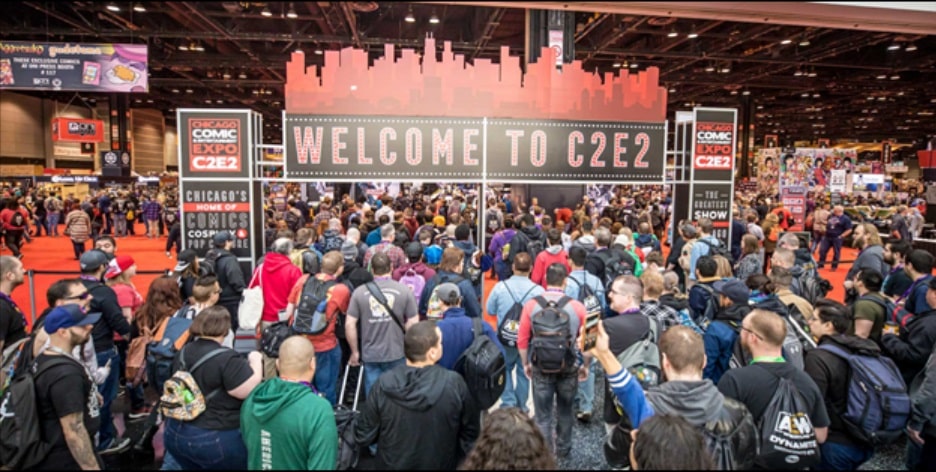 With 360 vendors to explore, one day is definitely not enough for the comic aficionado. And though I am far from conversant in this particular artform, I do have a collection of my favorite comics. Plus, I was entirely awestruck at the sheer magnitude of ways to be parted from your money, if comic fandom is your thing. However, one of the "E's" in C2E2 stands for "entertainment" meaning there was plenty to gape at besides comics. Unfortunately, the majority of the celebrity guests appeared on Saturday and Sunday, so there are no interesting interviews to tell you about this year. However, Chris Z and I have singled out some favorite things we wanted to share.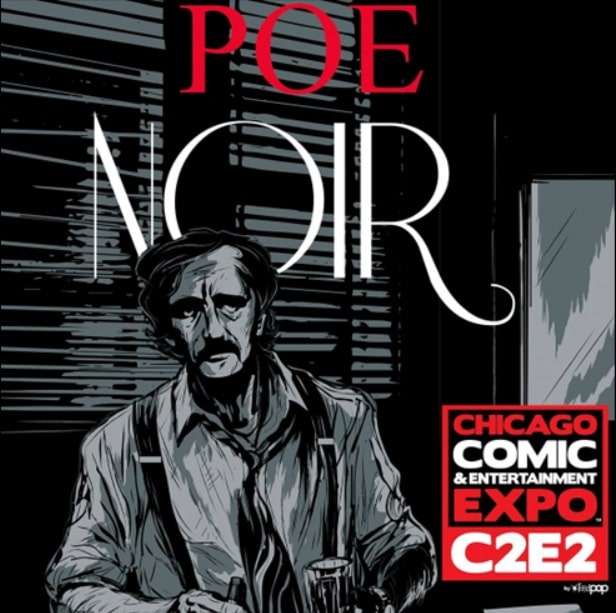 Poe Noir the Graphic Anthology: Any reference to Edgar Allen Poe is a sure way to grab my attention, and this unique twist on Poe's classic tales definitely warranted a closer look. Writer Tim Zajac along with illustrators Graham Sisk, Beverly Arce, and Maeve Travis have reimagined stories such as Telltale Heart and The Raven in the gritty, B&W cinematic phenomenon known as film noir.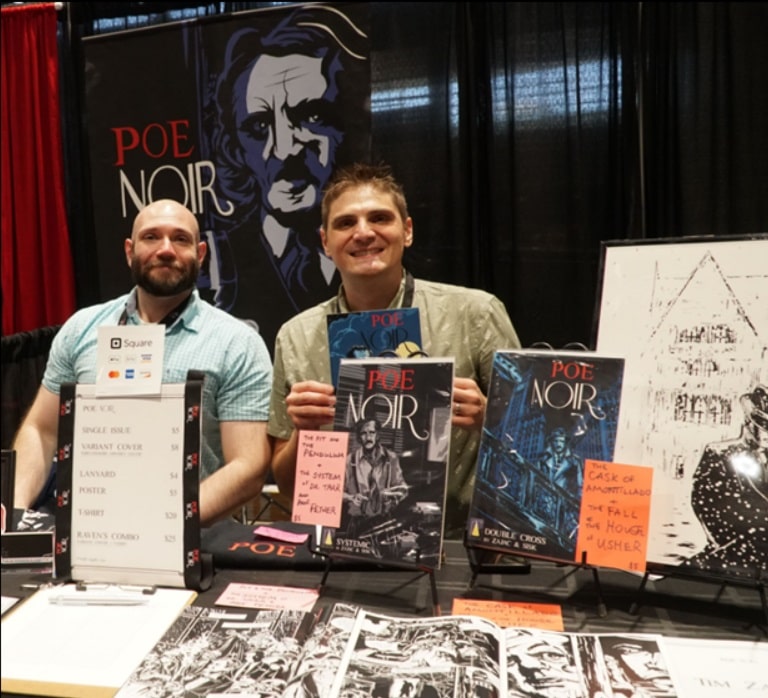 We particularly loved how the story lines were definitely recognizable as Poe stories, yet were spun up in new ways. For example, "The Fall of the House Capone" is Zajac's take on Poe's "The Fall of the House of Usher." Zajac imagines what life might have been like growing up under mafia influence and the gangster philosophy of problem-solving. Al Capone's "house" is his entire criminal empire and Zajac takes the reader through that house's rise and fall. The artwork here truly wonderful and the series is definitely one of my new favorites.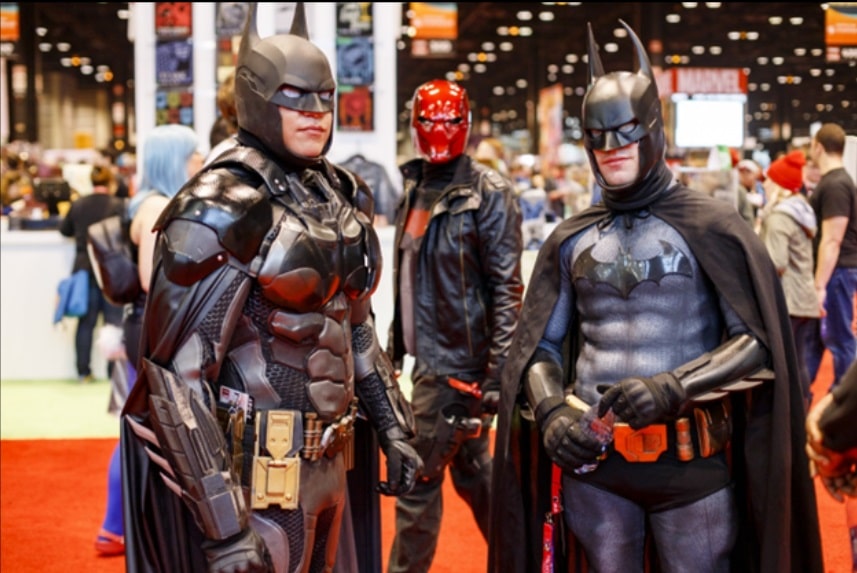 C2E2 Batmen
Comic Writer Extraordinaire, Dirk Manning: Setting up in his usual booth in Artists Alley in aisle H, position 8 (H8, get it?) Goth Chick News favorite Dirk Manning's booth was six people deep as usual. We first met Manning back in 2011, courtesy of his nationwide tour promoting Nightmare World, his horror comic series. As someone who spent a significant amount of my childhood reading contraband horror stories by flashlight under the covers, Manning's work struck a chord, with its vintage-look illustrations and old-school storylines. And it's no surprise I'm not alone. Manning spends a good part of each year making appearances at conventions and meeting his raving fans who have helped him raise over $400K in pre-sales for his work, via Kickstarter. Manning's supernatural comedy Twiztid Haunted High-Ons was nominated as "Best Humor Comic" in 2020, and his heartfelt horror anthology Buried but Not Dead was nominated for "Best Original Graphic Novel" in 2021. Most recently, his Butts in Seats: The Tony Schiavone Story was a #1 Best-Selling book on Amazon in 2022.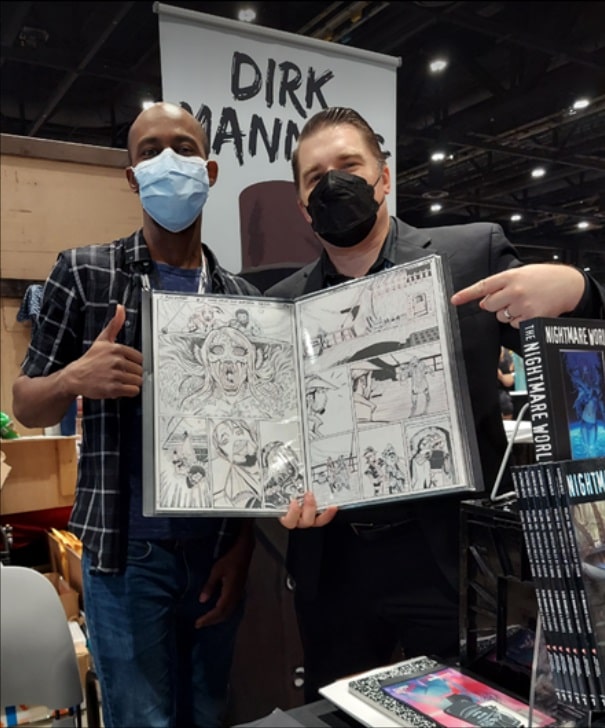 Dirk Manning and Chris Marchman
I therefore couldn't be more thrilled that Manning gave Black Gate an exclusive on an exciting announcement.
Dirk, over to you…
I've always said that if I had to write only one comic series for the rest of my life that it would be Tales of Mr. Rhee, and that remains true, with Tales of Mr. Rhee Volume 5: Rock Star Paranoia dropping from Source Point Press in the next few months, alongside the new Tales of Mr. Rhee Omnibus: Act One which will collect the first four volumes of the series in full color for the first time.

As far as single stand-alone graphic novels I've written, though, Love Stories (To Die For) remains my absolute favorite "done in one" book. The original edition of the book is now out of print with my previous publisher, so of course I've been planning on releasing a new edition of it; ideally with enough bonus content to justify a re-purchase from people who love it as much as I do.

Well, I'm excited to give you the exclusive announcement that the upcoming re-release of Love Stories (To Die For) is going to contain the "lost" sixth full-length 22-page story that was teased when the series was first announced, but never came to fruition due to a scheduling conflict with the original artist.

The upcoming "Special Edition" of the book will now also contain "I Come From the Water," a pirate and mermaid story masterfully illustrated by artist Chris Marchman… and it is gorgeous. Real talk, I've also long-felt that this is truly one of the best stories and scripts I've ever written, so I'm absolutely delighted that it will – at long last – be seeing print along with the other five amazing stories in . People should follow my Instagram and/or other social media hubs, or sign-up for my monthly newsletter at www.DirkManning.com for more information soon. But in the meantime, here's a sneak peek at one of the original pages being displayed by Chris and I! Enjoy this exclusive early look at this horrifying love story coming soon!
If there's anything we love more than an exclusive, its an exclusive from Dirk.

And now, from that awesome bit of news to this.
As I've told you in the past, Black Gate photog Chris Z can be a handful. On one hand, there's the incredibly talented photographer committed to making you feel like you are right there with us on all our Goth Chick News adventures. On the other hand, there is the guy who takes enormous pleasure in creating fake email accounts and sending in suggestions to the Black Gate mailbox like, "Please have Goth Chick review Zombeavers!" or "I'd love to read Goth Chick's take on Zombies vs. Strippers!" Never mind that even if I had an inclination to accommodate Chris Z's suggestions with more than an eyeroll, getting my hands on most of these movies would require using my credit card number in places it definitely shouldn't be left on its own.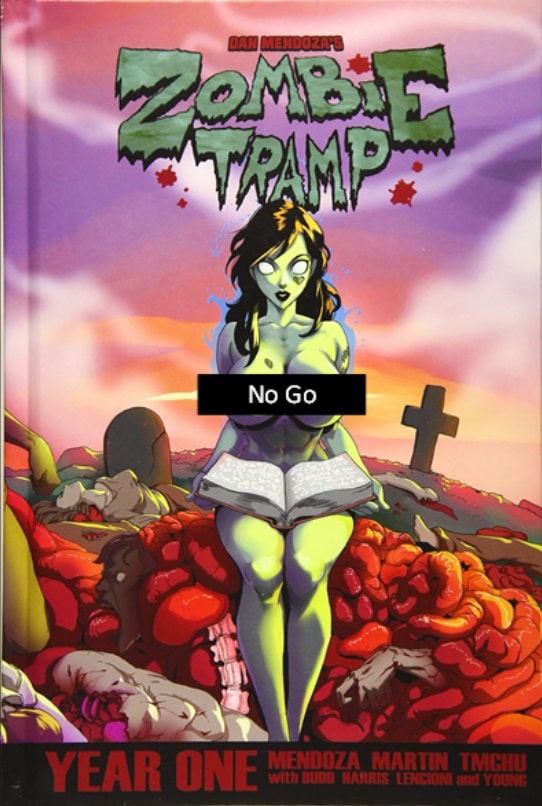 Zombie Tramp: Year One
So, I should have smelled trouble instantly when I realized I was talking to myself as we continued our exploration of Artists Alley and suddenly Chris Z wasn't next to me. I had lost him several booths back, where found him perusing a rack of comics called Zombie Tramp. Google Books describes this comic series as…
A high-priced Hollywood call-girl gets set up on a bad date by her transvestite madame, gets bitten by a zombie, and then seeks out vengeance on those who wronged her! Cartoon grindhouse action abounds — with voodoo queens, zombie convicts, and crooked LAPD.
The idea that Chris Z was doing this strictly to yank my chain, did cross my mind. However, if I expected any more pictures to be taken for the rest of the day, I was going to have to at least have a look and ask a few questions.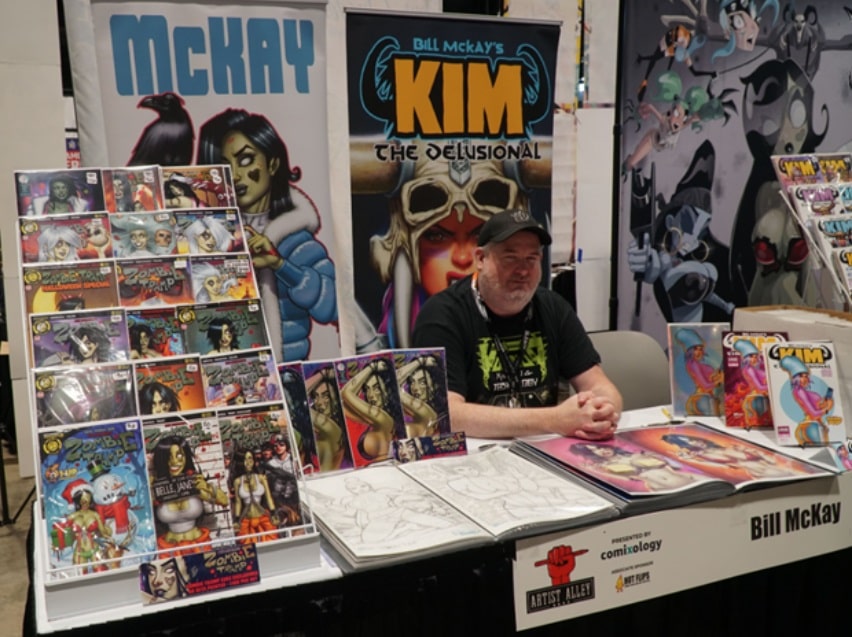 Artist Bill McKay
Zombie Tramp is apparently wildly popular and was one of the longest running comic series published by Action Lab Entertainment and its "Danger Zone" imprint. The series was original launched by Dan Mendoza who self-published from 2009 to 2011 before Action Lab took over the intellectual property in 2013 and began their own run. But not all was well behind the scenes. Mendoza filed a lawsuit against the publisher in April 2020 over the use of the character. Following a settlement, Zombie Tramp and her story were returned to Mendoza earlier this year, and it was clear from the mob at his booth that fans were glad to see them back together. Back issues were selling left and right for well over $200 (truth), but especially popular were the limited edition covers where Zombie Tramp's naughty zombie bits were on full display.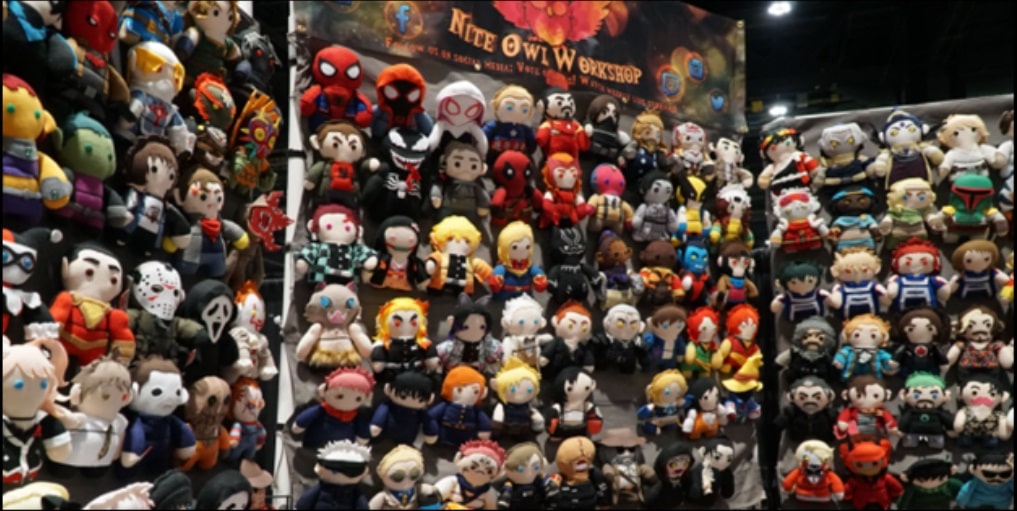 Nite Owl Workshop
If you want to experience Zombie Tramp yourself, you can check her out on Amazon.
Did Chris Z buy one so "Goth Chick News could review it"? Yes (sigh).
Were we finally able to move on? Eventually.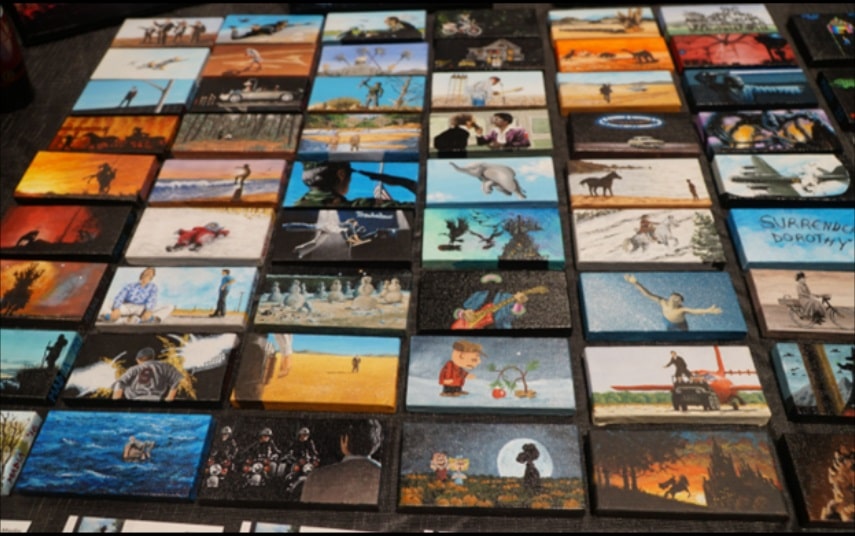 Movies in Miniature
So, lets end this with a pallet-cleanser, shall we?
Movies in Miniature: Artist Bill Madia creates small paintings based on famous scenes from the most popular movies and TV shows. Each piece is hand painted and one of a kind. Most paintings measure 2×4 inches and Madia's attention to detail is mind blowing. He also has several larger "scenes" which fit the small paintings, such as a drive-in movie theater where the screen holds your favorite painting. We were completely in love with these tiny masterpieces and the fact Madia managed to capture quintessential scenes from nearly any movie you can think of. If you don't have Facebook, reach Madia directly at billmadia@att.net. This is THE perfect gift for the movie fan in your life.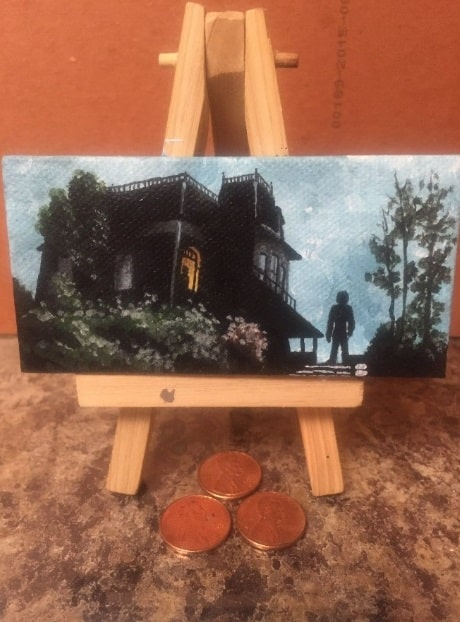 Movies in Miniature
So, there you have it readers; another sub-culture adventure in the books. We're down to our last convention of 2022 when Days of the Dead comes back through Chicago in November. But "the season" is about to get into full swing, and we'll be making the rounds to bring you the best of Halloween in the coming weeks.
Watch this space.