Random Reviews: "Twelve-Steppe Program," by Esther Friesner
Random Reviews: "Twelve-Steppe Program," by Esther Friesner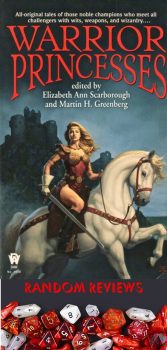 Last week's story, "The Birth of A.I." was a humorous short story which led up to a single punchline. This week's story, Esther Friesner's "Twelve-Steppe Program" is a longer humorous short story that rather than serve as the delivery system for a joke, focuses on the situations Friesner establishes to find its humor rather than punchlines.
The eunuch Nir Mung-Mung has been ordered to travel to the Garikkh horde to retrieve Princess Anuk'ti so she can become the bride of Prince Floats-like-dandelion-fluff-upon-the-scented-waters. Unfortunately for Nir Mung-Mung, he is entirely aware of the political machinations of the Chief Eunuch who is less interested in establishing a marriage between Prince Fluffy and Princess Anuk'ti and more concerned with holding onto his role as Chief Eunuch and making sure that any of his rivals, of whom he includes Nir Mung-Mung, are removed from contention to replace him.
For her part, Princess Anuk'ti is not the demure bride that Nir Mung-Mung was expecting to escort. Among her first interactions with him was an attempt to seduce him, not recognizing that he was a eunuch. In any event, Anuk'ti has her own agenda and once Nir Mung-Mung and Anuk'ti begin listening to each other, they come up with the beginnings of a plan to ensure both of their survivals in a court that is designed to be inhospitable to them.
The humor comes less from punchlines and jokes, but rather from the situation the characters find themselves in and the dichotomy between their personalities and the way the story is "supposed" to go.  Anuk'ti is not the meek princess who yearns to marry the neighboring heir. Prince Fluffy, as the eunuchs call him, isn't exactly desiring to marry Princes Anuk'ti, and certainly isn't interested in having children with her.
The story doesn't have much action in it, instead offering a puzzle and allowing the characters to figure out a solution in unorthodox ways that undermine the tropes that the reader expects from the story. Although Nir Mung-Mung and Anuk'ti are practically the only characters who take an active role, Friesner offers a background supporting cast of Anuk'ti's father and siblings, the Chief Eunuch, and Prince Fluffy, all of whom influence the path the story takes, even if they don't all appear within the timespan and location of the story.
While it is, of course, possible to enjoy a humorous story just for the comedy, and indeed many humor stories only work on that level, a good satire must say something about the topic it is focused on in a way to make the reader give it new consideration. Friesner takes individuals who would seem to have no power over their situation and allows them to use their perceived weaknesses and lack of threat to their own advantage.
---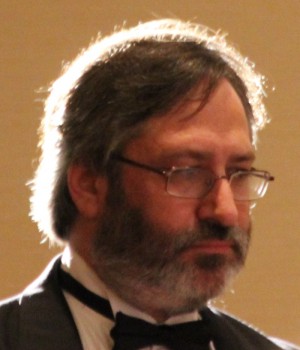 Steven H Silver is a nineteen-time Hugo Award nominee and was the publisher of the Hugo-nominated fanzine Argentus as well as the editor and publisher of ISFiC Press for 8 years. He has also edited books for DAW, NESFA Press, and ZNB. His most recent anthology is Alternate Peace and his novel After Hastings was published in 2020. Steven has chaired the first Midwest Construction, Windycon three times, and the SFWA Nebula Conference 6 times. He was programming chair for Chicon 2000 and Vice Chair of Chicon 7.