Random Reviews: "Twelve-Steppe Program," by Esther Friesner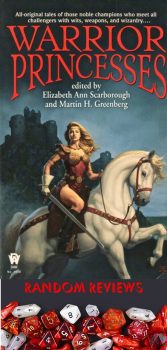 Last week's story, "The Birth of A.I." was a humorous short story which led up to a single punchline. This week's story, Esther Friesner's "Twelve-Steppe Program" is a longer humorous short story that rather than serve as the delivery system for a joke, focuses on the situations Friesner establishes to find its humor rather than punchlines.
The eunuch Nir Mung-Mung has been ordered to travel to the Garikkh horde to retrieve Princess Anuk'ti so she can become the bride of Prince Floats-like-dandelion-fluff-upon-the-scented-waters. Unfortunately for Nir Mung-Mung, he is entirely aware of the political machinations of the Chief Eunuch who is less interested in establishing a marriage between Prince Fluffy and Princess Anuk'ti and more concerned with holding onto his role as Chief Eunuch and making sure that any of his rivals, of whom he includes Nir Mung-Mung, are removed from contention to replace him.
For her part, Princess Anuk'ti is not the demure bride that Nir Mung-Mung was expecting to escort. Among her first interactions with him was an attempt to seduce him, not recognizing that he was a eunuch. In any event, Anuk'ti has her own agenda and once Nir Mung-Mung and Anuk'ti begin listening to each other, they come up with the beginnings of a plan to ensure both of their survivals in a court that is designed to be inhospitable to them.