Goth Chick News: Way More Fun Than the Jubilee, Draculas Gathered to Celebrate Stoker
Goth Chick News: Way More Fun Than the Jubilee, Draculas Gathered to Celebrate Stoker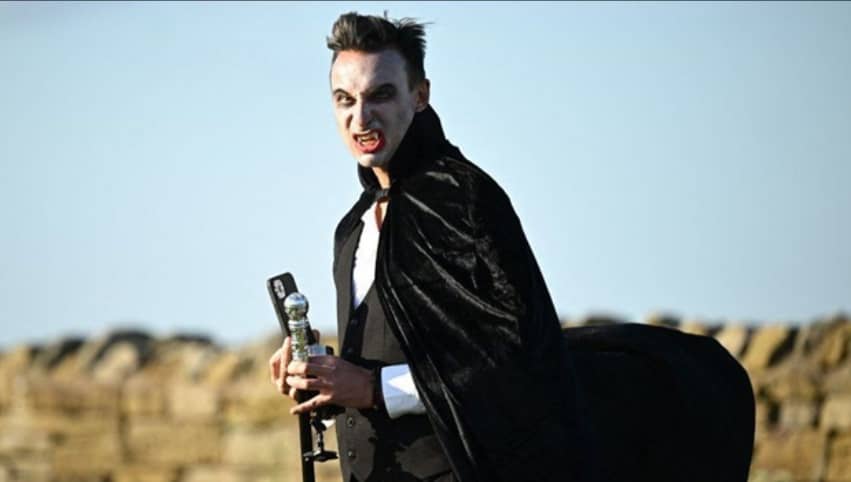 As you have probably heard by now, Queen Elizabeth II is marking 70 years on the throne of England with her Platinum Jubilee Celebration, set to kick off across the UK today, on the anniversary of her coronation in 1953. Yes, it is all quite grand that her 96-year-old Majesty is now the third longest reigning monarch in world history. Taking the top spot is Louis XIV from France, who reigned total of 72 years and 110 days, while in second place is Bhumibol Adulyadej (Rama IX) from Thailand who reigned for 70 years and 126 days.
And we're all really impressed over here in the colonies, I can tell you. Unless of course you consider that Vlad Dracula (ne Tepes) took the throne of Romania (ne Wallachia) in 1448 and has remained in some portion of the collective conscience ever since.
Okay, I might be stretching this connection just a bit, but here's where it's going.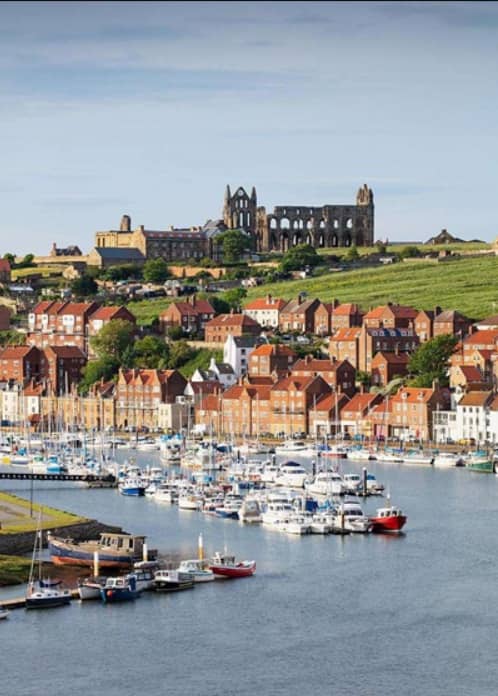 The ruins of Whitby Abbey and the port where the Demeter ran aground
In the same annum that QEII kicked off her Platinum Jubilee, a new world record was set for the largest gathering of Draculas in one place, namely Whitby Abbey in North Yorkshire, England. Why there, you ask? Allow me to explain with the help of the English Heritage site for Whitby Abby.
Bram Stoker arrived at Mrs Veazey's guesthouse at 6 Royal Crescent, Whitby, at the end of July 1890. As the business manager of actor Henry Irving, Stoker had just completed a grueling theatrical tour of Scotland. It was Irving who recommended Whitby, where he'd once run a circus, as a place to stay. Stoker, having written two novels with characters and settings drawn from his native Ireland, was working on a new story, set in Styria in Austria, with a central character called Count Wampyr.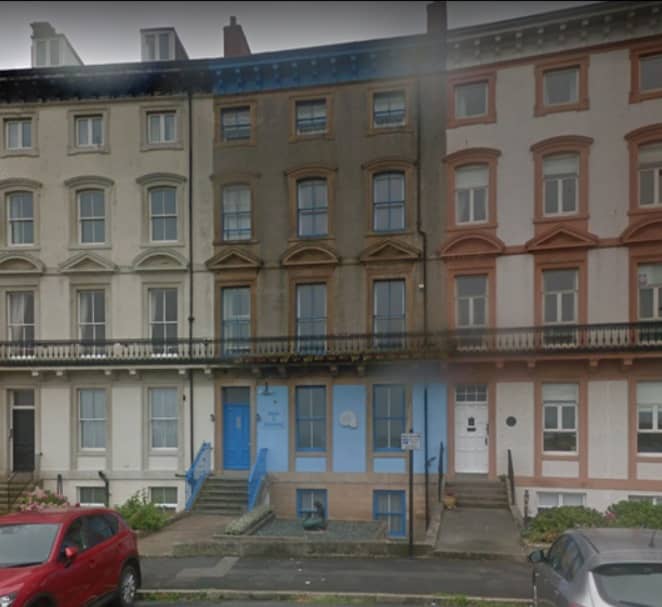 Mrs Veazey's guesthouse at 6 Royal Crescent, Whitby (blue door) still stands
Stoker had a week on his own to explore before being joined by his wife and baby son. Mrs Veazey liked to clean his room each morning, so he'd stroll from the genteel heights of Royal Crescent down into the town. On the way, he took in views of the ruins of Whitby Abbey. Stoker continued down to what was known as the Coffee House End of the Quay and entered the public library. It was there that he found a book published in 1820, recording the experiences of a British consul in Bucharest, William Wilkinson, in the principalities of Wallachia and Moldavia (now in Romania). Wilkinson's history mentioned a 15th-century prince called Vlad Tepes who was said to have impaled his enemies on wooden stakes. He was known as Dracula; the 'son of the dragon.'
Stoker also learned of a shipwreck five years earlier, of a Russian vessel called the Dmitry, from Narva, which ran aground on Tate Hill Sands below East Cliff, carrying a cargo of silver sand. Stoker slightly rearranged the name, creating the Demeter from Varna that carries Dracula to Whitby with a cargo of silver sand and boxes of earth.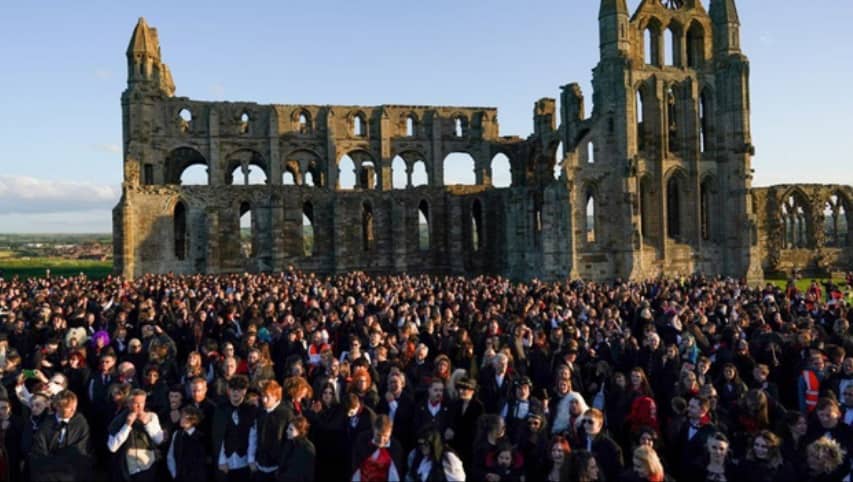 1369 Draculas…
Though it took him six more years to research and revise, Whitby is most definitely the spiritual birthplace of Stoker's literary Dracula.
Flash forward 132 years and on Friday, May 27, a total of 1,369 people came together at Whitby Abbey in full Dracula attire, to break the previous record for Draculas in one place, of 1,039 set in 2011 in Virginia. The 2022 event was organized by English Heritage to mark 125 years since Stoker's novel was published in 1897, and had very specific requirements in order to make it into the record books. According to Jack Brookbank, official adjudicator for Guinness World Records: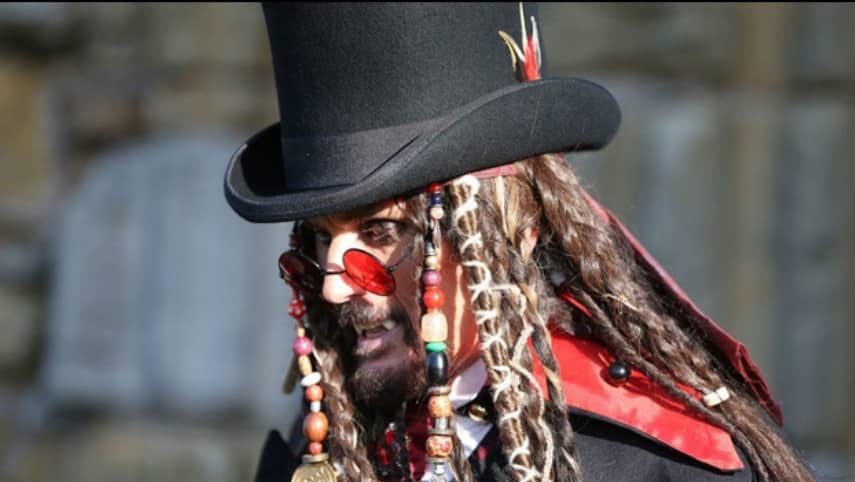 First, all the Draculas needed to stand together in the same place for five minutes to break the record. Second, all participants had to be dressed in traditional Dracula accoutrement which included black shoes, black trousers or dress, waistcoat, shirt, black cape or collared overcoat and fangs on the top set of teeth. Whitby Abbey's manager Mark Williamson said the event had attracted interest from all over the world, including participants who had travelled to the North Yorkshire resort from Europe and the US.
Whitby is accustomed to Dracula fans who annually descend on their town. Many of said fans ask the proctors at St. Mary's Church to point them to Dracula's grave. So many in fact, that the church leaders decided to post this sign earlier this year, so their staff could avoid spraining a muscle rolling their eyes.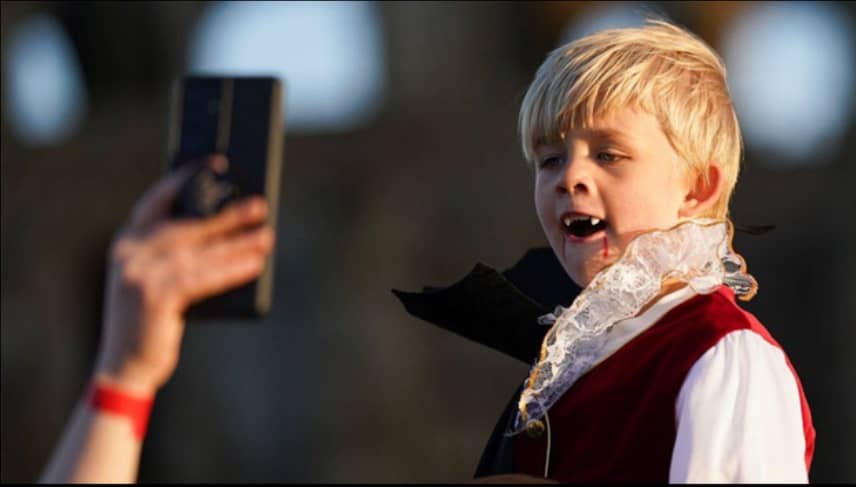 Dracula – fun size
It is unclear where the tourists asking this question are primarily from. However, my guess is the majority went through their education in a country that was/is part of the British Empire.
So, I blame Her Majesty.