Slapdash Slapstick: Ron Goulart, January 13, 1933 – January 14, 2022
Slapdash Slapstick: Ron Goulart, January 13, 1933 – January 14, 2022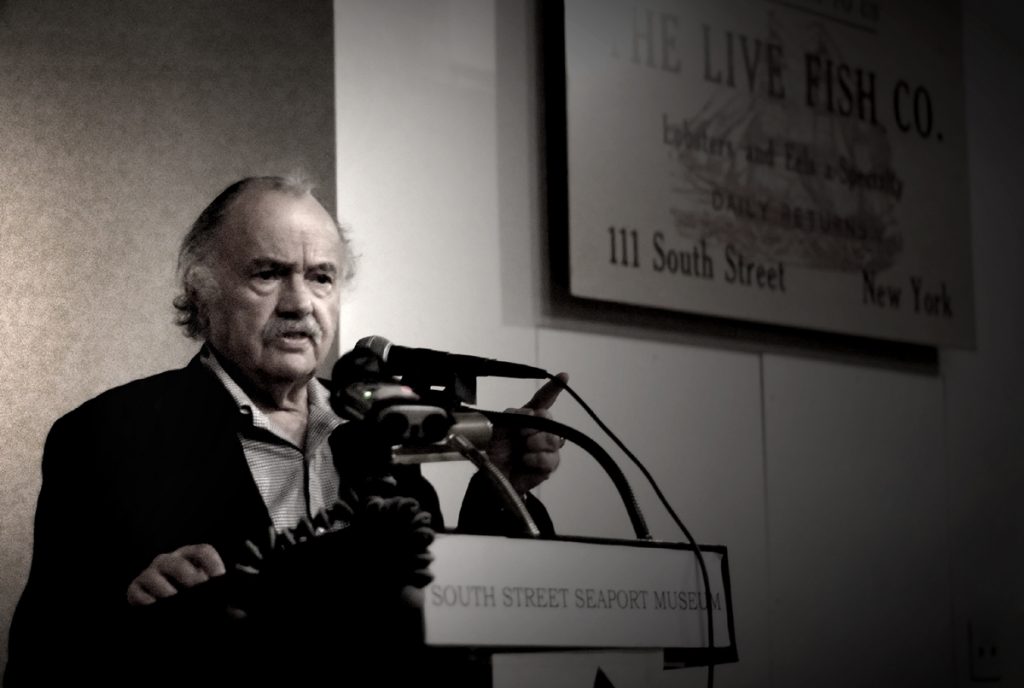 Ron Goulart in 2009
Contrary to popular opinion, comic science fiction didn't start and end with Douglas Adams and The Hitchhiker's Guide to the Galaxy. The humorous mode has a long and honorable history, exemplified by writers like Stanislaw Lem, Harry Harrison, R.A. Lafferty, Frederic Brown, Robert Sheckley… and Ron Goulart.
Ron Goulart, who died on January 14th, a day after his eighty-ninth birthday, was an insanely prolific science fiction and mystery writer, especially in the 70's and 80's, when he wrote over one hundred novels, many of them pseudonymous entries in various "copyrighted character" series such as The Avenger, Flash Gordon, Vampirella, and The Phantom. These productions are about what you would expect — professional, work-for-hire potboilers written at high speed for the sole purpose of keeping the refrigerator stocked and the gas and electricity on. Hack work, in other words.
He was also William Shatner's ghostwriter on the actor's TekWar books; what would you give to have been a fly on the wall during their story conferences? "What do you think of this idea, Ron?" "It's dead, Bill."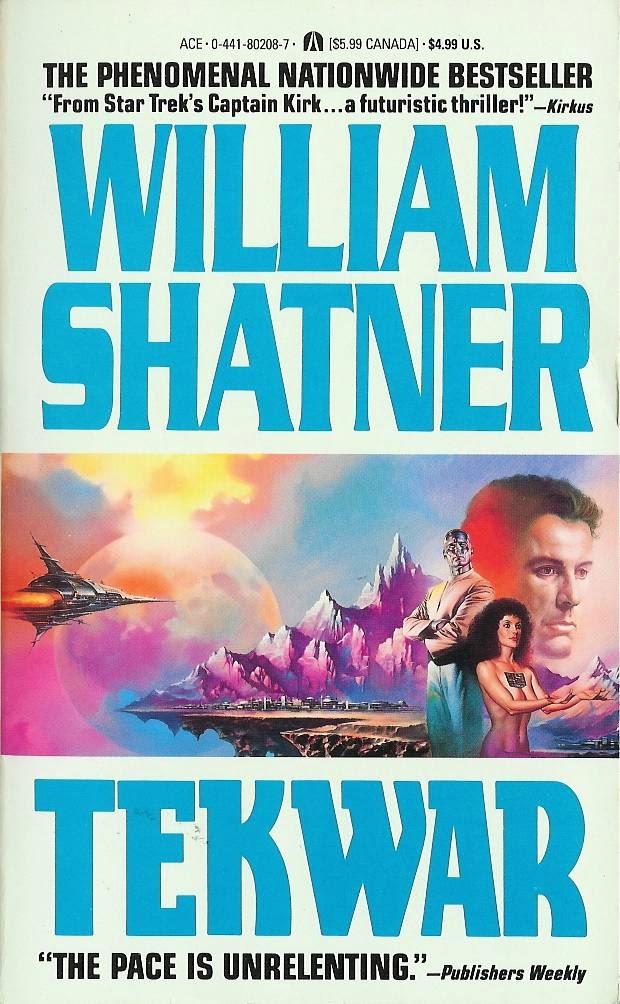 Writer, Writer, Who Was the Writer?
At the same time he was doing all this, though, Goulart was also cranking out novels and stories set in his own original venues with his own original characters, chief among them books featuring the shapeshifting galactic peacekeepers of the Chameleon Corps; many of these tales were set in the chaotic Barnum System, which also hosted many non-Chameleon Corps stories.
A lot of Goulart's books were published by DAW; it sometimes seemed as if that publisher put out a new Goulart every three or four weeks. These too were potboilers of a sort, but Goulart was clearly enjoying himself when he wrote them, and they are full of wacky, fizzy slapstick invention, often featuring inept, comically corrupt bureaucracies and complication-producing identity mix-ups, with classically farcical consequences. Season lightly — or not so lightly, really — with technology run amok, and you have a 160-page novel (or about fifty of them) that you can zip through with a good amount of enjoyment.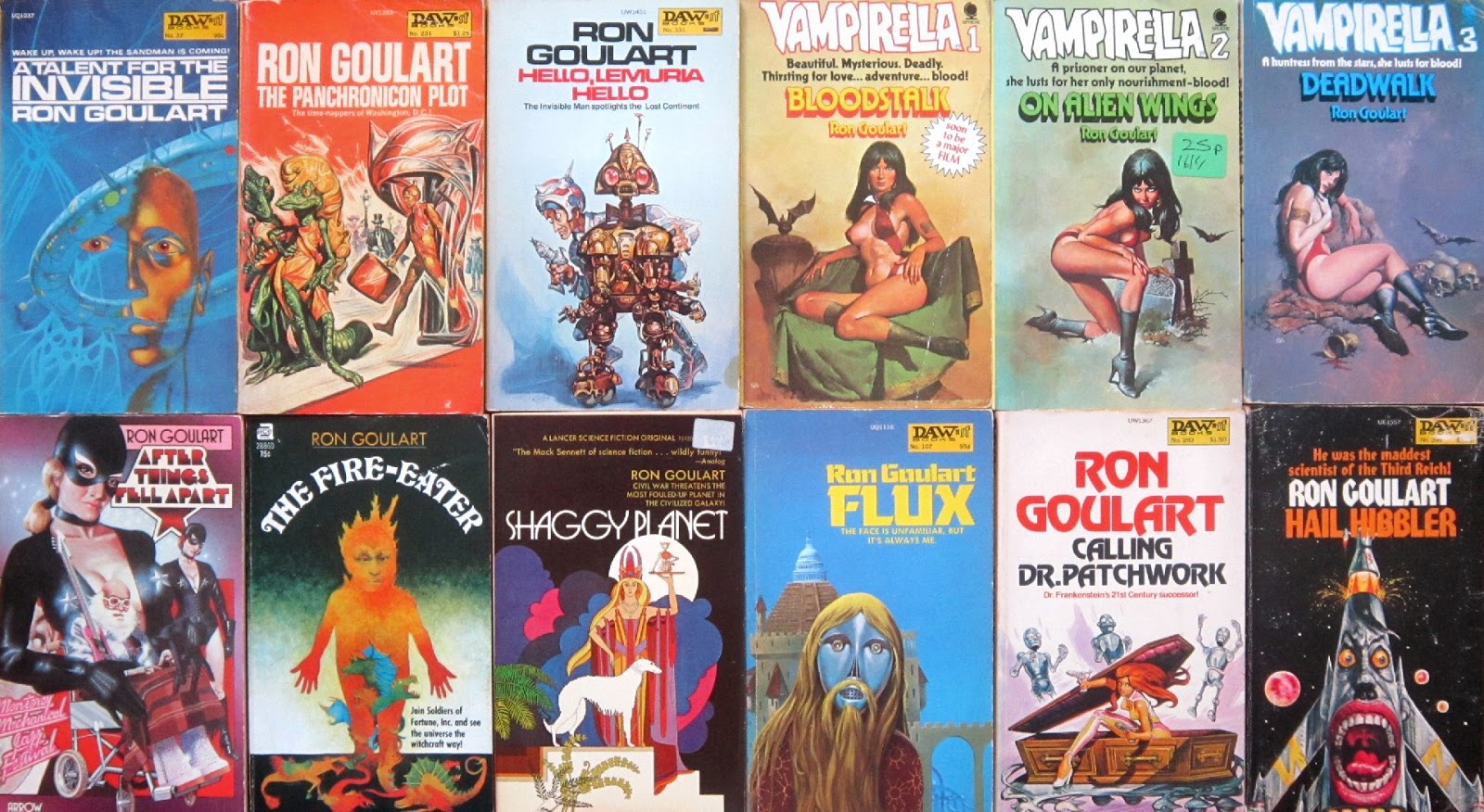 A Fistful of Ron
You can get a good idea of Goulart's method by dipping into his short stories. Six collections of his science fiction yarns were published during his life, and What's Become of Screwloose? And Other Inquiries (DAW 1971) is as good a book to start with as any of them. It includes ten progress-skeptical tales in which official promises are worth somewhat less than the paper they're written on and technology proves to be a decidedly two-edged sword.
In "Hardcastle" a man finds himself cuckolded by his automated house; in "Into the Shop" a supposedly error-proof robot "lawmobile" proves as susceptible to mistakes as any human, as it arrests, tries, and summarily executes the notorious criminal Sheldon Kloog — three different times, and at the end of the story the deranged vehicle has identified the sheriff himself as the outlaw; in "Monte Christo Complex" a man is driven crazy by cascading bureaucratic errors (a golf instructor by trade, Alfred Mesklin is reassigned as "shop steward in a soy bean plant in Pasadena." After that he is transported to Mars to be a chimney sweep while his wife is shipped off to "a women's prison farm near Oxnard.") On his return to Earth Mesklin goes on an android dismantling rampage, and at the end of the story he is carted away, shrieking, "Two years on the wilds of Mars in cramped chimneys and worse! My wife shucking corn in the pokey!" There is, of course no implication that Mesklin's cry for justice will fix anything; just the opposite.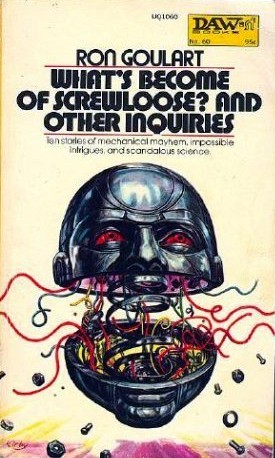 What's Become of Screwloose?
Fifty years on, these stories are still pretty funny… or maybe not funny at all, depending on how much of the past week you've spent being asked by robots to prove you're not a robot, or getting a numb butt sitting on hold after you've finally successfully negotiated a contradictory automated phone menu in a vain attempt to talk to an actual human being… only to be disconnected after waiting two hours. Like all the best funnymen, Goulart's most memorable jokes had a point to them, one that's sharper now than when he first wrote them.
The closest Goulart came to a major work, the book in which he stretched himself the most, is After Things Fell Apart, which was published as an Ace Special in 1970, with (of course) a great Leo and Diane Dillon cover. The novel earned back-cover blurbs from three heavyweights: Philip K. Dick ("This book is a sheer delight to read, with wild, wonderful dialogue, a sustained high level of witty imagination, virtually an infinitude of nice touches"), Avram Davidson ("No facet of our right, left, or center, way in or far out, sexual musical political ethnical or previously unclassifiable, escapes the mordant skillfulness of his magical and deadly camera"), and Joanna Russ ("Very funny and very sad, After Things Fell Apart is a little like a wienie stand in Hell; a wacky, fragmented world, with the hero's tired sanity in the middle of it all somehow the maddest thing of all.") The book is fairly ambitious in a nonambitious sort of way; the disintegration it depicts is of a kind we've become all too familiar with, and the novel stands as Goulart's most substantial achievement.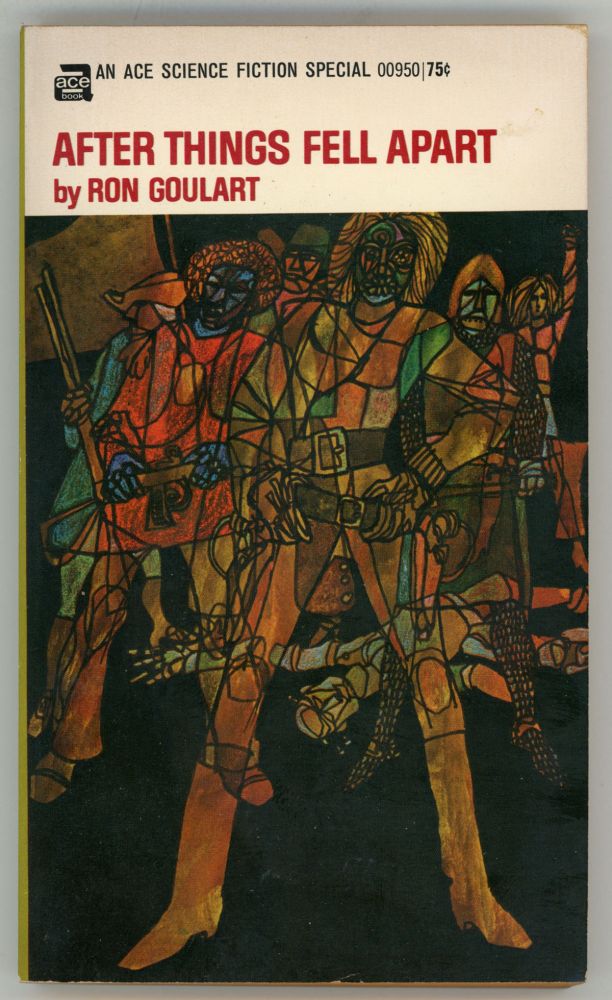 After Things Fell Apart
The story is set in a late twentieth-century America in which the United States are no longer united, the national government having come apart under the stress of internal divisions and a Chinese invasion. Like many of Goulart's stories, it blends the science fiction and mystery genres, with private eye Jim Daley investigating the disappearance of the leader of a band of militant feminists. His search takes him all over a Balkanized California (most of Goulart's Earth-based stories are set in that state; he was a Bay-Area native), in and out of bizarre sexual, political, racial, and spiritual enclaves, giving Goulart plenty of satirical targets and opportunities for his usual blend of jokes, both silly and sophisticated.
According to the website of the Mysterious Press, After Things Fell Apart is "the only science fiction novel ever to win an Edgar Award." The Edgar website, however, fails to verify this, and in fact doesn't have any references to Ron Goulart, anywhere. Ah, I love a mystery!
In addition to his fiction, Goulart also had a substantial career as a pop-culture historian, especially of pulp magazines and comic books (he was a writer for Marvel in the early 70's). He wrote over a dozen books on these subjects, perhaps the best of which is Comic Book Culture: An Illustrated History, which was published in 1980.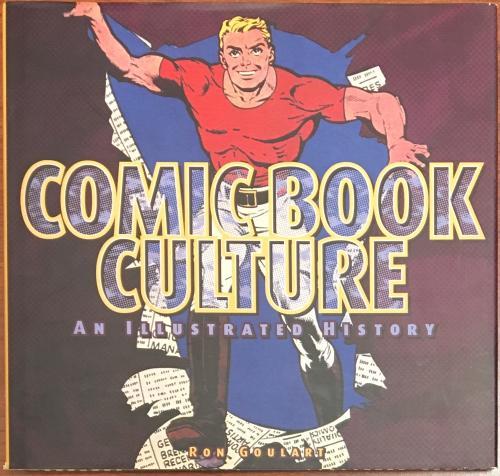 Comic Book Culture
Ron Goulart wasn't a major writer; he wrote too much and too fast for that. Everything he wrote is marred by the errors and deficiencies produced by haste; all of his work has a whiff (or often more than a whiff) of the slapdash about it. On the other hand, the blurring speed at which he produced his books imparted a fevered energy to the best of them, and when you combine that with his cross-eyed inventiveness, his satirical bent, and his lively sense of fun, it means that there is some value to be found in almost all of his novels and stories, at least the ones that were published under his own name.
With the partial exception of After Things Fell Apart, Ron Goulart never claimed to offer more than light entertainment… but what kind of world would it be if we didn't have any of that? One that would be a hell of a lot less endurable, I'd say, and I'm glad to have a shelf full of Goulart's yellow-spined 160-page jests; now and then, they're just what the doctor ordered. Get your giggles and get on with your life; that was the Goulart formula, and I for one would be happy if more people were following it.
---
Thomas Parker is a native Southern Californian and a lifelong science fiction, fantasy, and mystery fan. When not corrupting the next generation as a fourth grade teacher, he collects Roger Corman movies, Silver Age comic books, Ace doubles, and despairing looks from his wife. His last article for us was Conan's Father: William Smith: 1933-2021.