New Treasures: The Vanished Birds by Simon Jimenez
New Treasures: The Vanished Birds by Simon Jimenez

The Vanished Birds (Del Rey, January 26, 2021)
January is that time of year when I browse BEST OF THE YEAR lists, wondering what I missed (it's usually a lot). One title that shows up repeatedly is Simon Jimenez's debut novel The Vanished Birds, which I picked up in paperback last January, and which promptly vanished into the towering to-be-read stack next to my big green chair. I need a filing system that's more like a library, and less like a geological rock formation.
Anyway. While I didn't make time to read the book, I didn't fail to notice all the breathless notices. Kirkus Reviews, which called it "The best of what science fiction can be," listed it as one of the Best Debut Fiction and Best Science Fiction & Fantasy of the year; Martin Cahill at Tor.com proclaimed it "brilliant," and Paul Di Filippo at Locus called it "not only the best debut novel I've read in ages, but simply one of the best SF novels in recent memory." Here's a slice from Martin's enthusiastic review.
A man in a distant world races through his entire life, falling in love with a woman he only sees for one night every fifteen years. A captain of a clunker starship travels back and forth through time and space for a contract, so desperate to carve out her own future, she ends up leaving her past behind her. A brilliant engineer is caught between being in love and building a home for the human race, and regrets her decision for her entire life. A young boy appears suddenly from the sky, crashing to a strange planet from out of nowhere; he cannot speak, but expresses himself through music, his story found in the bittersweet song of a flute. While these threads all seem to tell a different story, trust me, they don't….

It's early yet, but I'm willing to say The Vanished Birds may be one of the best debuts of 2020, and that it should be remembered in the year to come. Simon Jimenez is a brilliant author (I didn't even get to how lush and consuming his prose is!), and a writer to watch… You're not going to want to miss this one, I promise.
If I get a move on with The Vanished Birds, I can finish it before Jimenez's second novel, The Spear Cuts Through Water, arrives this summer. It's an epic fantasy, the tale of two warriors who guide an ancient god across a broken land to challenge the tyrannical reign of an evil family, and it definitely sounds like something I need to read before awards season.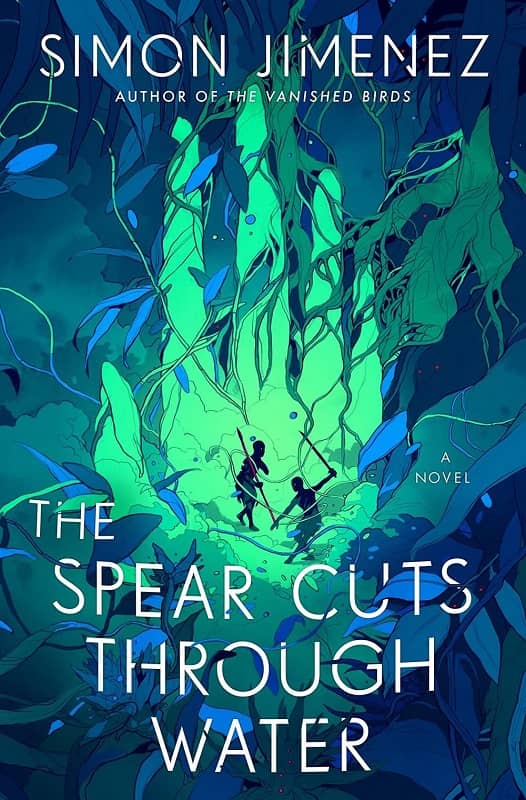 The Spear Cuts Through Water (Del Rey, August 30, 2022)
The Vanished Birds was published in hardcover by Del Rey on January 14, 2020, and reprinted in paperback on January 26, 2021. It is 386 pages, priced at $27 in hardcover, $17 in paperback, and $10.99 in digital formats. The cover is by Paul Lycett.
See all our recent New Treasures here.