Future Treasures: Gunfight on Europa Station edited by David Boop
Future Treasures: Gunfight on Europa Station edited by David Boop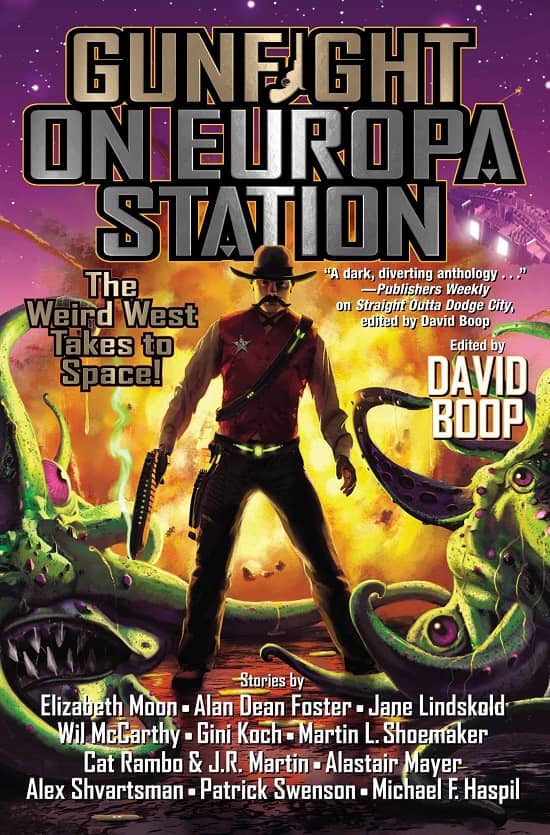 Gunfight on Europa Station (Baen Books, January 25, 2022). Cover Art by Dominic Harman
I've been enjoying David Boop's weird western anthologies for Baen (Straight Outta Tombstone, Straight Outta Deadwood, and Straight Outta Dodge City). His newest takes the series in a different direction — deep space! — but keeps the six shooters and saddle spurs. That's different. But what the hell — I'm on board.
Gunfight on Europa Station arrives on January 25, and comes packed with new fiction by an impressive list of contributors: Alan Dean Foster, Jane Lindskold, Wil McCarthy, Gini Koch, Martin Shoemaker, Cat Rambo with J.R. Martin, Alastair Mayer, Alex Shvartsman, Patrick Swenson, Elizabeth Moon, and Michael L. Haspil. These books are a lot of fun, and I'm looking forward to the newest with anticipation.
I'm especially excited to see Alex Shvartsman's contribution. I was at his reading at Worldcon last month (from his upcoming novel The Middling Affliction), and it was easily the most entertaining of the dozen or so I attended, a raucous and funny tale of an exorcist/con man who winds up over his head in a tangled supernatural mystery. It's always a pleasure to discover a new writer, and it's doubly so when you have the chance to hear a skilled entertainer perform their own work.
Straight Outta Tombstone (2017), Straight Outta Deadwood (2019), and Straight Outta Dodge City (2020). Covers by Dominic Harman
Here's David Boop's description of Gunfight on Europa Station.
ALL-NEW STORIES TAKE THE WILD, WILD WEST TO THE FINAL FRONTIER

An actual wagon train to space?

Gunslinging cowpokes riding in rickety rocketships?

What isn't possible when you mix science fiction and Westerns?

The final frontier ain't so final in these 12 tales of space exploration and adventure: each a timeless yarn told around the warm glow of a nuclear reactor just before it goes supernova. There's a story for everyone who's ever dreamed of traveling the stars.

From the lone stranger who flies into town to help a widow and her daughter to the alien rancher trying to pose as human, they are familiar, yet with completely new twists. Take the pair of mercenaries who sign on to stop a mining camp insurrection only to discover they might be on the wrong side of the revolution, or the prospector who finds the strike of a lifetime but ends up stranded on a barren moon without hope of rescue. And if that's not enough to catch your fancy, then how about a cloned Doc Holliday making his way in a future where both sickness and gambling are ancient history?

Assembled inside are the biggest names in science fiction, taking you to the farthest reaches of the galaxy like they've never done before. Elizabeth Moon, Alan Dean Foster, Jane Lindskold, and Wil McCarthy are some of the exciting yarn-spinners inside. So get ready to hit the hyper-thrusters as you set course for adventure, mystery, romance, and two-lasergun slinging action!
And here's the complete list of contents.
Foreword: Is Space Actually the Final Frontier? by David Boop
"Greenhorn" by Elizabeth Moon
"The Penultimate Stand of Pina Gracchi" by Michael F. Haspil
"Showdown on Big Rock 27" by Gini Koch writing as Anita Ensal
"Hydration" by Alan Dean Foster
"Winner Takes All" by Alex Shvartsman
"Last Stand at Europa Station A" by David Boop
"Riders of the Endless Void" by Cat Rambo & J.R. Martin
"Seeds" by Patrick Swenson
"Riding the Storm Out" by Martin L. Shoemaker
"Incident at Raven's Rift" by Alastair Mayer
"Claim Jumped" by Jane Lindskold
"Doc Holliday 2.0" by Wil McCarthy
About the Contributors
Our previous coverage of this series includes:
Straight Outta Tombstone (2017)
Straight Outta Deadwood (2019)
Straight Outta Dodge City (2020)
Gunfight on Europa Station will be published by Baen Books on January 25, 2022. It is 272 pages, priced at $16 in trade paperback and $8.899 in digital formats. The cover is by by Dominic Harman. Enjoy a sample at the Baen website.
See all our coverage of the best upcoming SF and fantasy here.