Goth Chick News: Days of the Dead – Season Greetings from Our Family to Yours
Goth Chick News: Days of the Dead – Season Greetings from Our Family to Yours

That time of year has once again rolled around. "The Season" is officially over. Black Gate photog Chris Z has thrown a tarp over the Hummer and sent his kilt to the dry cleaners. We've emptied the final airplane-sized bottles of Fireball, and filed our last expense report with BG's financial fun police. Because on the weekend before Thanksgiving we attended the final convention of our annual show circuit, Days of the Dead.
It certainly doesn't feel like nearly ten years since we attended our first DotD convention at its sophomore outing in the Chicago suburbs. I readily admit that Chicago isn't Los Angeles or even New Orleans when it comes to sub-cultures, though the elements that do exist are certainly worth wading into — if you know where to look. But when DotD came to Chicago for the first time in 2011, its home was the Schaumburg Marriot of all places.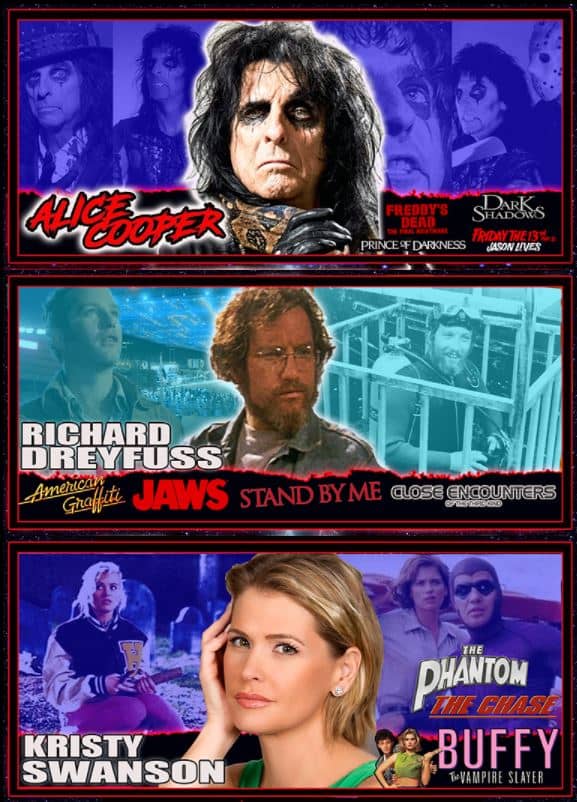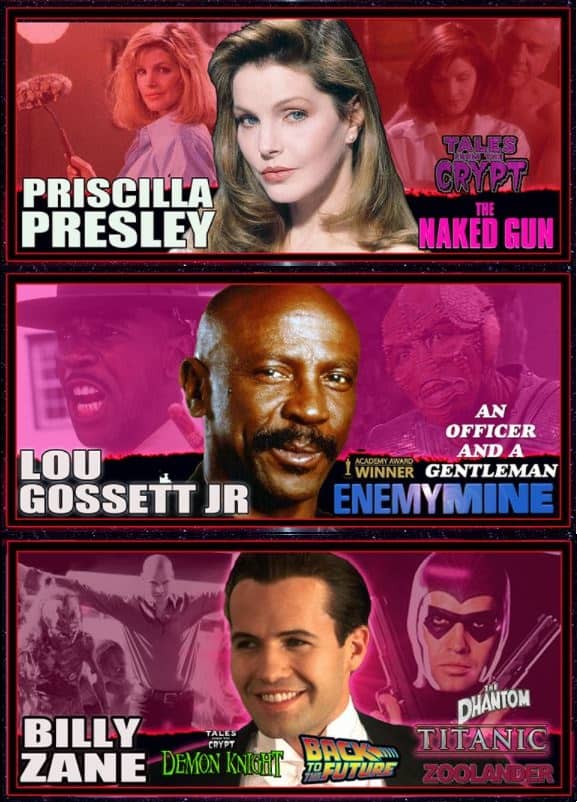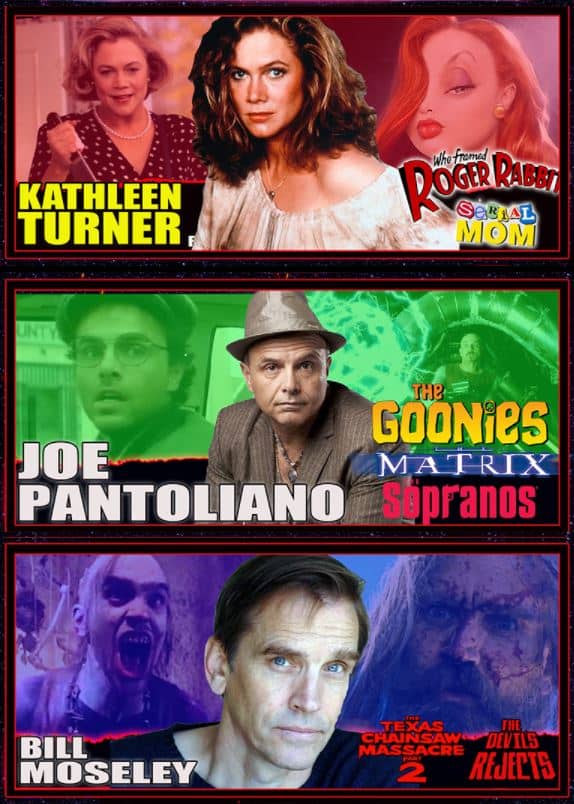 Schaumburg, whose primary claim to fame is being the home to the second largest quantity of retail square footage under one roof. True, the walking dead can often be observed there dragging their ragged-flannel-wearing selves between Aeropostale and Abercrombie, but that hardly seemed reason enough to situate a horror convention a couple of blocks away. However, what started off as a fairly small show gained steam every year, finally outgrowing its original location and moving to a convention space near O'Hare airport.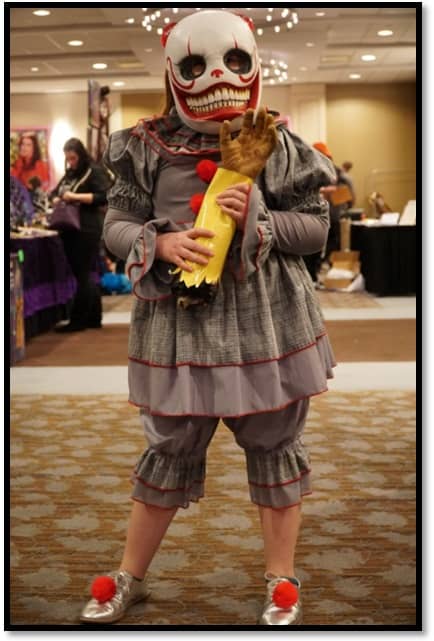 Ironically, DotD was not only our last show of the year, but was also the first. It came through town back in April, leading the way as in-person events cautiously restarted. But by November, the traditional time it usually occurs here, DotD had grown exponentially, taking up all the available space at the convention center and boasting an impressive lineup of celebrities. Once can only assume that a year plus of quarantine caused of change of heart for a lot of them who would normally never consider decamping LA for Chicago in November.
The really exciting bit for us, was the number of indie film producers we met at DotD. Indie horror, particularly micro-budget projects, are a personal favorite as the makers follow their passions without big-studio backing or financing.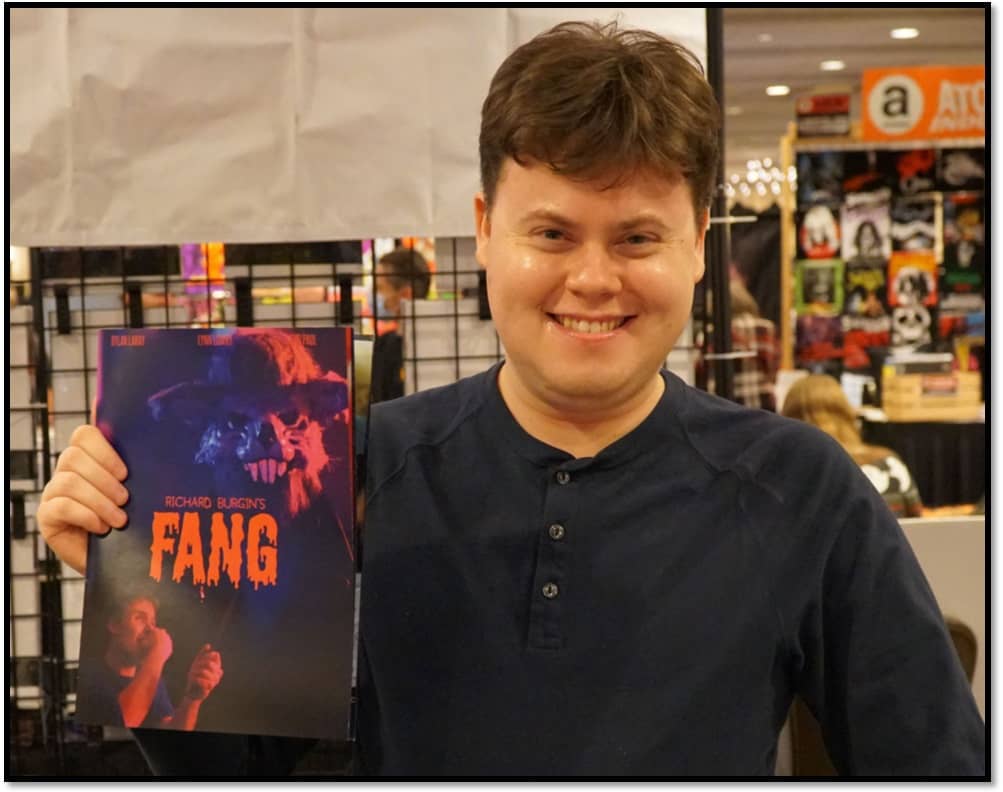 Richard Burgen, writer and director of indie film Fang
First up was Richard Burgin and his movie Fang. Burgin is the writer and director of this tasty horror flick set in Chicago and currently in post-production. It tells the story of Cochran (Dylan LaRay) and his mother Gina (Lynn Lowry) who is in and out of the hospital with her mind is breaking down. One night, Billy gets an unexpected visitor: a rat that springs out of his bathroom and bites him. At first, everything seems okay. Billy comes home, drowsy from the tetanus shot, and bonds with Gina's lovely new caregiver Myra (Jess Paul). Then the rat fur appears. It grows out of Billy's skin, then goes away like it was never there. The more Billy looks in the mirror and scratches, the more he's forced to face the unthinkable: he might be turning into a rat. Billy is plunged into a waking nightmare where he slowly discovers the truth about himself as he unleashes the ferocious depths of the human and rodent soul.
Fang began shooting in Chicago right before the lockdown of 2020 and persevered throughout a tough year. As Burgin states on his FB page:
I couldn't have asked for a better team to bring Fang to life. We suffered through some dark days filming in freezing weather, locations that tried to kill us, and neighborhoods with actual crack houses, but we survived. We beat the impossible odds and finished filming on time and under budget. I pieced together the movie in my head while we were making it and I can confidently say we have enough great footage to make a great movie.
Burgin is a passionate filmmaker for sure, and we are very excited to be bringing you an interview with him about Fang in the coming weeks.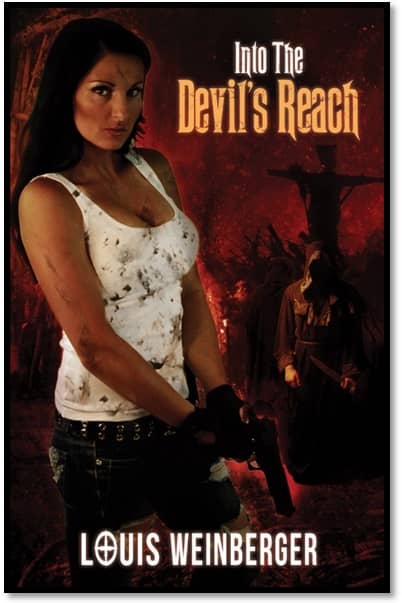 Next, we had the pleasure of meeting Louis Weinberger whose story Into the Devil's Reach made the impressive jump from novel to indie film. Weinberger is a local Chicago-area writer whose primary focus is scripts. However, when two of his ideas were just too good to wait on the right film project, he combined them into a novel which was published by RedRob in 2014. It wasn't long before indie filmmaker Bennie Woodell came calling to put Into the Devil's Reach on screen, which is exactly what will happen on December 12th when it premiers on Vudu and AppleTV.
Into the Devil's Reach is an intense, action-packed thriller that mixes the courage of duty-bound cops, the maniacal deeds of serial killers, and a small town with dark secrets. With shocking twists and a heart-pounding climax, one policewoman's resolve leads her into the dangerous world of satanic cults. Will good win out over evil?
Check out the trailer.
For an indie, the trailer has darn impressive production values so we're excited to give it a go on the 12th and to chat with Weinberger and Woodell further about their journey.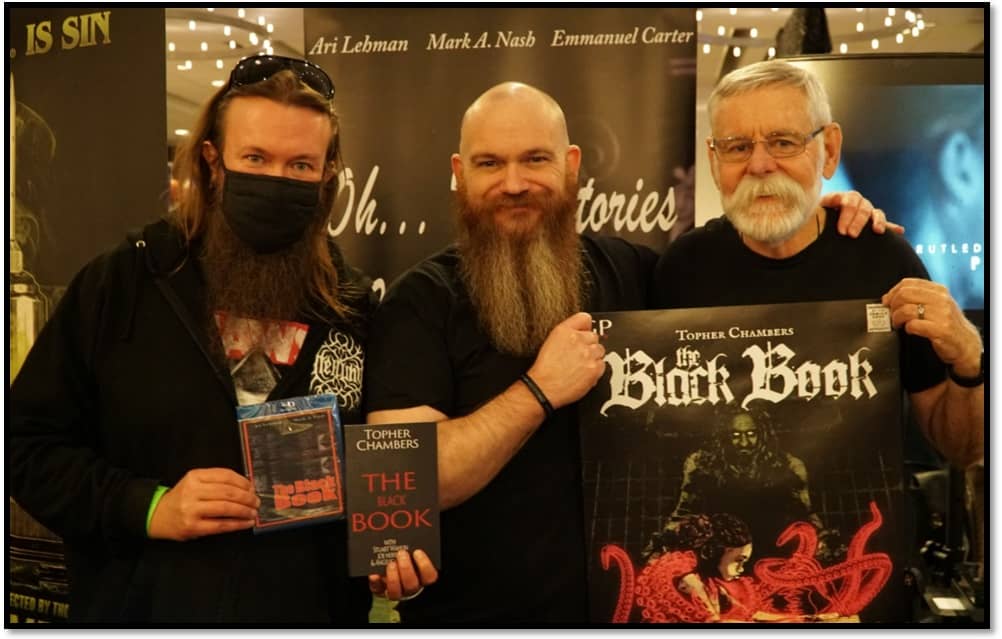 Finally, we met Topher Chambers about his novel turned indie film turned graphic novel, The Black Book. Chambers, an Indiana native, published The Black Book in 2020 before Rutledge Productions also in Indiana, picked up the story for the indie film treatment.
The Black Book is a cursed book as if out of some Lovecraftian horror. The book that is the basis for the upcoming feature film by Rutledge Productions of the same name. Innocuous items causing disappearances, the perils of the dark web, warnings against going out in the woods at night, or the hazards of dating; these stories pull you right into the page.
Check out the trailer.
Rutledge is also behind a current Indiegogo campaign to turn The Black Book into a graphic novel. We got a peak at a few pages and the artwork is impressive. The movie version was just recently released and is available here, while the graphic novel will come out in 2022.
All three of these projects have us dying to ask how one makes the leap from page to screen, especially how funding is secured in the middle of a pandemic. To those of you for whom this is your dream, we'll be asking these questions and more in our follow up interviews.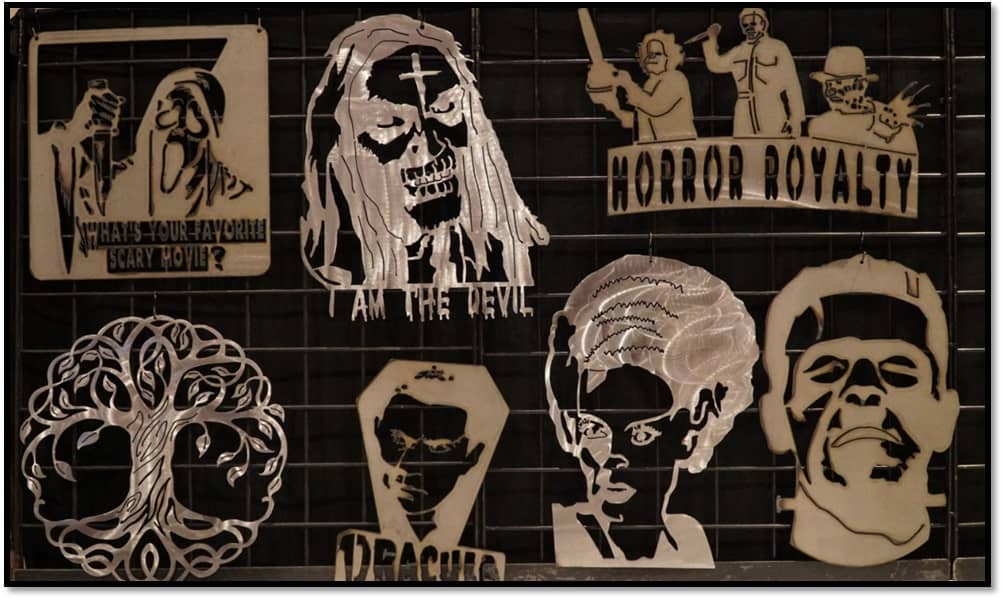 Metal Devil Arts
DotD had a ton of other stuff going on as well, including aisles of other artists and vendors. We particularly enjoyed Tim Harris' Metal Devil Arts. Harris produces all manner of cut metal business signs, entry-gates, logos and wall art in a variety of sizes. Very cool stuff for your home office walls.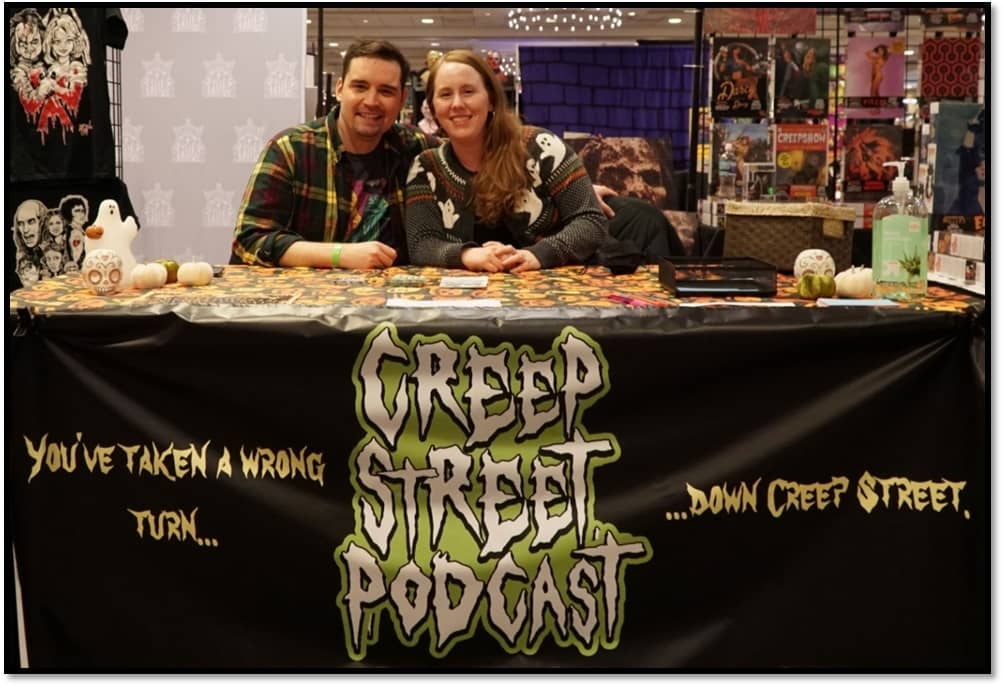 Our new besties: Chicago comedians Dylan Hackworth and Maureen Boughey from Creep Street Podcast
We were also kind of geeked to meet kindred spirits Dylan Hackworth and Maureen Boughey, two Chicago comedians who love discussing all things strange and macabre on their Creep Street Podcast. BG photog Chris Z and I will definitely be inviting ourselves over to their place for cocktails and pizza sometime soon to discuss a joint venture.
DotD is known for its celebrity draw, and the November event was no exception. Being we were there during press hours, we had the chance to say hello to Billy Zane (Titanic), Richard Dreyfuss (Jaws), rocker Alice Cooper (who is a super chill, nice guy by the way), Pricilla Presley (okay a bit of a non-sequitur but still awesome), and Lou Gossett Jr. (Enemy Mine).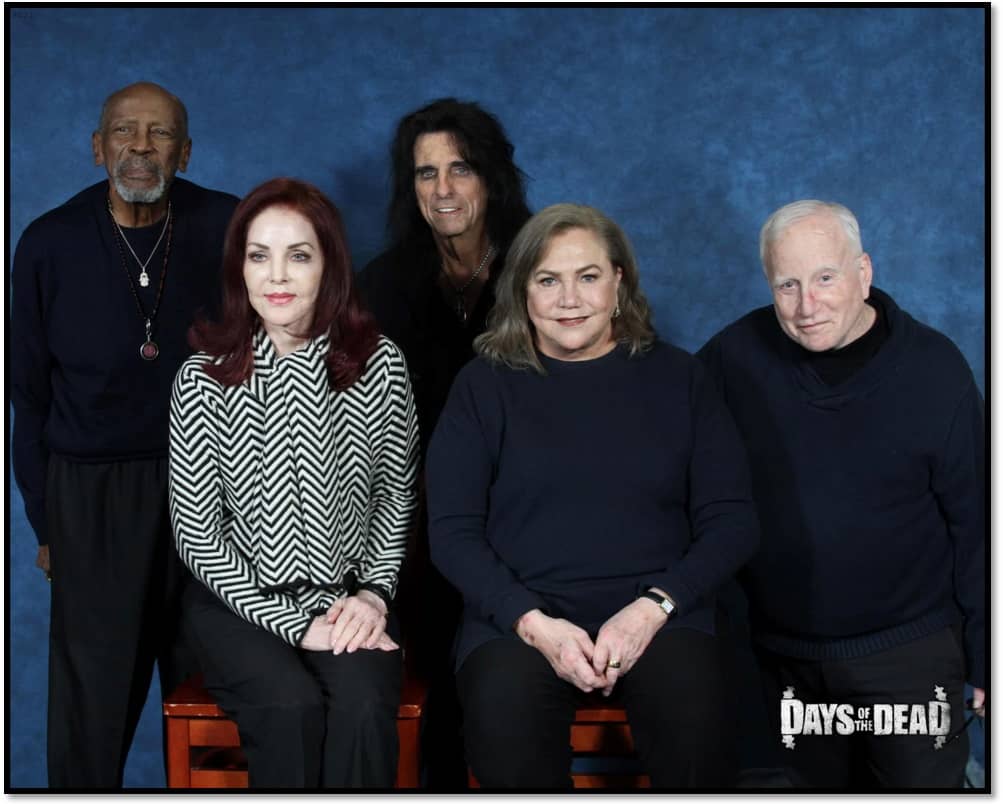 Gossett, Presley, Cooper, Turner and Dreyfuss
Our personal favorite was Kathleen Turner whose career has spanned forty years and is still going strong. Okay sure, there was a guy there dressed head to toe as Roger Rabbit to get his picture taken with the Turner who famously voiced the sexy Jessica Rabbit in Who Framed Roger Rabbit (1988). Turner told us the most fun she had filming a movie was her two stints as Joan in Romancing the Stone and its sequel, but that she loves voice-over work. She can be heard on the animated series King of the Hill and The Family Guy among many others. Turner and her Romancing the Stone costar Michael Douglas can be seen in the popular Netflix series The Kominsky Method, currently in its third season, which she told us as been just as fun as it looks. Chris Z was dying to ask Turner to say her famous Roger Rabbit line, "I'm not bad. I'm just drawn that way," but decided to leave that for the guy in the rabbit suit.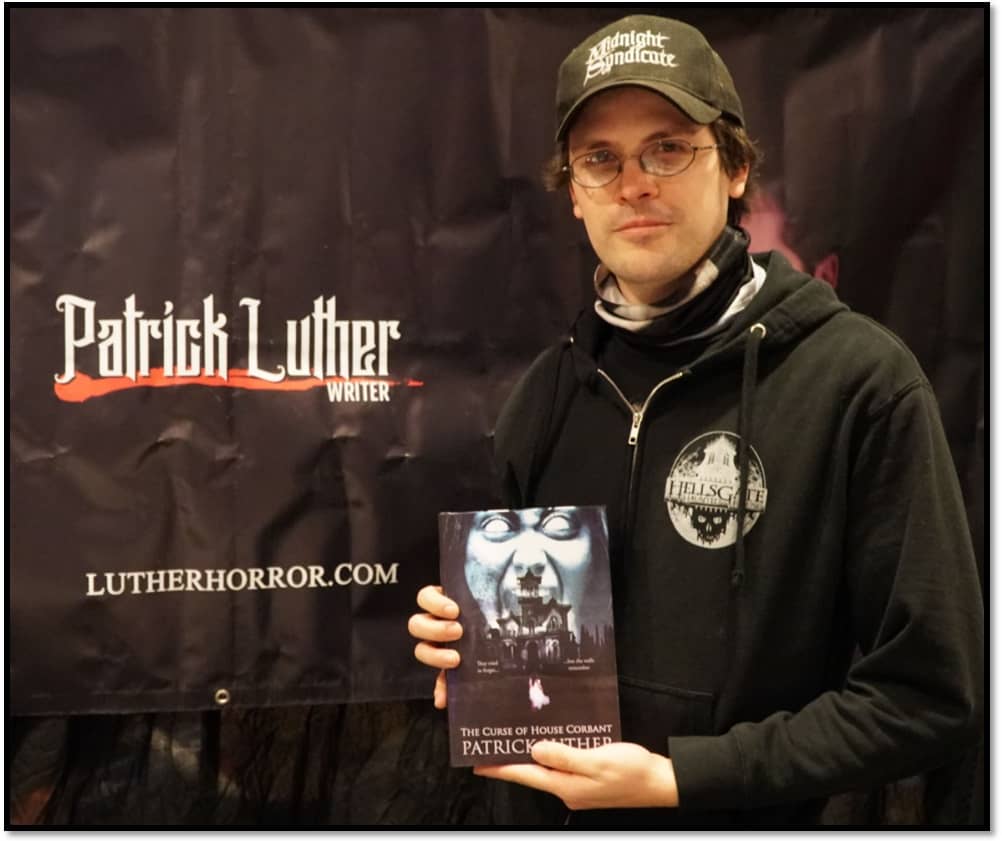 Horror writer and Midnight Syndicate fan Patrick Luther
Finally, we met first-time author Patrick Luther whom we learned got the inspiration for his novel The Curse of House Corbant from listening to the music of our goth boy band crushes, Midnight Syndicate.
A haunted house story with an eldritch twist, the Curse of House Corbant follows a seventeen-year-old Midwestern girl named Ally Corbant as she attempts to uncover the dark history of her ancestral mansion… as well as confronting the ghosts and nameless horrors that stand in her way. Ally's quest for answers will bring her face to face with her darkest nightmares as she explores both the mansion and the family-owned asylum that has been abandoned since a bloody riot in the 40s. What secrets hide in the dark, and what will their terrible truths mean for Ally and her friends?
Honestly, for an industry that is so huge it pulls in a staggering amount of money each year, the horror scene is still a fairly intimate, sub-culture family where so many people know one another, and where we are happy to greet many of the same people at these events. Maybe not the kind of folks Santa would want sitting on his lap, but a very cool family just the same.