Not Streaming: Wonderfalls
Not Streaming: Wonderfalls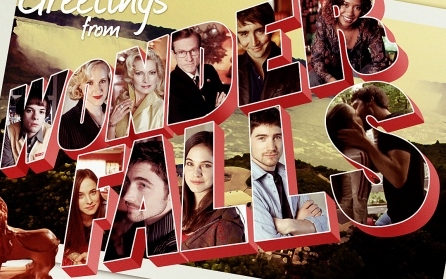 This is the second article in an occasional series called either Now Streaming or Not Streaming, depending on the availability of the television shows or films I'll be discussing.  In addition to discussing the works, I'll also note the availability of the works.  The series also ties into an issue of the Hugo Award winning fanzine Journey Planet I've recently published which has appreciations of more than thirty television series that were cancelled within two seasons.
Sometimes a show's cancellation is, at least in part, the result of the coincidental similarity with another show. On September 18, 2006, Studio 60 on the Sunset Strip, an hour long drama built around the production of a weekly comedy sketch show, debuted on NBC.  Three weeks later, on October 11, NBC debuted 30 Rock, an half-hour long comedy built around the production of a weekly comedy sketch show.  While 30 Rock ran for seven seasons and 138 episodes, Studio 60 only lasted a single series and 22 episodes.
A couple years earlier, a similar situation happened when Joan of Arcadia debuted on CBS on September 26, 2003. It ran for two seasons and told the story of a woman who was given tasks to perform by God. Six months later, on March 12, 2004, Fox aired the first episode of Wonderfalls, a story about a woman who hears voices giving her tasks to perform. After airing the first four episodes out of order, Fox cancelled the show. Fortunately, one of the executive producers, Tim Minear, had experience with Fox (he had worked on Firefly), and they had plotted the series to complete a story arc within the 13 episodes initially ordered. The full run aired on Canada's Vision TV six months after it was cancelled in the United States, where viewers had to wait until the DVD set was released in early 2005 with all the 'sodes in the correct order.
So, what is Wonderfalls and why is it so Wonderful?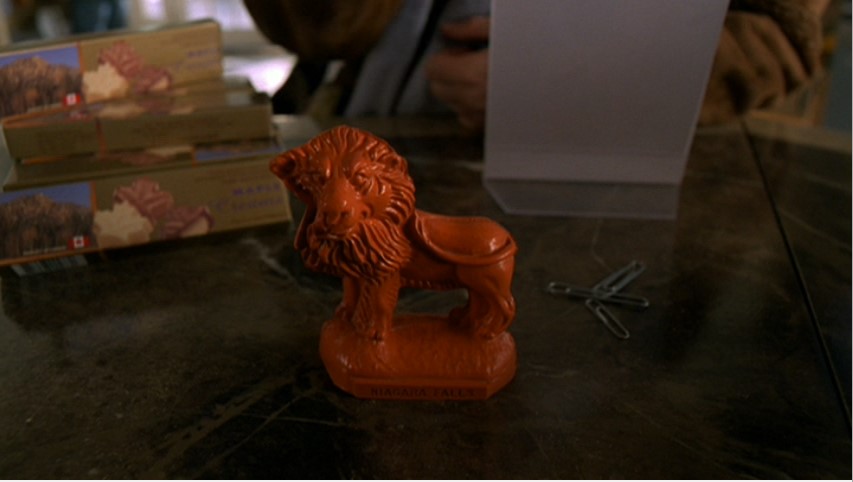 Wonderfalls focuses on Jaye Tyler (Ana Dhavernas), an under-achiever who is working a dead-end job in a souvenir shop overlooking Niagara Falls.  The supporting cast includes Jaye's family, parents Karen (Diana Scarwid) and Darren (William Sadler) and siblings Sharon (Katie Finneran) and Aaron (Lee Pace).  As you can guess by the naming conventions, Jaye is seen as the black sheep of the family. Jaye's old high school friend Mahandra (Tracie Thoms) works at a waitress at Jaye's favorite bar, where Jaye falls for the new bartender, Eric (Tyron Leitso).
In the first episode, an irate customer attempts to return a malformed wax lion, made from a Mold-A-Rama in the store.  This sets the show's big concept in motion.  The wax lion turns to Jaye and gives her cryptic instructions.  As long as Jaye tries to figure out what she needs to do, which goes against every fiber of her self-interested core, the lion leaves her alone. When she works against the lion's instructions, he works to annoy her.  Throughout the series, different inanimate creatures provide her with instructions (and provide their names to the episode's titles).
On the surface, Jaye's character should be off-putting. She's somewhat morose. If not actively selfish, she is self-centered. When not putting in hours at her retail job (she can hardly be considered to work), she hangs out cadging drinks at the bar where Mahandra works or sits in her trailer making fun of the other trailer park denizens. She is estranged from her family and revels in it.  However…
…However, despite her curmudgeonly exterior, it is clear that Jaye does take pleasure in being able to help people solve their problems, even if she resents being forced to do good deeds. Jaye also allows a more vulnerable side of herself to show through to the audience, mostly in her dealings with Mahandra and her pining for Eric.
Although each episodes stands on its own, there are various story arcs that run through the entire series, although not all of them are obvious until they return near the end (and remember that only the first four episodes aired prior to the show's cancellation.  The main one of those story arcs, dealing with Eric's wife, was one of those that is complete.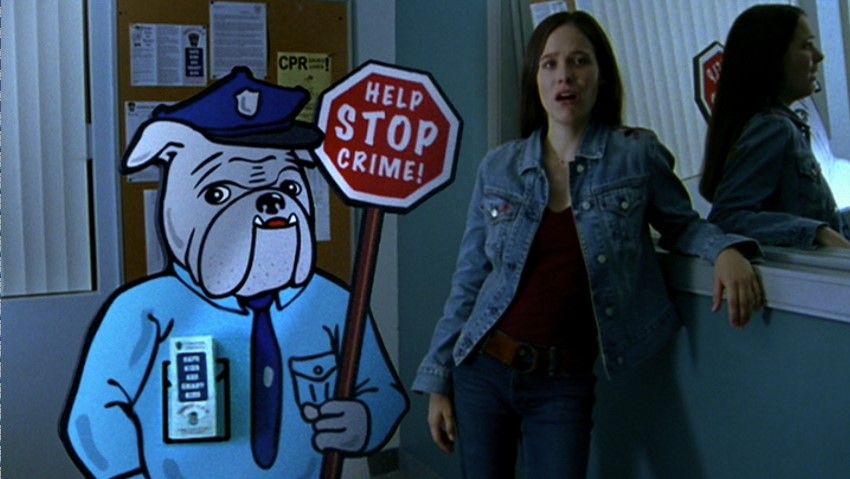 Eric landed at the bar during his honeymoon when he walked in on his wife being unfaithful to him. When she went back home, he remained in Niagara Falls, where he eventually met Jaye and began heavy flirtation with her, hindered by the fact that despite his wife's actions and their separation, he continues to take his marriage vows seriously.
Eventually his wife, Heidi (Jewell Stait), reappears in Niagara, leading to Jaye exhibiting some of her worst traits, along with a strong dose of suspicion, some of which may be misplaced. Over the course of the last several (unaired) episodes, the story of Eric's marriage plays out to its inexorable conclusion and forces Jaye to confront emotions that she doesn't want to admit having.
The viewer sees other story lines play out, but not conclude.  Jaye's relationship with her family is a major story arc. Over the course of the season we see Jaye and her sister Sharon move from barely tolerating each other to beginning to build a relationship. Jay's brother, Aaron, begins to twig that there is something going on between Jaye and the toys that she is surrounding herself with, although he can't quite figure out what it is. Her mother's concern for her is also demonstrated throughout the series.
As much as Jaye's half-hearted attempts to help people provides the heart of the show, Jaye's family, even with their issues and Jaye's desire to separate herself from them, provides as much heart. The Tyler family has issue, but they are still close to each other and there is clearly affection between them.
The manner in which the animated objects insinuate themselves into Jaye's life is clever and if their instructions are never quite clear, the way Jaye unscrambles their directives is intriguing, especially as they often point to multiple possibilities within each episode. Watching the actual message play out is like watching a detective solve a mystery without having all of the clues necessary.
In the four episodes that aired, Jaye was pulled into the world of unintentional altruism, mentored a young runaway, helped a woman on the run, and ran over her father accidentally. None of her attempts to help people went particularly smoothly and the only thing Jaye really gets out of helping people is that the voices temporarily leave her alone (until the next episode), but the people whose lives she touches are all better off for her presence, a message that the world has a plan and the justice will prevail, which may not be a realistic message, but it is a satisfying one.
Pace and Scarwid would go on to appear in Pushing Daisies a couple years later. Pace played the lead role in that series and Scarwid appeared, not as his mother, but as the Mother Superior of a convent. Furthermore, one of the characters Jaye helped, Marianne Marie Beattle (Beth Grant), reappears in an episode of Pushing Daisies, allowing fans of Wonderfalls to see the long-lasting effects of Jaye's interventions.
Wonderfalls is not currently streaming on any service, although DVDs can be purchased.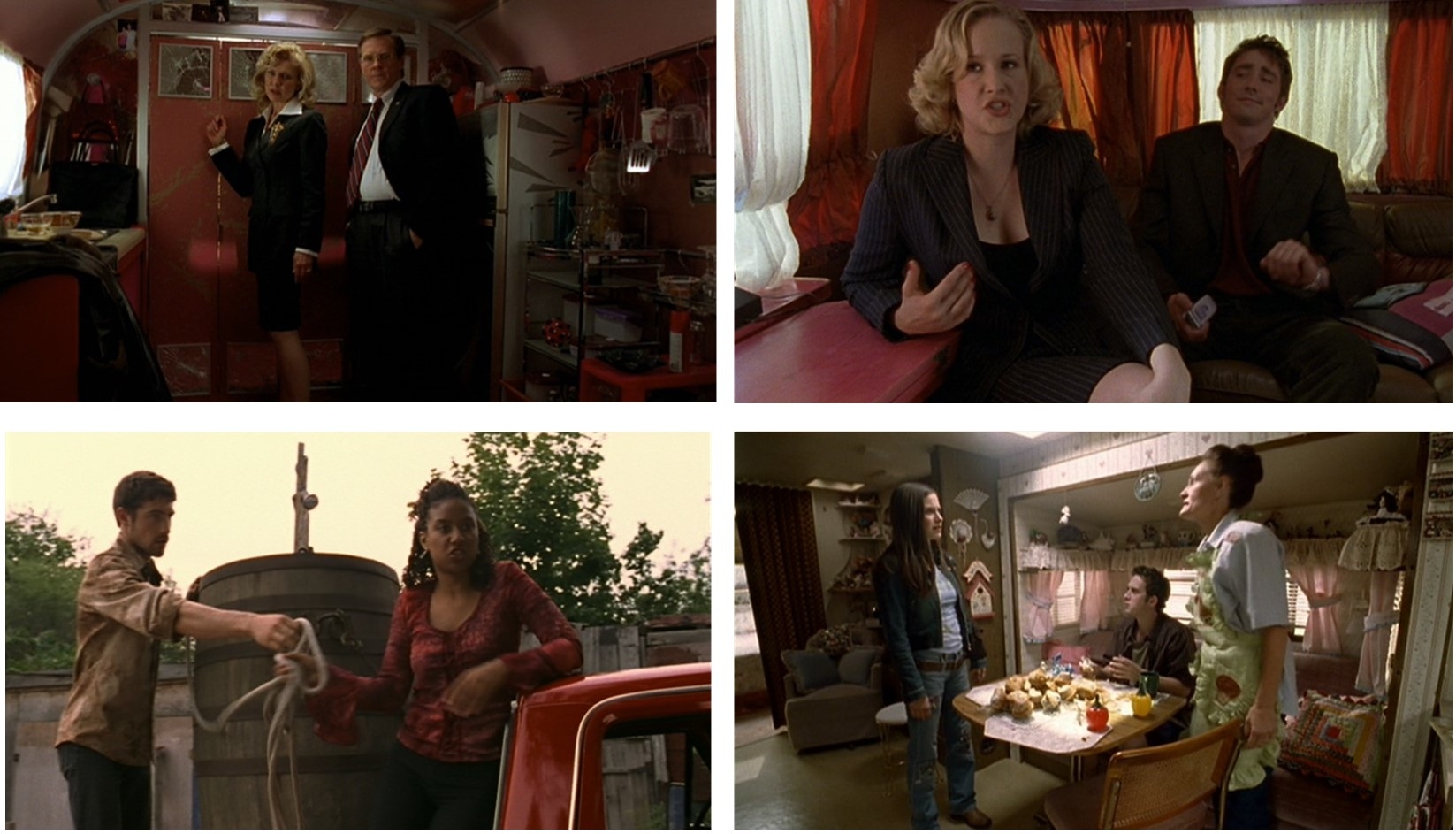 ---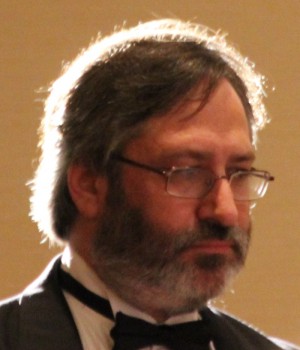 Steven H Silver is a seventeen-time Hugo Award nominee and was the publisher of the Hugo-nominated fanzine Argentus as well as the editor and publisher of ISFiC Press for 8 years. He has also edited books for DAW, NESFA Press, and ZNB. His most recent anthology, Alternate Peace and his novel After Hastings, was published in 2020. Steven has chaired the first Midwest Construction, Windycon three times, and the SFWA Nebula Conference 6 times, as well as serving as the Event Coordinator for SFWA. He was programming chair for Chicon 2000 and Vice Chair of Chicon 7.