Not Streaming: Wonderfalls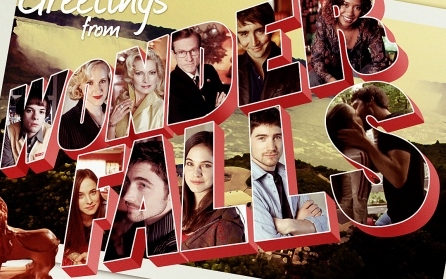 This is the second article in an occasional series called either Now Streaming or Not Streaming, depending on the availability of the television shows or films I'll be discussing.  In addition to discussing the works, I'll also note the availability of the works.  The series also ties into an issue of the Hugo Award winning fanzine Journey Planet I've recently published which has appreciations of more than thirty television series that were cancelled within two seasons.
Sometimes a show's cancellation is, at least in part, the result of the coincidental similarity with another show. On September 18, 2006, Studio 60 on the Sunset Strip, an hour long drama built around the production of a weekly comedy sketch show, debuted on NBC.  Three weeks later, on October 11, NBC debuted 30 Rock, an half-hour long comedy built around the production of a weekly comedy sketch show.  While 30 Rock ran for seven seasons and 138 episodes, Studio 60 only lasted a single series and 22 episodes.
A couple years earlier, a similar situation happened when Joan of Arcadia debuted on CBS on September 26, 2003. It ran for two seasons and told the story of a woman who was given tasks to perform by God. Six months later, on March 12, 2004, Fox aired the first episode of Wonderfalls, a story about a woman who hears voices giving her tasks to perform. After airing the first four episodes out of order, Fox cancelled the show. Fortunately, one of the executive producers, Tim Minear, had experience with Fox (he had worked on Firefly), and they had plotted the series to complete a story arc within the 13 episodes initially ordered. The full run aired on Canada's Vision TV six months after it was cancelled in the United States, where viewers had to wait until the DVD set was released in early 2005 with all the 'sodes in the correct order.
So, what is Wonderfalls and why is it so Wonderful? …