Tales From the Magician's Skull #6: Available Now; and Skull TV Announces a Kickstarter
Tales From the Magician's Skull #6: Available Now; and Skull TV Announces a Kickstarter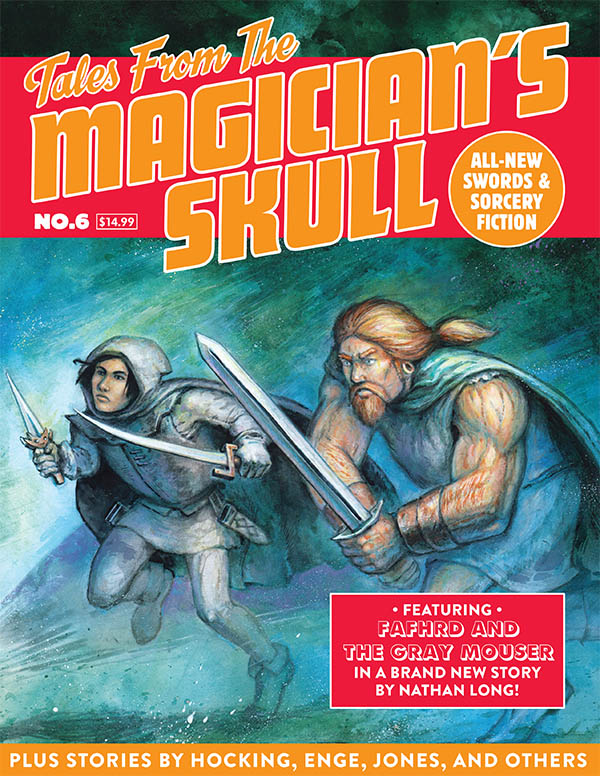 Published by Goodman-Games. Paperback, PDF, eBook (80pages). ISBN 9781950783816.
Announcing the availability and contents of the Tales From the Magician's Skull #6, a magazine of all-new swords & sorcery fiction! Issue #6 features cover art by Doug Kovacs of Fafhrd and the Gray Mouser.
Yes, mortal dogs, you read that correctly. The Skull brings readers a new series of stories set in Fritz Leiber's Lankhmar! Licensed by Leiber's estate, the forthcoming stories and novellas faithfully expand upon the legendary tales of Lankhmar's most famous duo.
Issue #6 is available at the publisher's website Goodman-Games, in Paperback, eBook, and PDF (PDF's are also available on DriveThru RPG). In the future, expect the paperback of issue#6 available from Amazon, like many of the previous issues.
Listen to the Skull:
Behold! I have fashioned a magazine like those from fabled days of yore. It overflows with thrilling adventures. There are swords, and there is sorcery. There are dark deeds and daring rescues. There are lands where heroes fear to tread. Dare you imagine it? Picture this as well — maps to wondrous and terrible places. Electrifying art for every tale. Guides to bring the terrors within to your own game table. All I lack are a few paltry shekels. Grant them to me, and I shall fling open a new portal to a world of ancient wonders! Join me, mortal dogs! Together we shall storm the gates of Valhalla!
Let's look at the table of contents! of issue #6:
STORIES
"Calicask's Woman" by John Hocking

A TALE OF THE KING'S BLADE • "I can't hold them back for long," gasped the apprentice. His face had gone pallid and sweat dripped from his chin. "Stand by the opening and try to take them one at a time. Perhaps we can… where are you going?!"

"The Feathered Shroud" by Howard Andrew Jones

A TALE OF HANUVAR • The water behind the soldier erupted, and Hanuvar lunged past him to jam the pitchfork at a shovel-shaped reptilian head. The tines bit deep, and the dark water reddened.

"Guilty Creatures" by Nathan Long

A TALE OF FAFHRD AND THE GRAY MOUSER • In the circle, Mouser stared cross-eyed at the tip of Kalphin's blade, knowing death was coming to him at last.

"Shadows of a Forgotten Queen" by Greg Mele

I've seen a maiden's veins opened as she is led through the fields, watering the new crops with her life's blood in honor of Majawl, Our Lady of Maize, and lit my own father's funeral pyre. But what manner of man owned books made of human flesh?

"Cold in Blood" by James Enge

A STORY OF MORLOCK AMBROSIUS • She moved with a lithe, muscular dancer's grace as she walked around him to enter the room. Her hair was a waterfall of starless night. Her eyes were the stars, shining with tears. Morlock had seen a more beautiful woman, but not recently.

"Isle of Fog" by Violette Malan

Dhulyn judged from the way his mouth moved now that he was screaming. That was easy to fix, she thought, as she brought her sword up and sent the head bouncing and rolling across the tiled floor.
ARTICLES
A Profile of Fritz Leiber by Michael Curtis

Leiber replied, "I feel more certain than ever [that this field] should be called the sword-and-sorcery story." And thus a sub-genre, while not quite newly born, received a name for the first time…

The Monster Pit by Terry Olson

Enter the monster pit! Down here in the pit, we provide tabletop RPG fans with playable DCC RPG game statistics for the creatures in this issue of Tales From The Magician's Skull.

The Skull Speaks by The Skull Himself
---
…and speaking of the "skull speaking"…. the undead celebrity conjured up a TV show spotlighting this issue!
SKULL TV interviews the authors in issue #6…
…and announces a celebration of Sword & Sorcery & Kickstarter
For everyone that has not yet caught the debut episode of Skull TV, go ahead and watch the replay on the Goodman Games official YouTube channel. You'll be treated not only to a glimpse at the sorcerous behind-the-scenes of Tales From the Magician's Skull #6, but insights from Joseph Goodman and Howard Andrew Jones; a roundtable discussion from regulars John C. Hocking, James Enge, and Nathan Long, author of the all-new Fafhrd and the Gray Mouser story "Guilty Creatures;" and an in-depth sit down with Skull stalwarts Violette Malan and Greg Mele.
At the end, Howard Andrew Jones and Joseph Goodman announced the Skull Day of Might, a celebration of sword & sorcery (Oct 23rd) and a Kickstarter for the magazine (slated for Oct 24th). What should one expect? A video extravaganza, most likely. Stay tuned.
So, behold, and rejoice, the end of this month promises lots of despair!
The Oct 2021 Kickstarter will fund issue #7 and subscriptions beyond, including new cover art by Sanjulian and Ken Kelly, plus many stories to astound and delight!
The KS will offer a special issue not available in print through any other channel (it will be available in PDF elsewhere, but the print version will only be available through this KS).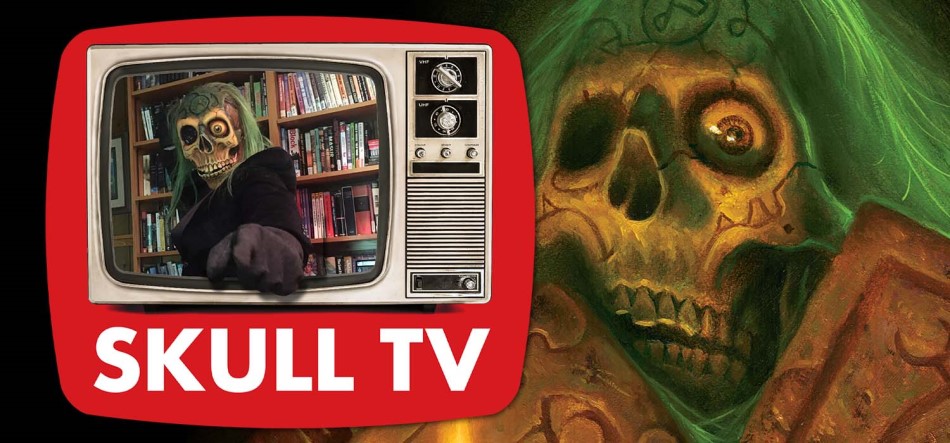 ---
Seth Lindberg is posting on behalf of Grave Lindberg, Jr., the current Publicity Thrall serving the Skull.
Content has been pulled from the Goodman-Games Tales from the Magician's Skull blog, including excerpts from Bill Ward.