New Treasures: We Have Always Been Here by Lena Nguyen
New Treasures: We Have Always Been Here by Lena Nguyen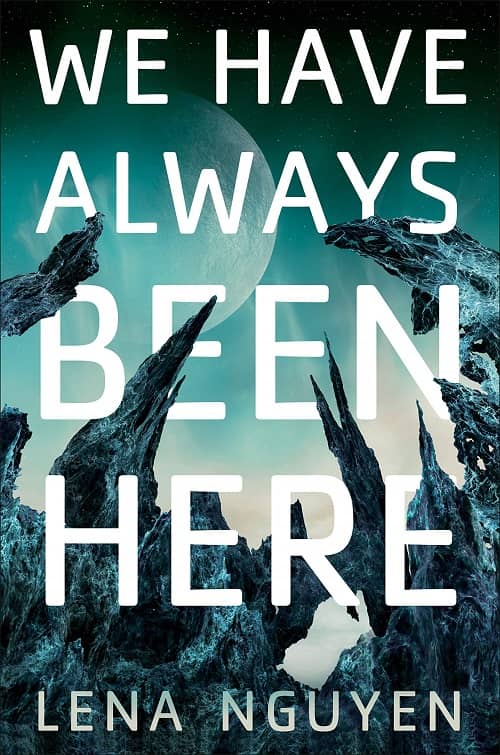 We Have Always Been Here (DAW, July 2021). Cover by Yurly Muzur
We're back! Well, we never left, but a corrupted database table made it…. challenging to publish new articles. That happens when your site is 20 years old and has half a million subscribers. So they tell me.
I'm sick of looking at database tables, let me tell you. What do I want to look at? Books! Come on, that was an easy one.
So tonight I settle down with a new science fiction debut, a creepy novel of deep space exploration by Lena Nguyen. Kirkus Reviews calls it "claustrophobic and dark, full of twisting ship corridors and unreliable characters…. A promising, atmospheric debut," and The Chicago Review of Books praises it as a "multi-layered ghost story in space… [set in] an increasingly horrific labyrinth." Here's the publisher's description for We Have Always Been Here.
Misanthropic psychologist Dr. Grace Park is placed on the Deucalion, a survey ship headed to an icy planet in an unexplored galaxy. Her purpose is to observe the thirteen human crew members aboard the ship — all specialists in their own fields — as they assess the colonization potential of the planet, Eos. But frictions develop as Park befriends the androids of the ship, preferring their company over the baffling complexity of humans, while the rest of the crew treats them with suspicion and even outright hostility.

Shortly after landing, the crew finds themselves trapped on the ship by a radiation storm, with no means of communication or escape until it passes — and that's when things begin to fall apart. Park's patients are falling prey to waking nightmares of helpless, tongueless insanity. The androids are behaving strangely. There are no windows aboard the ship. Paranoia is closing in, and soon Park is forced to confront the fact that nothing — neither her crew, nor their mission, nor the mysterious Eos itself — is as it seems.
We Have Always Been Here was published by DAW Books on July 6, 2021. It is 368 pages, priced at $27 in hardcover, $14.99 in digital formats, and $30 for the audio version. The cover is by Yurly Muzur. Read a lengthy excerpt at the publisher's website.
See all our recent New Treasures here.