Vintage Treasures: Isaac Asimov's Magical Worlds of Fantasy 10: Ghosts edited by Isaac Asimov, Martin H. Greenberg, and Charles G. Waugh
Vintage Treasures: Isaac Asimov's Magical Worlds of Fantasy 10: Ghosts edited by Isaac Asimov, Martin H. Greenberg, and Charles G. Waugh
Isaac Asimov's Magical Worlds of Fantasy 10: Ghosts (Signet/New American Library, 1988). Cover by J. K. Potter
Isaac Asimov had a lot of gifts. He was a world famous polymath, a marvelous science explainer and popularizer, and a pretty darned skilled writer of science fiction. But he doesn't get a lot of credit for one of his greatest talents, a skill in short supply even today: The man knew how to sell anthologies.
After some of his early SF anthologies became enduring top-sellers, often remaining in print for decades (including The Hugo Winners, Volume I and II, Before the Golden Age, and Where Do We Go From Here), publishers discovered that the name Isaac Asimov on the cover of an anthology almost guaranteed it would sell.
Asimov exploited this heavily for the remainder of his career, lending his fame to many important anthology series, often co-created with frequent collaborators Martin H. Greenberg and Charles G. Waugh. These include The Great Science Fiction Stories (25 volumes in 23 years), Isaac Asimov's Wonderful Worlds of Science Fiction (10 volumes in 8 years), and Isaac Asimov's Wonderful Worlds of Fantasy (12 volumes in 9 years). It's that last one we're going to look at today, with one of the final volumes: Ghosts, published by Signet in 1988.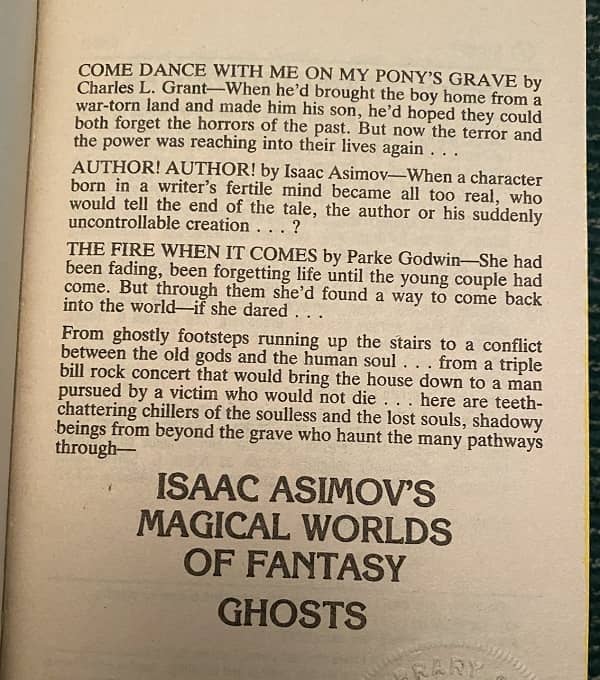 Inside paperback cover
Sometimes I wonder if it was Asimov's obvious love of short form science fiction, and his almost singular ability to sell it, that helped keep science fiction magazines thriving in the 70s and 80s, and even into the 90s.
There are a lot of reasons that science fiction print magazines have experienced a three-decade long readership decline that began in the early 90s, and many of them have to do with the enormous changes in magazine distribution in this country, and the rise in other forms of entertainment. But sometimes I wonder if Asimov's death in 1992 — caused when he contracted AIDS from a blood transfusion — prematurely took the most vocal and energetic promoter of quality short SF off the playing field, and that contributed mightily to a decline brought on by other reasons.
Whatever the case, Asimov published well over a hundred SF and fantasy anthologies, and they are a huge and enduring part of his legacy. Say what you want of his own fiction; he had superb taste as an editor, and in choosing his tireless collaborators. The anthology series he created with Greenburg and Waugh introduced thousands of readers to SF, and to numerous science fiction writers old and new. They are highly readable and enjoyable even today and — not coincidentally — remain highly collectible.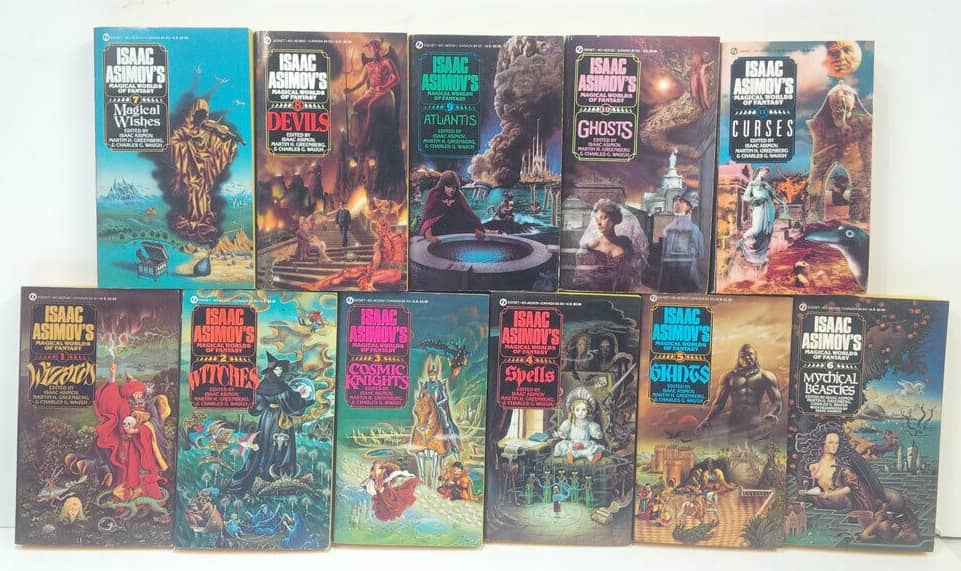 A complete set of Signet Magical Worlds of Fantasy volumes I bought on eBay
in April for $69.95. Covers by Kinuko Kraft (1-7) and JK Potter (8-11)
There are a dozen volumes in Isaac Asimov's Magical Worlds of Fantasy. The first eleven were published by Signet between 1983 and 1989; the final book (Faeries) didn't bear the Signet logo, but was published two years later by New American Library's Roc fantasy imprint instead.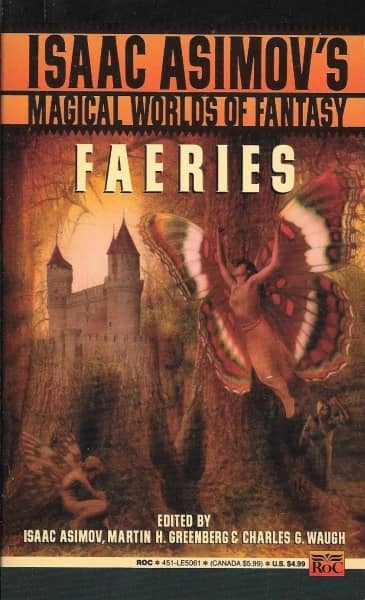 The orphan volume published by Roc (1991).
Cover artist unknown
Here's the complete list of titles in Isaac Asimov's Magical Worlds of Fantasy.
1 Wizards (1983)
2 Witches (1984)
3 Cosmic Knights (1985)
4 Spells (1985)
5 Giants (1985)
6 Mythical Beasties (1986)
7 Magical Wishes (1986)
8 Devils (1987)
9 Atlantis (1988)
10 Ghosts (1988)
11 Curses (1989)
12 Faeries (1991)
Ghosts includes the World Fantasy Award-winning novella "The Fire When It Comes" by Parke Godwin, a Magnus Ridolph story by Jack Vance, plus stories by Edith Wharton, Robert Aickman, C. L. Moore, Tanith Lee, Charles L. Grant, Isaac Asimov, and many others. Here's the complete Table of Contents.
Introduction by Isaac Asimov
"Ringing the Changes" by Robert Aickman (The Third Ghost Book, 1955)
"Author! Author!" by Isaac Asimov (The Unknown Five, 1964)
"Touring" by Jack Dann and Gardner Dozois and Michael Swanwick (Penthouse, April 1981)
"The Wind in the Rose-Bush" by Mary E. Wilkins Freeman (Everybody's Magazine, February 1902)
"Come Dance with Me on My Pony's Grave" by Charles L. Grant (The Magazine of Fantasy and Science Fiction, July 1973)
"The Fire When It Comes" by Parke Godwin (The Magazine of Fantasy & Science Fiction, May 1981) — Hugo and Nebula nominee, World Fantasy Award winner
"The Toll-House" by W. W. Jacobs (The Strand, April 1907)
"The Invasion of the Church of the Holy Ghost" by Russell Kirk (The Magazine of Fantasy & Science Fiction, December 1983)
"A Terrible Vengeance" by Mrs. J. H. Riddell (Princess Sunshine and Other Stories, 1889)
"Elle Est Trois, (La Mort)" by Tanith Lee (Whispers IV, 1983)
"A Passion for History" by Stephen Minot (The Sewanee Review, Spring, 1976)
"Daemon" by C. L. Moore (Famous Fantastic Mysteries, October 1946)
"The Lady's Maid's Bell" by Edith Wharton (The Descent of Man and Other Stories, 1902)
"The King of Thieves" by Jack Vance (Startling Stories, November 1949)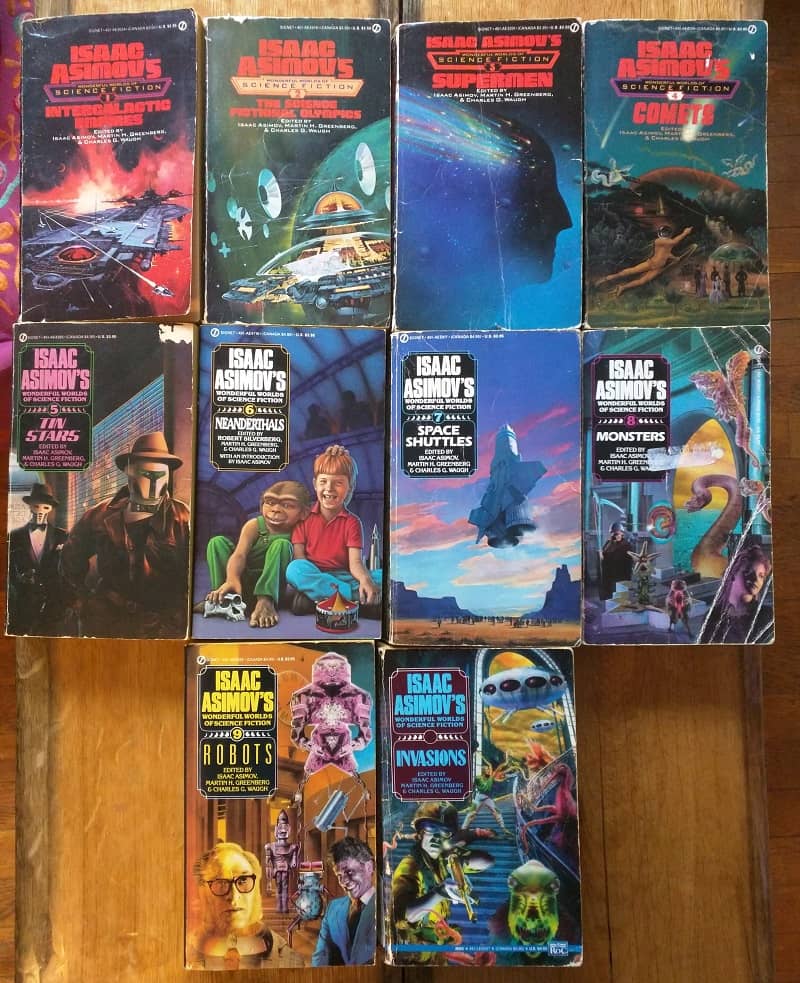 All ten volumes in Isaac Asimov's Wonderful Worlds of Science Fiction
We covered the companion series earlier this year:
A Fine Addition to Any SF Library: Isaac Asimov's Wonderful Worlds of Science Fiction, edited by Isaac Asimov, Martin H. Greenberg, and Charles G. Waugh
Ghosts was published by Signet/New American Library in December 1988. It is 348 pages, priced at $4.50. The cover is by JK Potter. It was reprinted in the UK two years later by Robinson. There is no digital edition; it has been out of print for over 30 years.
See all our Vintage Treasures here.