Ya'at'eeh – AMC May Just do Tony Hillerman Justice!
Ya'at'eeh – AMC May Just do Tony Hillerman Justice!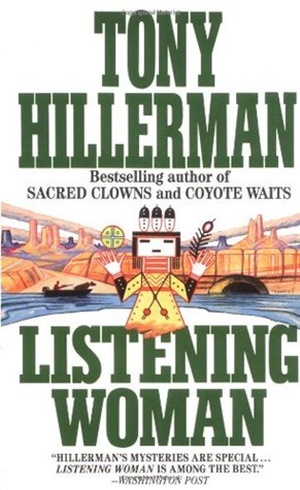 There I was, writing along on a A (Black) Gat in the Hand post on a movie version of Jim Thompson's After Dark, My Sweet, for this week's column. I also re-read the book, and I was up to my elbows in bleakness and inevitable disaster. Because, you know: Jim Thompson. Then, an article came across my FB feed, and yet again – "Ooh. Bright, shiny object!"
Tony Hillerman is one of my all-time favorite writers. The Fly on the Wall is in my Top Ten Novels list. His tales of Joe Leaphorn and Jim Chee, members of the Navajo Tribal Police, earned him the honorific of Mystery Writers Association of America Grand Master. He wrote eighteen Leaphorn and Chee books between 1970 and 2006, before passing in 2008. I wrote a three-part series here at Black Gate about Hillerman and his duo. If you've not read the series, you're missing out on one of the best police procedurals out there.
The Navajo Tribal Police books have been adapted to the screen four times, with some success, but also a feeling of 'What if?'' The product deserved more attention. And now, they're about to get it!
Robert Redford was responsible for three movies which aired on PBS. He was also executive producer The Dark Wind, which went direct-to-DVD in America. He's involved again, along with Graham Roland, George R.R. Martin, and AMC. And this looks promising. It appears that Dark Winds will be a multi-season effort if it is successful. Season one will be six-episodes, based on the third novel, Listening Woman.
Everything about this looks like quality. Redford said:
"I read my first Tony Hillerman novel in 1986 while filming in New Mexico and was immediately hooked. Hillerman is a master storyteller, his writing is full of mystery and suspense, set amidst a background that blends traditional oral stories of Native American culture and landscape."
If you've seen Skinwalkers, A Thief of Time, and Coyote Waits, you know that Redford has a desire to capture as much of the Navajo culture, and environment, and authenticity, as possible. He doesn't want to make 'Hollywood Hillerman.' I like The Dark Wind more than most, but neither Redford or Hillerman were thrilled with the final product.
AMC's President of original programming, Dan McDermott, stressed the authenticity approach:
"The series order is the product of several months in a writers' room staffed entirely by Native American writers, and it is a series that will be brought to life by those storytellers, with a cast led by Zahn McClarnon and featuring Native American actors, filmed largely in and around Native American lands, with the full support and blessing of The Navajo Nation. We are so excited about telling this captivating and entertaining story while rendering this vibrant, rich, wonderful culture and community on AMC+ and AMC."
Graham Roland is the show's creator. He and Carlton Cuse (The Adventures of Brisco County Jr, Lost) are behind Amazon Prime's smash hit, Tom Clancy's Jack Ryan. He's got standing.
And George R.R. Martin, who lives in Santa Fe, certainly brings some power to the project:
"Tony Hillerman was one of the greats, as every mystery reader knows. Down here in the Southwest, Joe Leaphorn and Jim Chee are as iconic as Sherlock Holmes, Hercule Poirot, Philip Marlowe, and Travis McGee."
Chris Eyre, who directed two of the three PBS movies, will direct the new series. He was the first Native American to win a Directors Guild of America award. He said:
"Over the past 25 years, it has been my goal to celebrate the telling of Native American themed stories from a Native American perspective with characters we can all relate too. With this television series and the support of AMC, the Great Navajo Nation and George and Bob, we are creating opportunities behind and in front of the camera while making great entertainment in the beloved American Southwest."
Vince Calandra was show runner for Castle Rock, which adapted Stephen King's works for the small screen. He's the show runner and an executive producer on Dark Winds.
These are people with pedigree, prestige, and the voice to 'make it work.' If AMC is on board – and by all indications they are – this series can accurately put Hillerman's books on screen, in a quality fashion.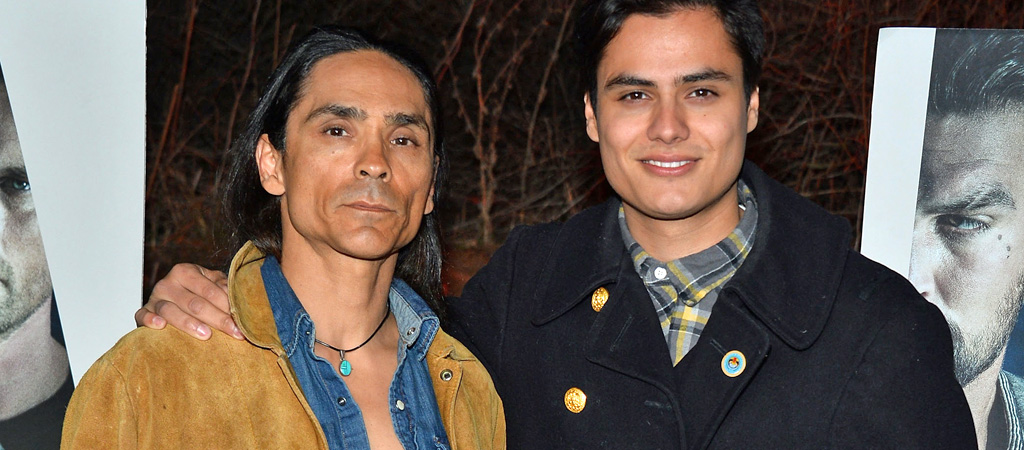 Fred Ward played Leaphorn in the Dark Wind. He actually did a pretty decent job. I like Wes Studi, but he wasn't quite right as Joe Leaphorn in the three PBS movies. He worked; I enjoyed watching him. But he wasn't who I saw as Leaphorn. Having said that, I would have gladly watched him in more Leaphorn movies.
The new series has cast Zahn McClarnon as the crusty Lieutenant. I just finished watching Longmire, and I loved him as Mathias, officer on the Rez. I'm not sure how I see him as Leaphorn, but I think he's a really good actor, so I'm looking forward to watching him. I'm uncertain, but going in, I'm optimistic this is good casting.
Lou Diamond Phillips, young and a hot commodity at the time, starred in The Dark Wind. I liked him. Adam Beach was a pretty good Chee in the three PBS movies. Kiowa Gordon is Jim Chee. I've never seen him in anything, so we'll see how he fits.
Martin is excited to be involved:
"When my friends Robert Redford and Chris Eyre asked me to help bring Leaphorn and Chee back to television, I could not agree fast enough. We have great source material in Tony's novel Listening Woman, a great pilot script from Graham Roland, a great director in Chris… and what a pair of leads, with Zahn McClarnon as Leaphorn and Kiowa Gordon as Chee!

Our plan is to shoot in New Mexico, in and around Santa Fe and on the Navajo reservation, and we are bringing in as many Navajo and other Native Americans as possible, as writers, directors, cast, and crew, to capture all the magic and mystery and wonder of the Land of Enchantment. Thanks to AMC for making it possible. Tony Hillerman wrote a lot of amazing books, and it is our dream to adapt as many of them as we can."
Jonathan Nez, President of the Navajo Nation, said:
"We are excited to welcome Chris Eyre, AMC Studios, and the industry's top executives for the production of Dark Winds, part of which will be filmed on the Navajo Nation. I also welcome my friend, Robert Redford, back to our Nation once again. This week, the Navajo Nation lifted more COVID-19 restrictions to welcome visitors and tourists back to Diné Bikéyah. We look forward to welcoming the film crew and we hope this will serve to draw more interest from production companies and draw more tourists to boost our economy and contribute to the 'Buy Navajo, Buy Local' initiative."
I read great writers like Jim Thompson, John D. MacDonald, James Lee Burke, and others, and I wonder, "Why aren't movies and TV shows being made from their stuff? Or better ones than have been made?" It's been almost thirty years since John D. MacDonald, one of America's greatest writers of the twentieth century, was adapted. Even while his best-selling novel, Condominium, is, sadly, being lived out on the evening news.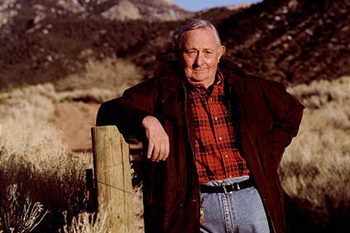 Everything about this project says 'Quality.' And Tony Hillerman's fantastic novels deserve that. If you've watched books or characters from your favorite author be put on screen and not live up to the original work (Robert E. Howard!), you know the feeling of "Man, they blew it. They could have done something so much better." It's depressing. But you see a Bosch, or a Longmire, and you know the material can be done right. Over thirty years after Hillerman died, this is the chance to bring Leaphorn and Chee to a new audience, in a definitive version.
In his terrific autobiography, Seldom Disappointed, Hillerman recounts some Hollywood experiences he'd had. In one, he's sitting at a lunch meeting at a fancy restaurant, when the exec tells him that Leaphorn "is a great character, but he can't be a Navajo tribal policeman."
Leaphorn will be licensed by some as yet unnamed agency, with an office in Santa Fe (I think he may actually be a PI at this point). With a, and I quote Hillerman here, comic relief "Somebody like Gabby Hayes."
Yeah, THAT'S what adaptations could give us. The PBS movies didn't 'sell-out' the books. And this AMC series is on the right path. I have praised The Mandalorian here at Black Gate for its mix of 'fidelity and innovation.' I believe that Leverage: Redemption, which dropped last week, also has the balance of that combination. AMC gets it, I believe.
I am almost giddy about this. It would be terrific to see the show last several seasons and tackle several books. Listening Woman is somewhere in the middle of my favorites list. It starts with quite a mystery that should translate well to the screen. We shall see!
The first season is set in the seventies, which is the time of the novel, and will air in 2022. And I'm VERY pleased that the series is adapting Hillerman's original novels, and not the disappointing continuations from his daughter Anne. I couldn't handle watching Bernie Manuelito's mom and sister issues take up over half an episode, alongside the emasculation of Jim Chee. No thanks.
Previous Tony Hillerman Posts
Meet Tony Hillerman
The Navajo Sherlock Holmes – Joe Leaphorn
Enter Jim Chee
---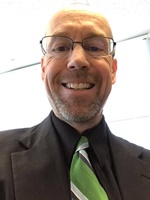 Bob Byrne's 'A (Black) Gat in the Hand' made it's Black Gate debut in the summer of 2018 and has returned every one since.

His 'The Public Life of Sherlock Holmes' column ran every Monday morning at Black Gate from March, 2014 through March, 2017. And he irregularly posts on Rex Stout's gargantuan detective in 'Nero Wolfe's Brownstone.' He is a member of the Praed Street Irregulars, founded www.SolarPons.com (the only website dedicated to the 'Sherlock Holmes of Praed Street') and blogs about Holmes and other mystery matters at Almost Holmes.

He organized Black Gate's award-nominated 'Discovering Robert E. Howard' series, as well as the award-winning 'Hither Came Conan' series.
He has contributed stories to The MX Book of New Sherlock Holmes Stories – Parts III, IV, V, VI and XXI.
He has written introductions for Steeger Books, and appeared in several magazines, including Black Mask, Sherlock Holmes Mystery Magazine, The Strand Magazine, and Sherlock Magazine.