Goth Chick News: Attention What We Do in the Shadows Fans
Goth Chick News: Attention What We Do in the Shadows Fans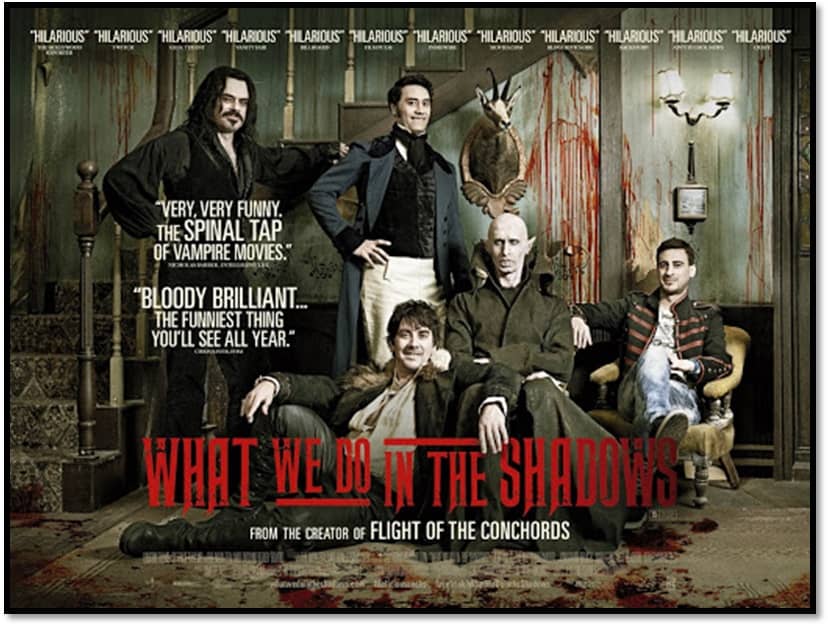 Given my favorite genre, watching anything that results in hysterical laughter is a rarity. It isn't that I don't have a sense of humor. You couldn't work here without one. It's just that the opportunities to partake in hilarity doesn't often arise in the horror industry; but when it does, the source is usually something very special.
Such is the case with the FX series What We Do in the Shadows. The two-season series is a look into the daily lives of four vampires who've been together for hundreds of years, and their "familiar," the young Guillermo, whose dearest wish is to be turned into a vampire in payment for his years of faithful service. This show, which is also available to stream on Hulu and Amazon Prime, is just plain wrong, which is what makes it so darn funny. No subject is off limits, and though some might characterize the humor as of the "potty" variety, personally that is precisely what I need in the all-too-serious times we live in.
It's been a personal torture to wait for season 3 of WWDitS which is scheduled for release on September 2nd. Especially with the summary FX put out there a couple weeks back:
This season, the vampires are elevated to a new level of power and will encounter the vampire from which all vampires have descended, a tempting Siren, gargoyles, werewolf kickball, Atlantic City casinos, wellness cults, ex-girlfriends, gyms, and supernatural curiosities galore. Plus, Colin Robinson is turning 100. And Nandor, faced with his own eternal-life crisis, tries to inject his life with more meaning. Will he find love or is he destined to be an immortal bachelor with 37 ex-wives?
See?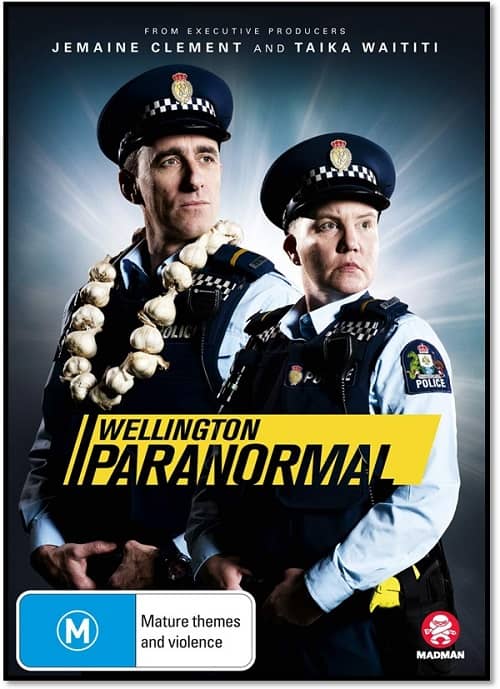 Wellington Paranormal
WWDitS started life as a movie before moving to the small screen. New Zealander's Taika Waititi and Jemaine Clement, who wrote, directed and performed in the movie version have a new television project called Wellington Paranormal, scheduled to make its U.S. debut on The CW July 11th, and on HBO Max July 12th. The show has just been green-lighted for its 4th season so we Americans have some catching up to do and I cannot wait.
According to Looper, Wellington Paranormal follows Officers O'Leary (played by Karen O'Leary) and Minogue (played by Mike Minogue), who appeared in a scene of the What We Do in the Shadows movie. In the film, the officers are called to the house where our somewhat friendly neighborhood vampires live, and they are compelled to not notice all the murder that surrounds them. They are joined on the show by Sergeant Ruawai Maaka (played by Māori actor/musician Maaka Pohatu). Nick, the naive newbie vamp from WWDitS, played by Cori Gonzalez-MacuerIt, makes a cameo on the show. Flight of the Conchords actor Rhys Darby also briefly reprises his role as werewolf Anton. Anton leads the Wellington werewolf pack and has been working on their manners.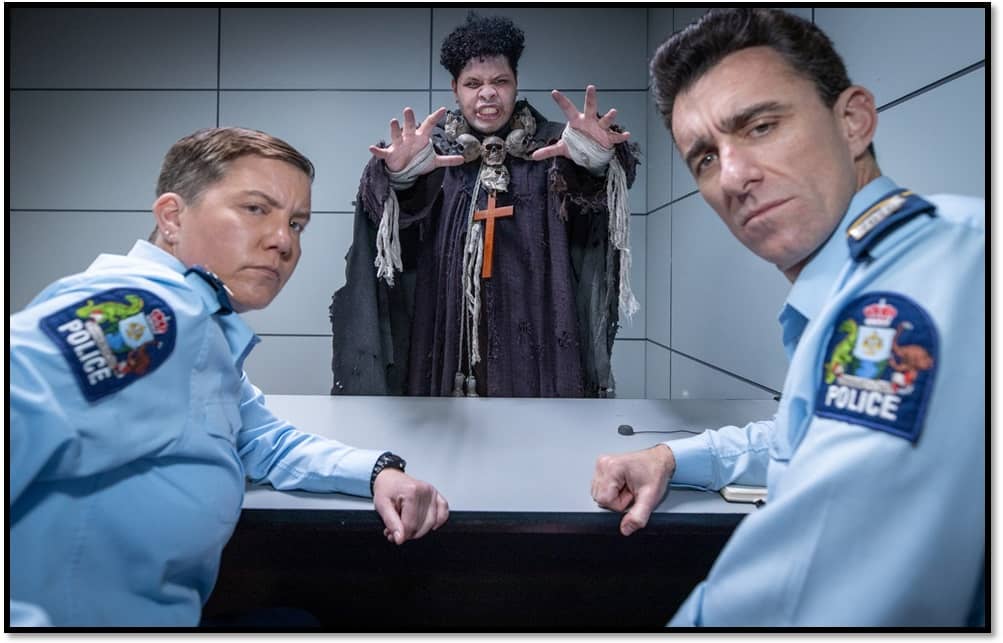 Like WWDitS, Wellington Paranormal is filmed in a "mockumentary" style, using a fictional film crew to follow the characters. Given that the creators of the two projects are the same, my guess is the often off-color, sometimes downright gross humor will be similar. And if you parse rather than binge the six episodes that comprise Wellington Paranormal's season 1, you'll be well positioned for the season 3 launch of WWDitS.
But of course, having self-control in this case, could be impossible. Check out the trailer…