GOTH CHICK NEWS: ON THE ROAD TO THE HALLOWEEN & ATTRACTIONS SHOW
GOTH CHICK NEWS: ON THE ROAD TO THE HALLOWEEN & ATTRACTIONS SHOW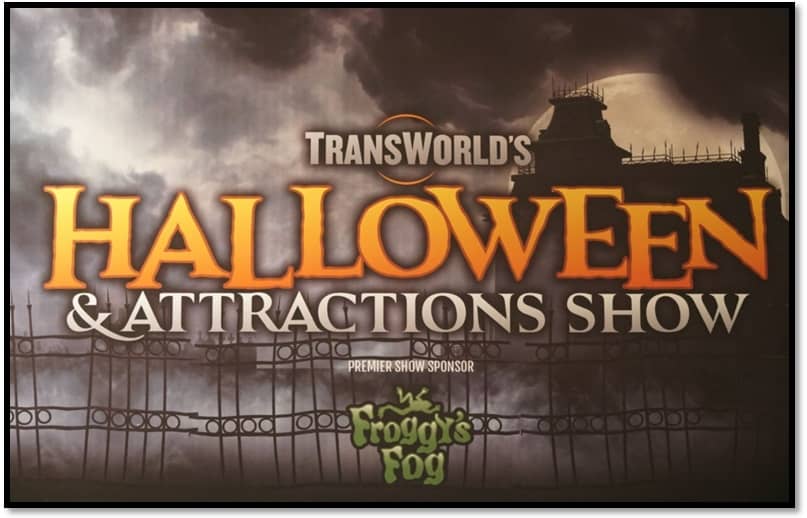 Frankly, 2020 didn't look all that different when viewed from the basement of the Black Gate office, which is home to Goth Chick News. The unisex bathroom walls are still plastered with Heavy Metal magazine covers from the 1980's. The hallways smell like a combination of microwave pizza and Axe, and the furniture… I can't. As most of my coworkers never got out much anyway, the quarantine was just the legit excuse everyone gave their spouses for hanging around John O's D&D marathon. Black Gate photog Chris Z. went off to busy himself with whatever it is he does when he's not sneaking pics of nearly naked cosplayers at our various events, and I hunkered down to write for a long, and frustrating year. The glaring difference of 2020, is that none of these activities were broken by GCN road trips to roughly a dozen conventions, tours and trade shows, which comprise the seasonal run up to the greatest holiday ever – Halloween.
Like you, we where all here and nowhere else – and it sucked.
Bad.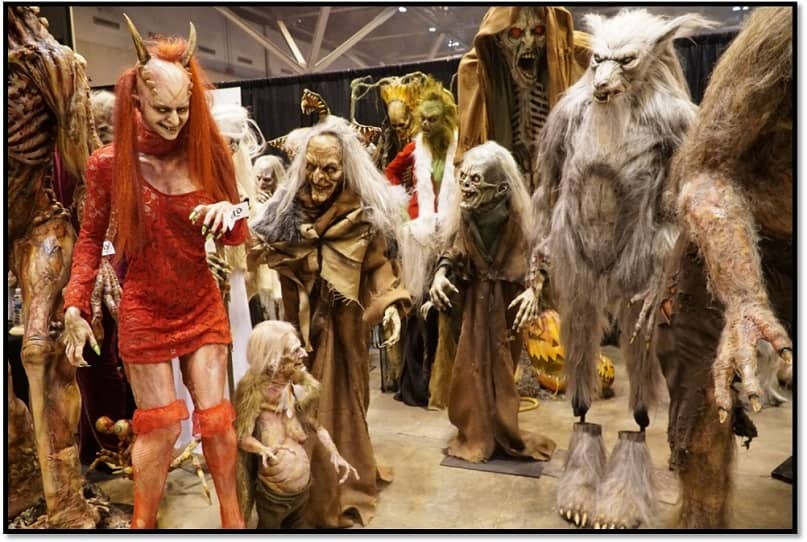 Even as our normal event line up began publishing 2021 dates, many were tentative, making us wonder if they would eventually be cancelled. The first show of the year, which is usually the last, did happen, but was a shadow of its former self. And the show which usually kicks of our "season" in March, was scheduled to happen in May. The Halloween and Attractions show (or HA for you cool kids) is special to us at Goth Chick News. It is literally the first show we were ever invited to cover way back in the early 2000's, and they have welcomed us annually for 18 years.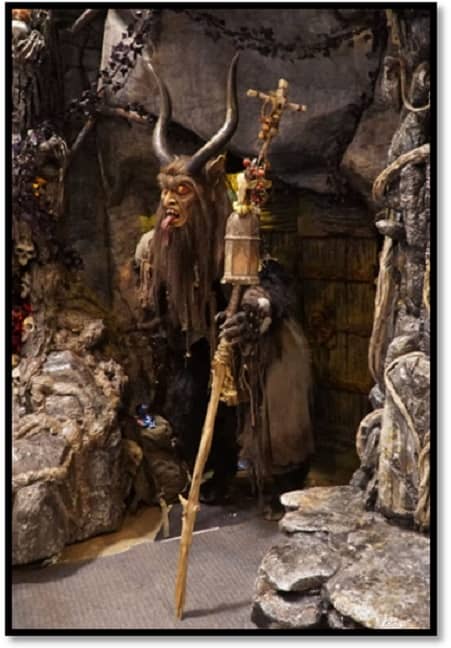 The credibility that came with press passes to the HA, not only got us introduced to dozens of artists, film makers and special effects techs, but also got us invited to other shows. The HA, which is not open to the general public, is the largest show of its kind, it's the holy grail of haunt paraphernalia, and it's the place to see and be seen in the horror industry.
And it happened last weekend.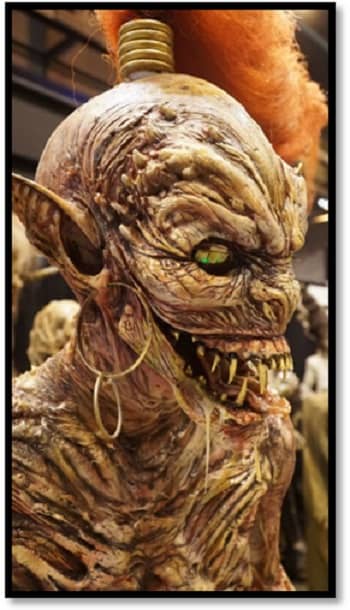 Yes, the HA came roaring back in 2021 and as if to make up for the lost year, was literally the largest it had ever been. It not only consumed the entire 500,000 square foot exhibit hall, but spilled over to cover the indoor football field which had been home to the Rams when they were in St. Louis. That space was covered with nightmare-sized Christmas décor, but I'll get to that in a minute. So, it was into the car at 5 am for Chris Z and I to make the 5-hour trek from Chicago, arriving just as the HA doors opened.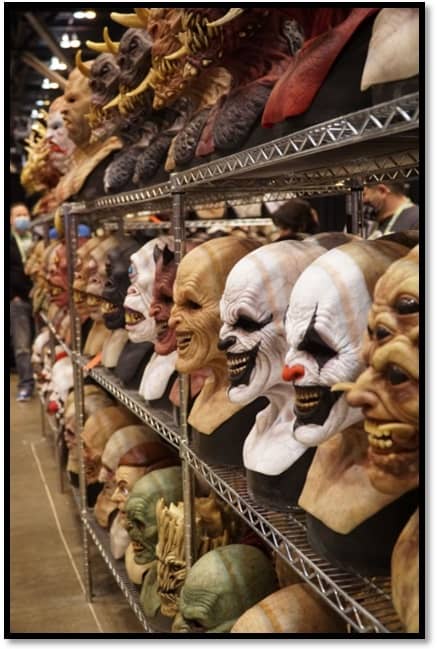 With the show being as huge as it was, its easier to let Chris Z's pics tell the story of a lot of what we saw. However, here is a short list of new finds and perennial favorites which added to the awesomeness of being out the basement, and finally surrounded by my black-clad, fake-blood-drenched brethren.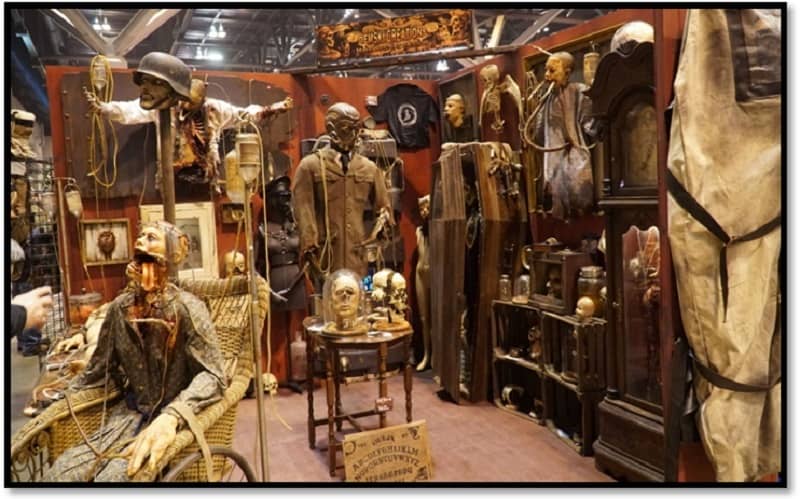 Demski Creations
Our family reunion kicked off with a visit to the booth of artist Brian Demski of Demski Creations. Do Goth Chicks hug? Indeed, we do, especially when finally getting to see Brian, a production designer who also builds sets and creates custom props. As the proud owner of several Demski originals, I can say with all authority that his work is as stunning as it is unusual. On this day it was his antique grandfather corpse-clock which was attracting attention, making me wish I had brought the Jeep instead of the car. It was also one of the few pieces that wasn't marked "sold" at the moment we stopped by. You can check out his work and incredible list of film credits at his web site, where you can also make purchases or contact him about commissions.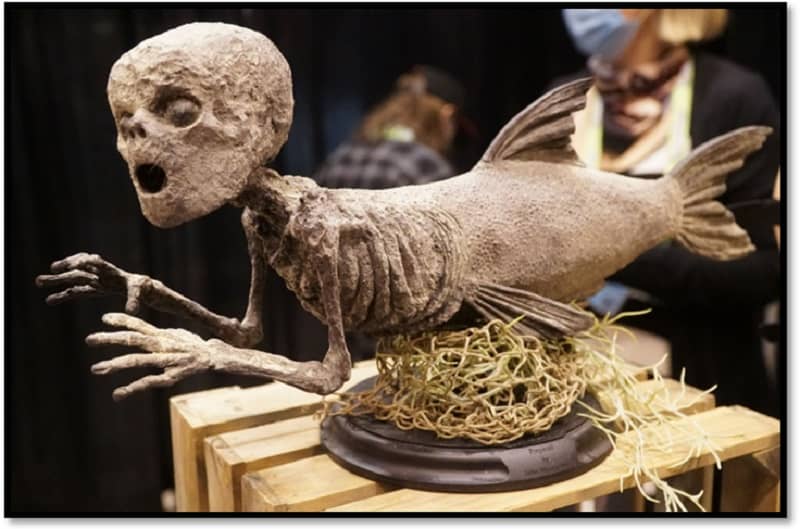 The Figi Mermaid gaff by The Gemini Company
Continuing our tour of favorites brings us to John Weisgerber, proprietor of The Gemini Company and purveyor of sideshow replicas, shrunken heads and conjoined twin skeletons. John builds creature and puppet effects for the haunted attraction and entertainment industries, and his work is on display in oddity museums, private collections (such as my own) and classrooms around the world. Gemini pieces have even been seen on TV shows such as American Horror Story and Mysteries at the Museum. I also have several items from The Gemini Company in my person collection, including a very realistic shrunken head, a mounted vampire bat skeleton and a couple of pigmy skulls under glass. Yes, they may have started out as props at one of my parties, but have migrated to my office shelves where they have been the stars of my Zoom meetings. You can peruse and purchase a Weisgerber original for yourself at his website.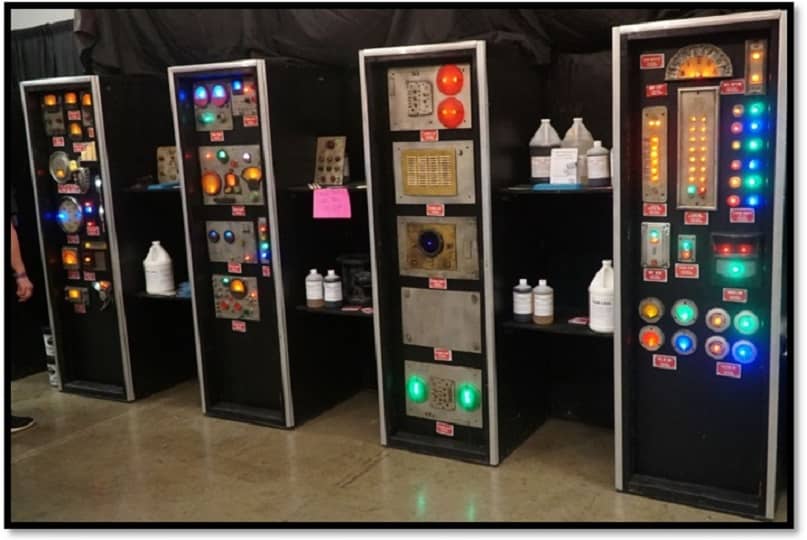 When Hinges Creak
Last but not least on our list of annual favorite things is When Hinges Creak a booth that always manages to lighten my wallet. They create the "finishings" for professional sets such as… well… hinges for a start. But also, door knobs, laboratory gauges, elevator buttons and floor indicators. In fact, my "steam punk" inspired home office is a virtual showroom of When Hinges Creak products, which can transform an ordinary wall into a laboratory, morgue, mansion or elevator scene – pretty much anything your imagination can think up. All of their pieces are molded from original antiques and it shows. Check them out here.
Though Immortal Masks isn't new to the HA, owners Andrew and Michelle Freeman and George Frangadakis truly outdid themselves this year. Between Andrew's work as a Hollywood effects artist and George's experience as an effects supervisor, the IM team is comprised of some of the best working artists in the film, theme park and haunted attraction industries. Film directors love Immortal Masks and their website has an impressive list of movies where their work has appeared. This year I was particularly impressed with their new line which included a "lava man" headpiece which is lit from between the mask layers, making the actor wearing it look like he has lava running beneath his skin. There was also what I call the "smoking man" which was a burned character that actually smolders. Collectors also love Immortal Masks, and you can view and purchase their pieces here.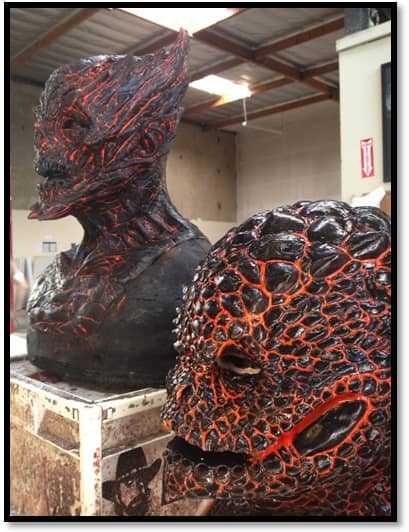 Lava man from Immortal Masks
Ned of Ned's LEDs has been a pioneer in 12v LED lighting for haunted attractions (most LED is 5v which is more expensive to set up). This makes his product line a fascination to Chris Z. who loves nothing better than playing with electricity. However, as Ned's lights can plug into a regular household outlet, his lighting effects are basically perfect for your Tiki bar, man-cave, she-shed or any other creative space. We fell in love with his wireless lanterns which have a bright-light setting as well as a "flame" effect. During the summer, they will be perfect hanging around my Caribbean-themed deck before moving them to my "Sleepy Hollow/Headless Horseman" front yard display in October. Check out his entire product line at Ned's website.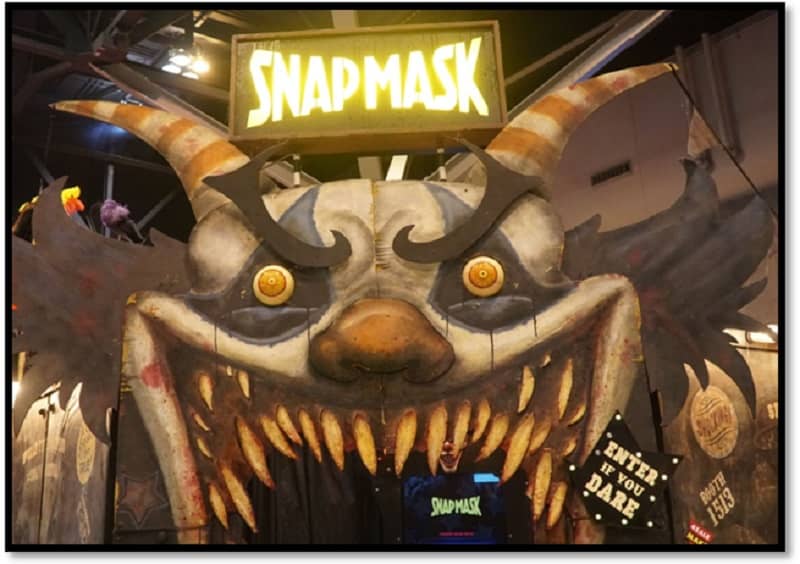 SnapMask
One of the coolest bits of new technology came from a company called SnapMask. They are an "augmented reality" (AR) studio, manned by Hollywood and gaming AR artists, who merge the real world with virtual characters, objects and environments. Basically, they can create life-sized screen projections of all manner of monster which can then interact with haunted attraction guests. Take a look at the evolution of their killer clown character here.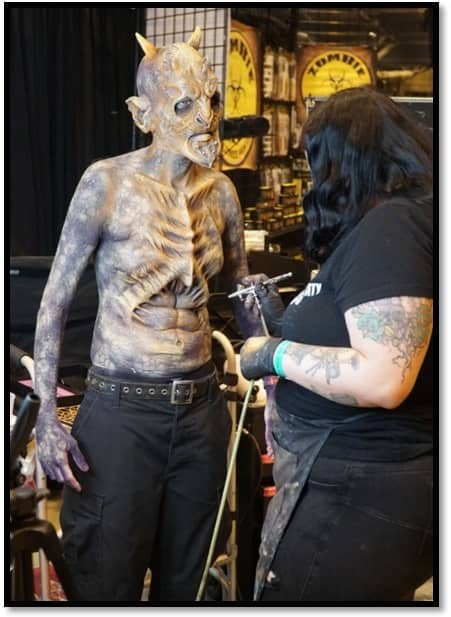 Makeup Demo by Hollywood Special Effect Artist
At the HA they were showing off their program which allows you to virtually try on masks like those from Immortal Masks, without worrying about the ickiness of multiple people pulling on the same silicone. It made us imagine how this technology could be put to work for trying on clothing virtually, before purchasing online. You can download an app-version of their software at their site, to demo how amazing this all is.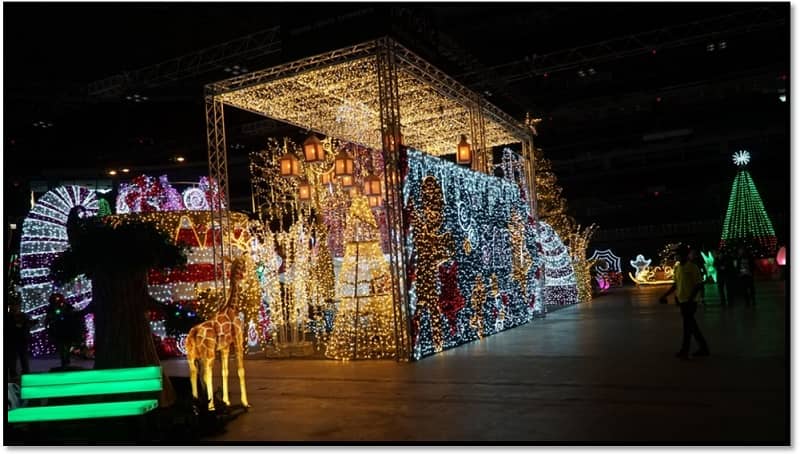 In recent years the HA has shared a fairly small part of their space with The Christmas Show, also a product of Transworld Productions trade shows. This may seem like a non sequitur until you remember that amusement parks like Great America go from Fright Fest straight into Holiday in the Park. In the same way you might wonder where events like Universal Studio's Horror Nights get their props and effects, we now can report that the crazy-huge holiday displays also come from shows like this one. In 2021, The Christmas Show took up the most space it ever has at the HA, spreading out over the entire indoor football field where the Rams used to play. Honestly, life-sized animatronic reindeer belting out "Let It Snow" might have been the most terrifying thing we saw all day, not to mention the two-story tall, blindingly lit trees and snowflakes.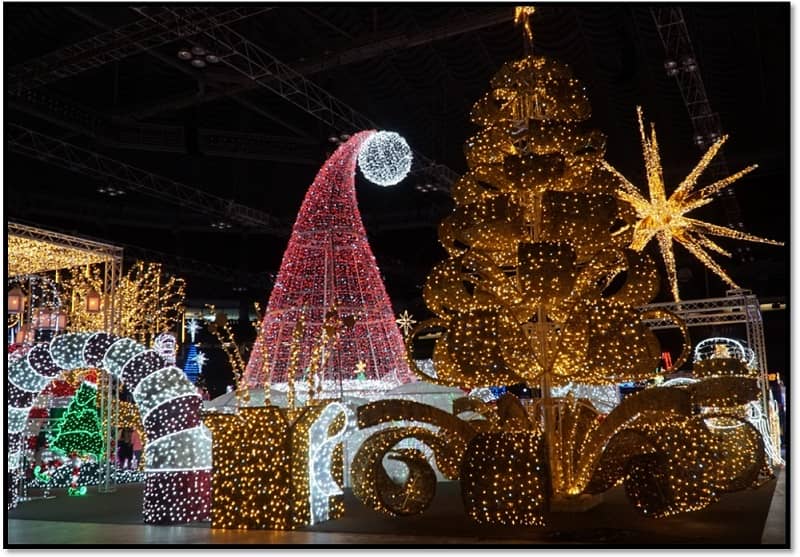 Holiday decorations in nightmare proportions…
So, 22,000 steps later, Chris Z. and I are back in the car driving north for another 5 hours. We had the chance to leave home, which in and of itself was great, see old friends and meet some new ones; all while reveling in an industry which is usually only seen on screen, or during six weeks in the fall.
It was bliss.