Vintage Treasures: Orphans of the Sky by Robert A. Heinlein
Vintage Treasures: Orphans of the Sky by Robert A. Heinlein
Orphans of the Sky (Ace Books, 1987). Cover by Carl Lundgren
Robert A. Heinlein never really did it for me. Even in my teens, when I was devouring any science fiction between covers, I didn't get the appeal. I never read his juveniles, and I bounced hard off of Friday. I found Stranger in a Strange Land dull and unbelievable, and The Moon is a Harsh Mistress resisted every attempt I made to get past the first 20 pages.
Why'd I make so many attempts? Because the first Heinlein I ever read, the slender paperback novel titled Orphans of the Sky, was a slam-bang adventure tale set on a six mile-long spaceship that twisted my head around. It was packed full of interesting characters and genuine surprises, and fit in well with the pulp SF by Asimov, Charles R. Tanner, and Edmond Hamilton — and movies like Star Wars and Alien — that was filling my head up at the time.
Orphans of the Sky fit the mold of pulp SF because it was pulp SF. It was originally published (as two separate novelettes, "Universe" and "Common Sense") in Astounding Science Fiction in 1941 and follows the adventures of Hugh Hoyland, a scientist's apprentice on the enormous generation ship Vanguard, whose inhabitants have long since forgotten their origins. When Hugh is captured by mutants and begins to learn the true nature of the Vanguard, he leads an onboard mutiny that changes the fate of everyone.
[Click the images for generation-ship sized versions.]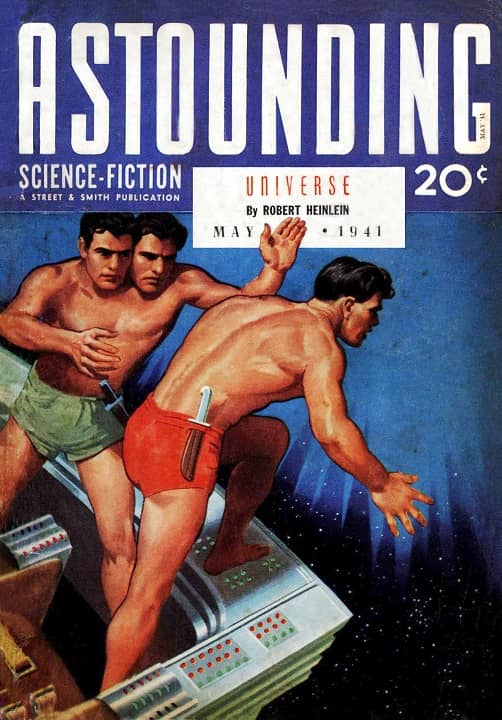 Astounding Science Fiction, May 1941. Cover by Hubert Rogers
The concept of a generation ship wasn't new even in 1941, but Heinlein married the idea with a fast-paced and absorbing pulp adventure story, and a well-thought out depiction of a degenerate society in an enclosed and decaying environment.
The tale is rightly considered a classic. Damon Knight, a clear-eyed critic of early SF, said "Nobody has ever improved on "Universe," although a good many reckless people have tried, because Heinlein said it all."
That may be a little harsh. I've read my share of generation-ship SF, and I certainly wouldn't consider all those attempts reckless. I wouldn't say it constitutes a thriving sub-genre, exactly, but there's certainly enough examples to make a decent reading project. Surveying the field in Galaxy in 1966, Algis Budrys generally seemed to agree with Knight, writing "Many hands have worked at improving Heinlein's impeccable statement of this theme," and he noted that none really succeeded until James White's The Watch Below.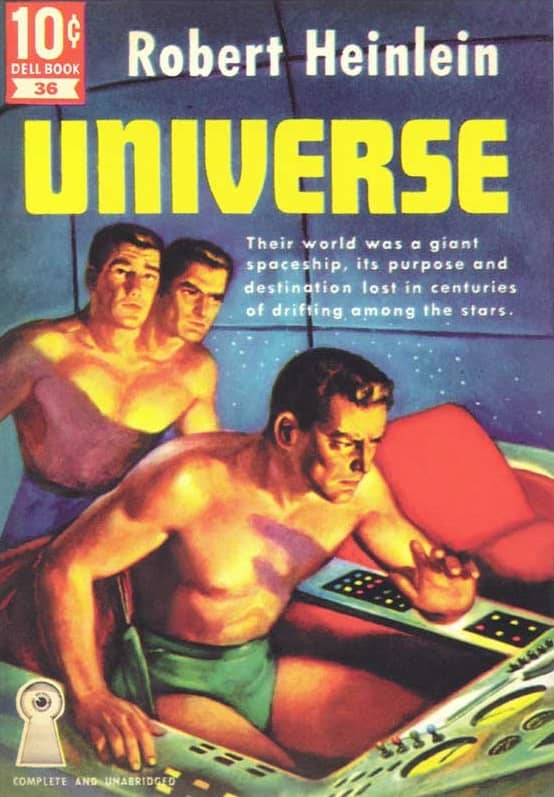 Universe chapbook (Dell, 1951). Cover by Robert Stanley
Most of Heinlein's work stayed in print for decades, and Orphans of the Sky was no exception. The first half ("Universe") was reprinted by Dell as a paperback chapbook in 1951, a fairly collectible little item that's worth keeping an eye out if you're a paperback collector.
"Universe" and "Common Sense" were first brought together as Orphans of the Sky by Gollancz in 1963, and first appeared in paperback in the US in 1965 from Signet.
Assorted editions of Orphans of the Sky: Signet, 1965 (artist uncredited),
Panther 1975 (Peter Jones), Berkley Medallion (1970, uncredited), and Ace Books (1992, James Warhola)
Since 1965, Orphans of the Sky has been reprinted numerous times by over a dozen publishers, including Signet, Mayflower-Dell, Panther, Berkley, New English Library, Ace, and most recently by Baen in 2014.
The one I read was the 1967 Signet edition, which I found in a used bookstore in Ottawa in the mid-70s. It's famous for the botched description on the back of the book, which was clearly intended for a different Heinlein novel.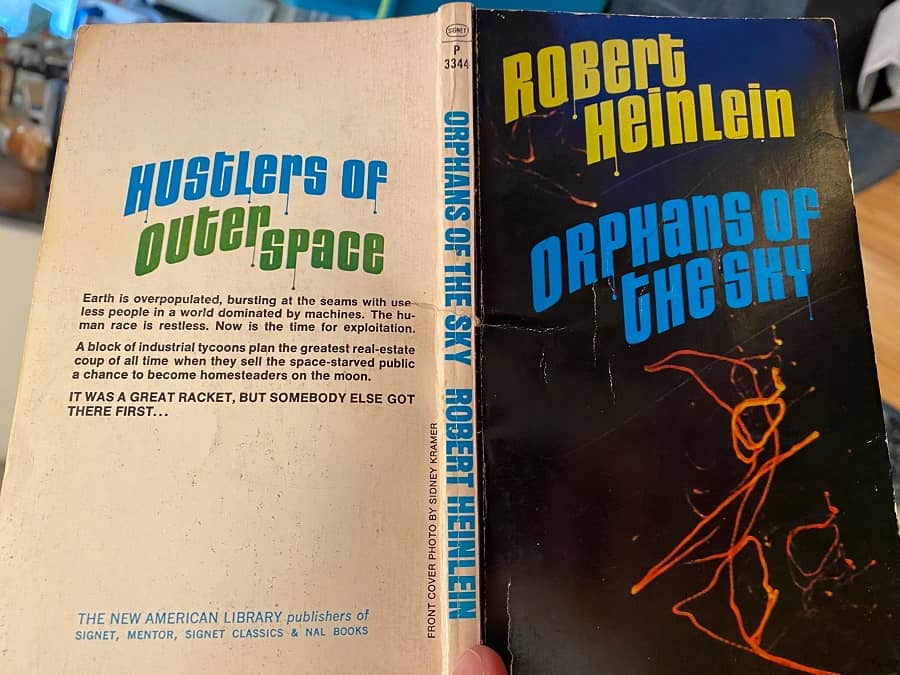 The notorious 1967 Signet edition, with the wrong description on the back.
Cover by Sidney Kramer. Photo by Patrick Nielsen Hayden.
I'm generally in a minority in my opinion of Robert A. Heinlein among old-school SF fans, and his reputation (particularly for his early work) has remained strong. It has certainly endured longer than virtually all of his contemporaries anyway, even the other two of the Big Three (Asimov and Clarke).
I've noticed this changing in the decade or so. Even Heinlein's enduring place on bookstore shelves isn't permanent, apparently, Without a significant film property to help promote his catalog to modern readers, he may be totally out of print in a decade or so.
While the vast majority of Asimov and Clarke's work (unlike Heinlein's) been out of print for years, I see no sign of Asimov's Foundation or I, Robot being soon forgotten. In fact, the upcoming Apple TV Foundation series may bring Asimov back onto bestseller lists (again), more than a century after he was born.
If I were a betting man, I'd bet Asimov will endure longer than Heinlein, for a number of reasons. I'm looking forward to finding out if I'm right in the next few decades.