My Greatest Antique Fair Find
My Greatest Antique Fair Find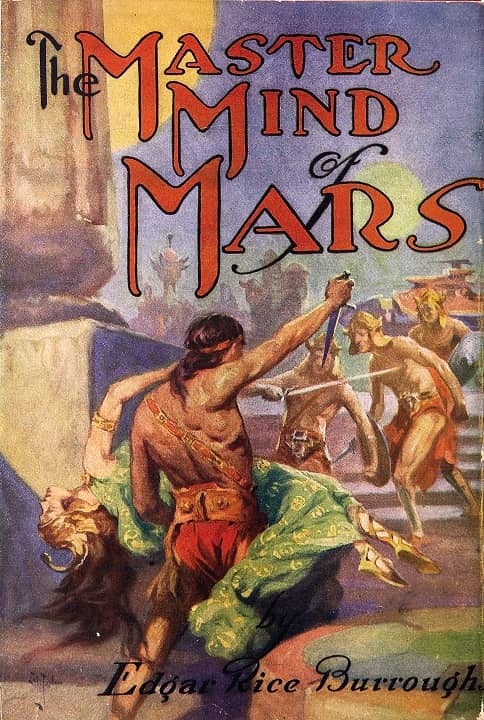 The Master Mind of Mars (A. C. McClurg & Co, 1928).
Cover by J. Allen St. John
Today, I thought I'd share the story of our greatest antique fair find.
Deb and I enjoy going to flea markets and antique shows when the weather is nice. Even if we don't buy anything, it's a fun way to spend a couple of hours walking outside while looking at a wide variety of items for sale. We've been lucky enough on several occasions to get some good pulp and paperback buys at these shows.
Our greatest find at one of them happened over 20 years ago, when Deb and I went to an antique fair in Chicago.
The Windy City was a hotbed of pulp activity in the first half of the 20th century, with several publishers based there. As a result, many artists and authors also lived there. Among the pulp artists who called Chicago their home were Margaret Brundage, Harold McCauley, Harold DeLay, Hugh Rankin, Jay Jackson, Curtis Senf, Robert Gibson Jones, Joseph Tillotson (also known as Robert Fuqua), Julian Krupa, Malcolm Smith, James Settles and Rod Ruth.
Perhaps the greatest of all of the pulp artists that lived in Chicago was J. Allen St. John. His name immediately brings to mind the stories of Edgar Rice Burroughs, as he illustrated many of Burroughs' novels of Tarzan, John Carter and others in pulps, slicks and hardcovers. For many years, St. John had his studio in the Tree Studio Building on Ohio Street in downtown Chicago. (Incidentally, my law firm held an event at Tree Studio a few years ago, and it was very cool to be able to walk around it, though we weren't able to go into St. John's old studio.)
[Click the images for pulp-sized versions.]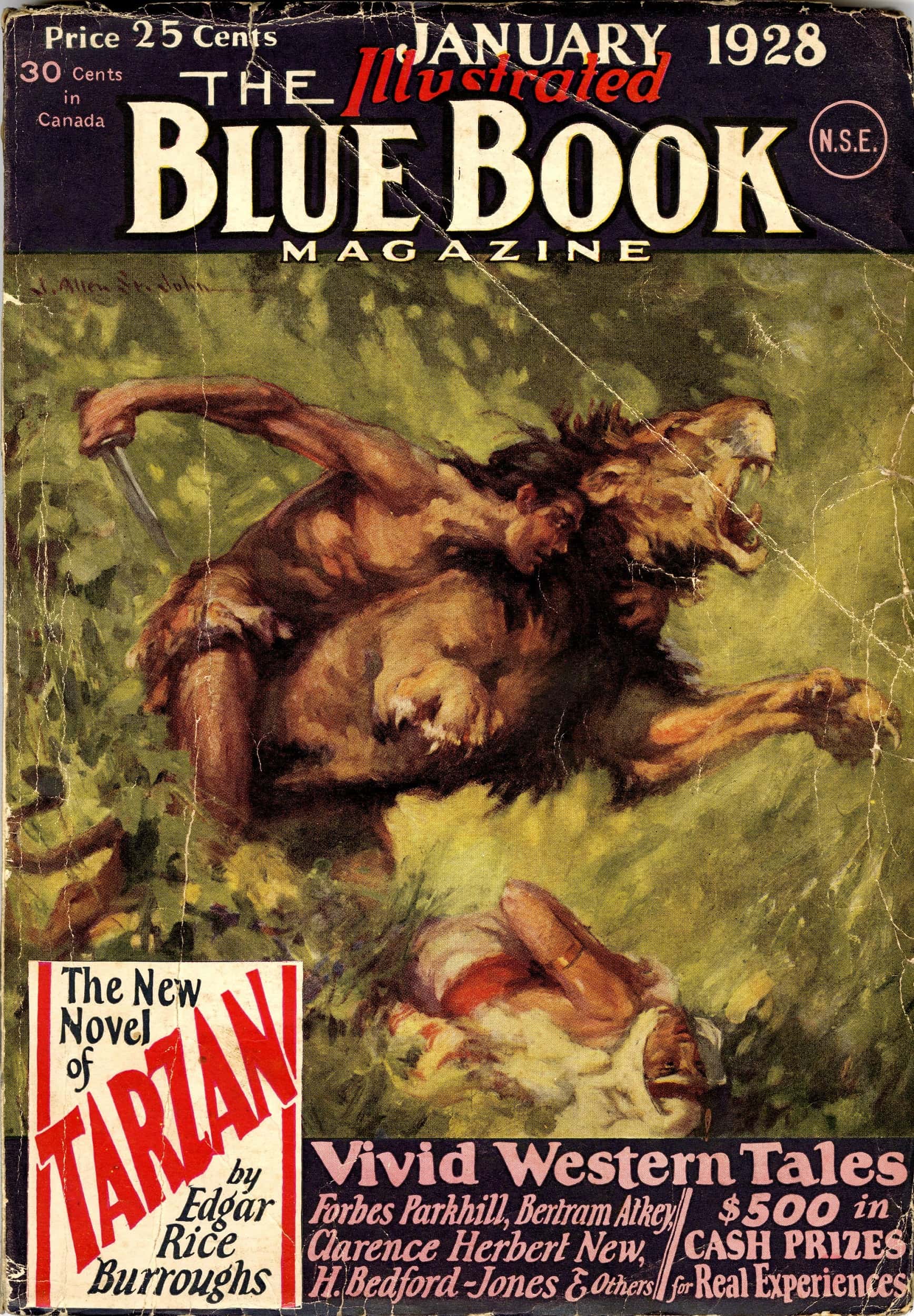 The Blue Book Magazine, January 1928. Cover by J. Allen St. John
The antique fair that Deb and I went to on that sunny day a few decades ago was located a few miles from Tree Studio. We'd spent an hour or so winding our way through the fair, not finding much of anything, when we turned to go down one of the few remaining aisles. My attention was immediately caught by a display down at the far end of the aisle, perhaps 60 or so feet away. The vendor had assembled large wire racks, which towered over the displays of the other vendors on that side, and hanging from the racks were several paintings.
As we drew closer, one of the paintings caught my eye, as the style seemed to be that of J. Allen St. John! Ignoring the other vendors in the way, I made a beeline for that painting, and upon pulling up in front of it, was richly rewarded with seeing the signature "J. Allen St. John." Fortunately for me, the vendor was away from his booth – I don't think I would have been able to disguise my initial surprise and excitement at finding a St. John at the show!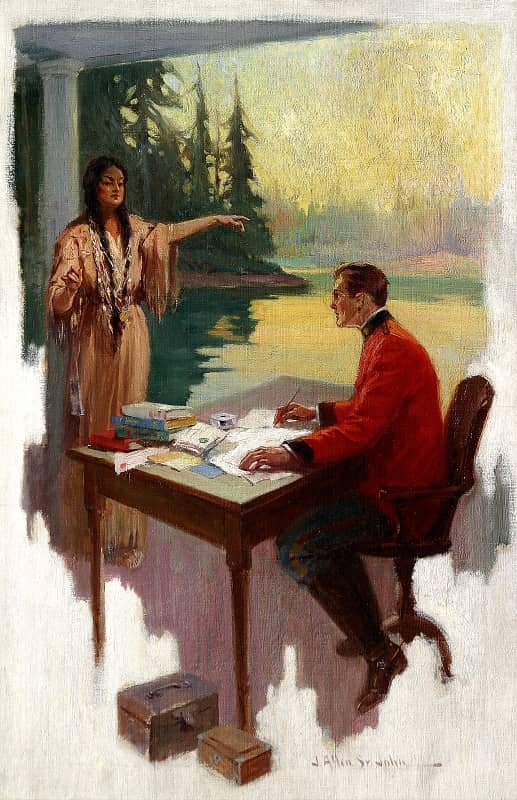 The mystery St. John
There was no price on the identification card, which just listed St. John's name and the dealer's name for the piece, which depicted a Native American woman talking to a seated Canadian Mountie. Deb looked through the rest of the art, while I zealously stood guard next to the St. John, but this was the only item of illustration art in the booth.
After what seemed an interminable wait, but which was probably only a few minutes, the vendor returned. I asked him about the painting and he told me that he'd gotten it from the estate of a collector of Mountie material. While the collector had a wide assortment of Mountie ephemera, this had been the only painting in that collection. I then asked him the price. He'd done his research on St. John, so while the painting was not a bargain, it was very reasonably priced.
Before I could even say that I'd take it, he then told me that he'd knock $500 off the price, making it even more reasonable! I asked Deb to write the nice man a check – I was worried that my hands would be shaking so much from excitement that I'd make a complete hash of writing a check myself.
With the painting purchased and safely in hand, we took a cursory tour through the rest of the fair, but all I could think about was getting home so I could look at our new treasure further. I was worried that identifying where it'd been published could present a challenge. From its layout, it clearly wasn't a pulp cover, but most likely a book illustration. While I had several books illustrated by St. John, most were by ERB, which this didn't fit.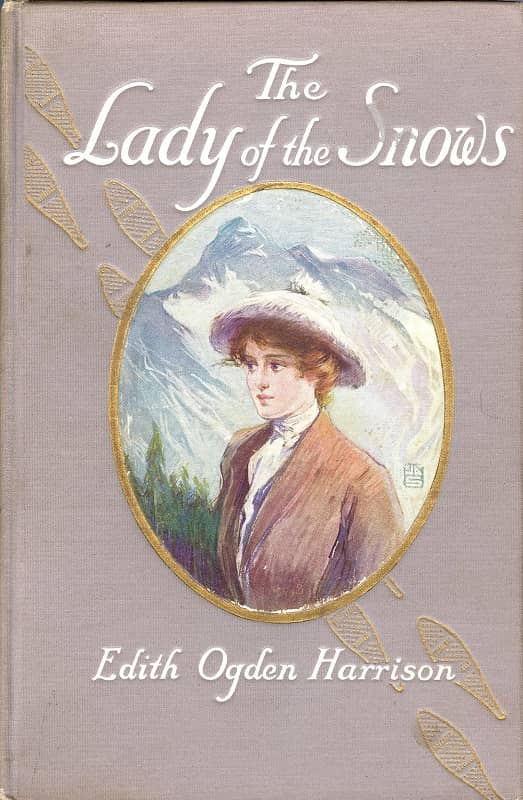 The Lady of the Snows, by Edith Ogden Harrison
(A.C. McClurg & Co, 1912). Cover by J. Allen St. John
On the drive home, I called up a friend of mine, Tom Roberts. Tom is not only a fine artist in his own right, but very knowledgeable on pulp illustrators. I told him that I'd bought a St. John painting, and he asked me to describe it. After listening to me for about a minute, he said, "Oh, that's an interior plate from Edith Ogden Harrison's Lady of the Snows, published by McClurg."
I was astonished – but grateful! – that Tom had been able to identify it immediately. I thought it was very cool that the book was published by McClurg, as McClurg was also Burroughs' first book publisher. When I got home, I looked the book up in Darrell C. Richardson's excellent J. Allen St. John: An Illustrated Bibliography, and found that this illustration was also reproduced there.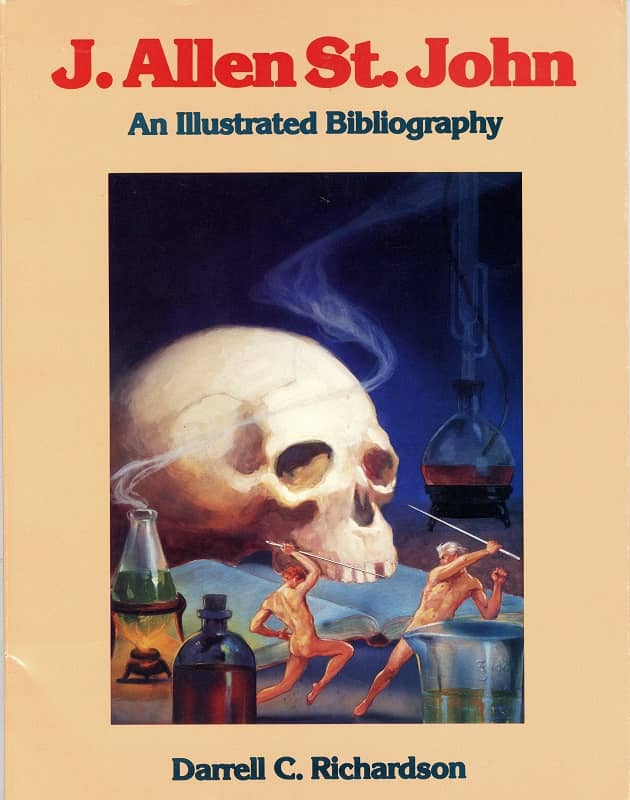 J. Allen St. John: An Illustrated Bibliography
by Darrell C. Richardson (Mid-America, 1991)
As a bit of a postscript, I went online later that day and ordered a copy of Lady of the Snows. Opening the book upon my receipt of it a week or so later, I was pleasantly surprised to see that the book had been published in October 1912 – the same month that Tarzan of the Apes was published in The All-Story! So, while it's not a piece for an ERB story, in my mind at least there's some tangential relationships!
And while hope springs eternal that perhaps someday I'll be lucky enough to find another St. John at an antique show, half the fun is in the hunt!
Postscript from Deb: "Doug is failing to mention that when he first spotted the painting his eyes bulged so far out of his head that I thought he was having some sort of attack. But then he took off like a shot…"
---
Doug is a collector of pulps, as well as of pulp, science fiction and fantasy art. He co-founded and co-organizes the Windy City Pulp and Paper Convention. For many years his Tattered Pages Press published the pulp fanzine Pulp Vault, as well as other books on the pulps. He was one of the authors of The Adventure House Guide to Pulps, and has edited several pulp anthologies, including the Best of Adventure series. His book, Uncovered: The Hidden Art Of The Girlie Pulps, an in-depth study of the spicy pulps and their art, was named ForeWord Magazine's 2003 Popular Culture Book of the Year. In 2013, Bob Weinberg, Bob Garcia and he collaborated on The Collectors' Book of Virgil Finlay, a collection of Finlay's gorgeous art. The Art of the Pulps, which he co-edited with Bob Weinberg and Ed Hulse, won the 2018 Locus Award for Best Art Book.
Doug's last article for Black Gate was Our The Art of Things to Come, Part 2: 1958-1960.