Ellsworth's Cinema of Swords: Wholesome Buccaneers (Pt. 1)
Ellsworth's Cinema of Swords: Wholesome Buccaneers (Pt. 1)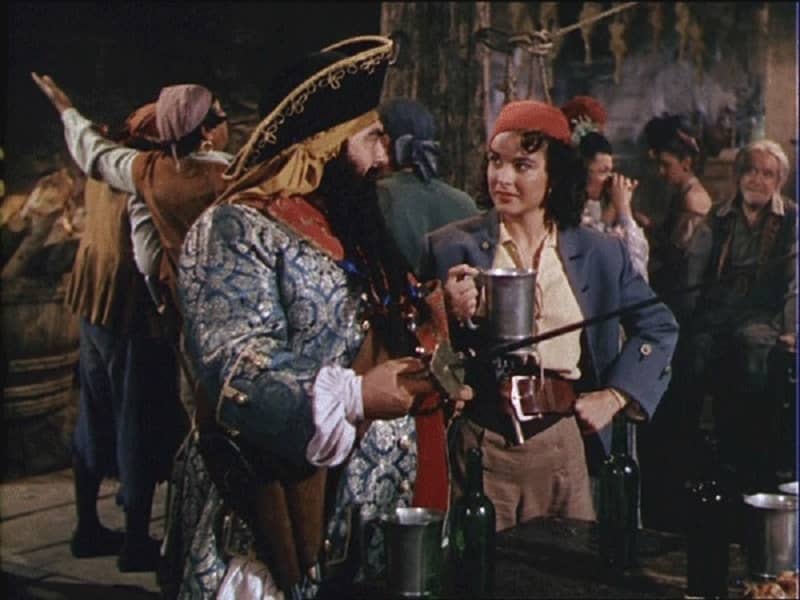 After the grim years of World War II, a large part of the moviegoing public was looking for lighter fare in their entertainment, and Hollywood returned to making swashbucklers, many of them in the happy hues of Technicolor. Pirates were back on the menu, but as America headed into the conformist Fifties, the pirates on its movie screens were more rascals than cutthroats, good-hearted rogues who would plunder some buried treasure and maybe hold a lady for ransom, but for whom keel-hauling and suchlike barbarisms were out of the question. Wholesome buccaneers as family entertainment! Absurd, of course, but fun if it was done with a wink at the viewer.
Anne of the Indies
Rating: ****
Origin: USA, 1951
Director: Jacques Tourneur
Source: Amazon Streaming Video
We usually award the title Queen of the Swashbucklers to Maureen O'Hara, but Jean Peters makes a grab for her crown in this fine pirate melodrama. As an orphan girl, Anne (Peters) was raised aboard ship by Edward Teach — Blackbeard himself! — and now commands her own fighting ship, the Sheba Queen, under the name Captain Providence, and she's a real hellion. Since her brother was hanged as a pirate by the English, she preys on English shipping and kills English sailors without mercy, making the captives walk the plank. But one captured sailor is the strikingly handsome Louis Jourdan playing a Frenchman named (what else?) François, who claims to be a privateer's navigator who'd been captured by the Royal Navy. Captain Providence frees him, adds him to her crew, and takes him to Nassau to meet Blackbeard — which is where the real trouble starts.
This story as originally developed was supposed to be about historical female pirate Anne Bonny, but then Hollywood happened, and History was shown the door. But the story we got instead, a nautical love triangle punctuated by sword fights and naval actions, is perfectly fine, with the seeds of tragedy planted in the first act bearing woeful but believable fruit in the last. And History didn't entirely get the boot, because somebody did their research into the Age of Sail and for once they got all the details right. The sailing orders the officers bark out are accurate and appropriate, the gun crews serving the cannons follow authentic routines instead of just miming, and we get the rarely seen spectacle of a ship careened on her side on the beach of a hidden cove, as her crew use their boarding axes to clear the barnacles from her foul bottom. Nice!
We also get brief but spot-on looks at three Caribbean ports: the brawling pirate hell of Nassau, the private club of the perfidious officers of the Royal Navy in Port Royal, and the exotic mix of traders and sailors from every sea at the slave market in the Spanish colonial town of Maracaibo. During all this sailing around in pursuit of the plot, Jean Peters stays in fine form as the ever-angry Captain Providence — and she can fence, too! Louis Jourdan sells it as the suave but two-faced François, and the ursine Thomas Gomez makes a memorable Blackbeard. There's even a solid early appearance by Debra Paget in a supporting role as Anne's rival. Add stylish direction by Jacques Tourneur and a rollicking soundtrack by Franz Waxman, and it makes for a tidy package o' piracy that's well worth digging up!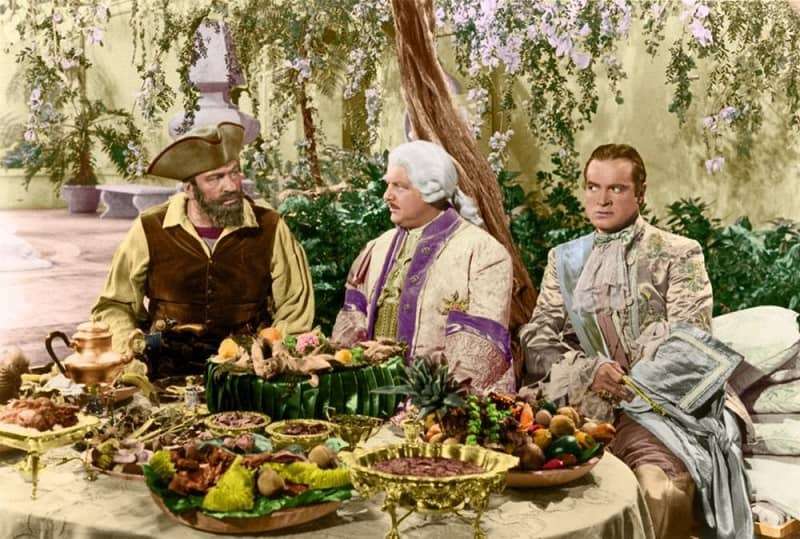 The Princess and the Pirate
Rating: ***
Origin: USA, 1944
Director: David Butler
Source: Warner Bros. DVD
You wouldn't know it from his later career, but there was a time when Bob Hope was genuinely funny. His movies in the 1940s followed a formula: stuck in a Hollywood genre film — Western, gangster, monster movie — Hope, a genial but cowardly shmoe, fouls up and gets in trouble with the bad guys. Trying to avoid whatever doom is at hand, he falls in with an Aspirational Blonde who's also threatened by the creeps and having to save her gives him the spine and spunk necessary to outwit the villains. In this entry, the villains are a crew of cartoonish Caribbean pirates led by a captain known as Hook because — do I have to tell you? Hope plays a comically bad itinerant actor called Sylvester the Great, which gives him an excuse to adopt various guises over the course of the story (including, of course, a fop with a quizzing glass). The Aspirational Blonde is Margaret (Virginia Mayo, fittingly pale, bland, and cloying), who's been abducted by the pirates and held for ransom because she's actually the Princess of … somewhere, we're never really told. Facts, meh: the story's just a framework for a torrent of gags. The jokes start to get good when Walter Brennan shows up in the pirate crew, playing a crazy coot named Featherhead with unholy glee. He helps Sylvester and Margaret escape and sends them off on a cockamamie mission to dig up Hook's buried treasure.
The escapees sail their dinghy to the pirate port of Casarouge, where after various mock-frightening encounters with the town's scurvy citizens they run afoul of the colonial governor, the oleaginous La Roche, who's played by the fine Austrian actor Walter Slezak, making his Hollywood debut in a comic role tinged with menace — his specialty. In fact, he made such a strong impression in this film that he spent the rest of the Forties playing wily villains in historical adventures. Hook reappears and bellows a lot, Featherhead pops out of a wardrobe and tattoos a treasure map on Sylvester's chest, Margaret sings a song, and there's a good deal of chasing around inside the governor's mansion. It's pretty funny, actually, until a dumb deus-ex-machina ending invalidates all of Sylvester's reluctant heroism. Walk the plank for that one, writers.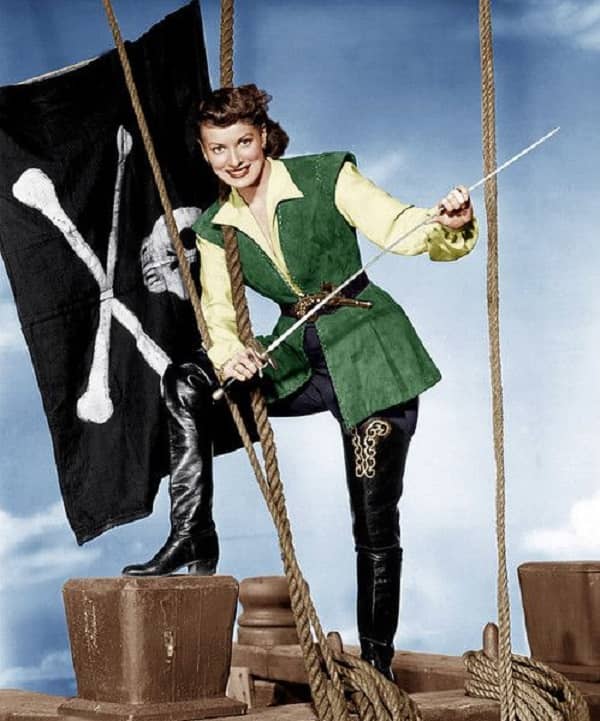 Against All Flags
Rating: ****
Origin: USA, 1952
Director: George Sherman
Source: Universal Studios DVD
I know it isn't true, but I like to think that in the late 1990s, when the wonks at Disney were considering what tone to take for the movie they planned to base on their Pirates of the Caribbean theme-park ride, they watched a lot of old pirate movies, saw Against All Flags, and said, "That's it!"
Though a few historical names appear in it, this is a story set in an Age of Piracy beyond history, or at least no closer than next door to it. The bustling Madagascar port of Libertatia is run by the Captains of the Coast, a diverse gang that includes the Latino Roc Brasiliano (Anthony Quinn), Englishman William Kidd, a black Jamaican called Captain Death, and a woman, the fiercely independent Spitfire Stevens (Maureen O'Hara), daughter of the master gunsmith who built the impregnable defenses that protect the pirate port Against All Flags — the navies of the world.
Enter Lt. Brian Hawke (Errol Flynn), who's been drummed out of the Royal Navy and arrives in Libertatia to join the pirates. Flynn looks a trifle puffy and worn down here, to be honest, but acting-wise he's got much of his old pre-war swashbuckler mojo back. That mischievous glint is in his eye once more, and he seems to be enjoying himself, especially in his scenes with O'Hara. (I mean, who wouldn't be?) She is great here, on top of her game, striding around in thigh-high leather boots and swinging a sword with the best of them, alternately trying to kiss Flynn or kill him. Anthony Quinn just wants to kill him — and he may be the villain, but as Captain Roc he looks damned dashing swaggering about in his black mustachios and gaudy pirate garb. He's the one who engineers Flynn's most dangerous challenge, a one-on-one fight in which Hawke must prove his pirate's bona fides by dueling a giant buccaneer wielding hooked boarding pikes. Ouch!
Flynn, of course, is actually a Navy spy, come to Libertatia to steal the plans of its fortifications, spike the guns, and call down condign punishment upon the pirates. He has a busy agenda: he must romance Spitfire Stevens, go a-pirating with Captain Roc, rescue an East Indian princess, and survive being lashed to the deadly Tide Stakes as the claw-clacking surf crabs crawl closer, ever closer … but the action's all served up with a light hand and tongue not-quite-in-cheek. Eventually everything comes to a head in a giant swordfight on the deck of Roc's brigantine, with Flynn, O'Hara, and Quinn all fencing away like fury, but finally virtue, or at least cunning, is triumphant, and we've all had a thoroughly satisfying piratical romp. Bonus: watch for Flynn, alone at night at the ship's wheel, singing "Haul on the Bowline" to himself.
The previous installments in the Cinema of Swords are:
Olivia de Havilland — First Queen of the Swashbucklers
Goofballs in Harem Pants
Disney's Early Swashbucklers
'50s Vikings – Havoc in Horned Helms
Laughing Cavaliers
Charming and Dangerous: Douglas Fairbanks, Jr.
Eleven Samurai: Early Chambara Classics
Beyond Captain Blood: Three by Sabatini
3 Musketeers + 1 Long Nose
Louis Hayward, Everyman with a Sword (Part 1 of 2)
Days of Technicolor Knights
Louis Hayward, Everyman with a Sword (Part 2 of 2)
Laurence Olivier, Swashbuckler?
Tony Curtis Goes Yonda
The 7th Voyage and Its Children
The Good, the Bad, and Mifune
The First British Invasion
---
LAWRENCE ELLSWORTH is deep in his current mega-project, editing and translating new, contemporary English editions of all the works in Alexandre Dumas's Musketeers Cycle, with the fourth volume, Blood Royal, just published by Pegasus Books in the US and UK. His website is Swashbucklingadventure.net.
Ellsworth's secret identity is game designer LAWRENCE SCHICK, who's been designing role-playing games since the 1970s. He now lives in Dublin, Ireland where he works as a consultant for narrative-based video games.