A Delicious Mixed Bag of Dark Fiction: Apostles of the Weird, edited by ST Joshi
A Delicious Mixed Bag of Dark Fiction: Apostles of the Weird, edited by ST Joshi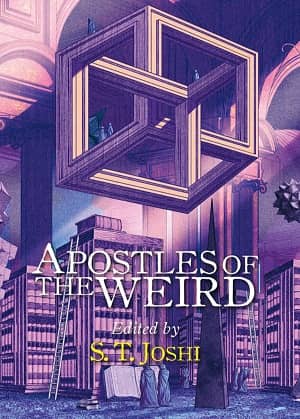 Apostles of the Weird
PS Publishing (337 pages, £25/$33 in hardcover, March 1, 2020)
Cover by John Coulthart
Weird fiction is an umbrella term that applies to a number of literary genres such as horror, fantasy, science fiction and so on. Editor ST Joshi has assembled a new anthology of weird fiction keeping in mind the various shades which constitute the "weird," and leaving the contributors free to develop plots and outcomes as they please.
The result is a collection of tales of uneven quality and eclectic content, apt to satisfy the different tastes of dark fiction lovers. I expect that different readers (and reviewers) requested to pick favorite stories would express extremely different opinions.
Although one could argue that good fiction is good fiction, regardless of subgenres and personal inclinations, the truth is that personal taste always matters. Having said that, allow me to single out the stories that I found more interesting and accomplished.
"Sebillia" by John Shirley is a dark drama of sin and misery with a strong paranormal undercurrent, while "Axolotl House" by Cody Goodfellow is a quite horrific tale set in a Mexican "retirement home" where ancient, malevolent gods still survive.
WH Pugmire contributes "The Zanies of Sorrow," an excellent atmospheric piece with a distinct supernatural texture and a surprising twist in the tale, and Stephen Woodworth pens " Cave Canem," an effective tale of sheer horror.
"This Hollow Thing" by Lynda E Rucker is an outstanding, spellbinding, atypical ghost story with a superb characterization of a group of former classmates reunited for a peculiar Christmas party.
"Porson's Piece"is yet another of Reggie Oliver's great dark tales, exploring the thin border between life and death, graced by his fabulous storytelling style.
Other distinguished contributors are: Gemma Files, Jonathan Thomas, Steve Rasnic Tem, Nancy Kilpatrick, Michael Washburn, Jason V Brock,Michael Aronovitz, Clint Smith, Richard Gavin,George Edwards Murray, Darrell Schweitzer, Lynne Jamnek.
All in all an interesting anthology where every reader will find something to enjoy.
Read all the details here, and S.T.'s complete introduction here.
---
Mario Guslandi was born in Milan, Italy, where he currently lives. He became addicted to horror and supernatural fiction (too) many years ago, after accidentally reading a reprint anthology of stories by MR James, JS Le Fanu, Arthur Machen etc. Most likely the only Italian who regularly reads (and reviews) dark fiction in English, he has contributed over the years to various genre websites such as Horrorworld, Hellnotes, The British Fantasy Society, The Agony Column and many more. His previous review for us was of We All Hear Stories in the Dark, by Robert Shearman.