Heroic Fantasy Quarterly #45 was released on an unsuspecting world on the second of August. Four works of fiction, one outstanding poem, plus artwork and audio. A great issue that you should check out!
What have we got? This is what we've got:
Fiction Contents
Assailing the Garden of Pleasure, by Danial Ausema, with audio by Karen Bovenmeyer. The wounded apprentices of a corrupt teacher must gather what little power and skill they have to attempt to wrest the stolen parts of themselves from their corrupt master. The mastery of sorcery exacts a price. The search for vengeance exacts an even greater one.
Fox Hunt, by Rebecca Buchanan, with artwork by Simon Walpole and audio by Karen Bovenmeyer. There is a horror worming its way into the world of feudal Japan in this outstanding story. No bold samurai or powerful sorcerer fights against it — only a lone foxkin and a willful old woman stands in its way. A unique tale!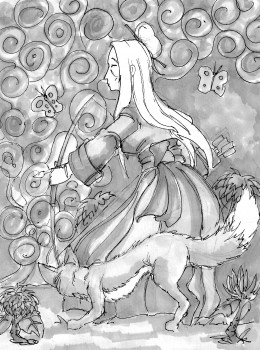 Instrument of Vengeance, by Howard Andrew Jones with artwork by Darian Jones. The clever Dabir and his bodyguard Asim are on the case! When a young musician's enchanted oud is stolen the duo delve into a world of deceit, smoldering resentments, and rumored curses. An investigation that takes them through the seedier side of Mosul, and the seedier side of human nature.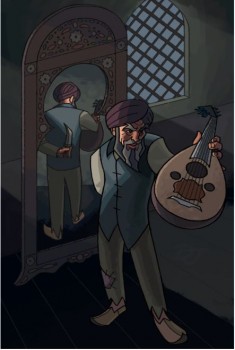 Apples of the Gods, by Jane Dougherty. When the goddess Idunn is kidnapped from Asgard by the giant Thjazi she gets her first true glimpse of the world beyond the walls of Asgard and discovers things are not quite what she was led to believe. A cynical tale for cynical times!
Poetry Contents
Owain the Red at the Castell Dolbadarn , by Nicole Sellers with artwork by Simon Walpole. An old Scottish legend re-told in poetry. Vengeance and murder in the highlands!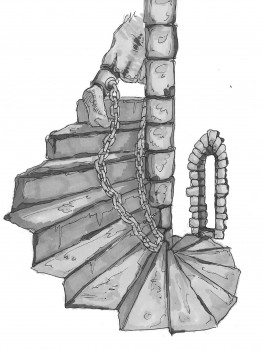 And even though you should simply take my word for it, you don't have to take my word for it! Tangent Online and Quick Sip Reviews can give you the rundown on the scoop.
---
Adrian Simmons is an editor for Heroic Fantasy Quarterly. Check out their Best-of Volume 3 Anthology, or support them on Patreon!