Vintage Treasures: The Stochastic Man by Robert Silverberg
Vintage Treasures: The Stochastic Man by Robert Silverberg
The Stochastic Man (Warner Books, 1987, cover art by Don Dixon)
Back in May I started a Vintage Treasures post about Robert Silverberg's 1975 novel The Stochastic Man, and it wasn't long before I'd unearthed nearly a dozen different editions. Pretty soon I got distracted comparing the art and author branding for each, and that led me down a deep rabbit hole that ended up with a very long article titled The Art of Author Branding: The Paperback Robert Silverberg.
That was fun, and very satisfying. But it never mentioned The Stochastic Man.
So today I grit my teeth, committed myself to a lot more focus, and started in again. Wish me luck.
The Stochastic Man was one of Robert Silverberg's most popular and successful novels. It was originally serialized in The Magazine of Fantasy and Science Fiction (April to June, 1975), and then published in hardcover by Harper & Row in September 1975. That year it was nominated for the Hugo, Nebula, Locus, and Campbell Memorial Award. After that it was packaged up by many publishers in the 70s and 80s, and enjoyed a long life and fruitful life in reprint editions from Fawcett Gold Medal, The Science Fiction Book Club, Coronet Books, Gollancz, Warner Books, Gateway/Orion, and others. It was reprinted in trade paperback just last year by ReAnimus Press.
Other Warner Books Silverberg paperbacks from 1987: Beyond the Safe Zone, Son of Man, and Tower of Glass. All covers by Don Dixon
There are plenty of reviews out there to give you a sense of this book. Here's an excerpt from one of the better ones, Sandy Ferber's fine analysis at the Fantasy Literature blog.
Silverberg still had two more major works up his sleeve before calling it quits in 1976… The Stochastic Man (1975) and Shadrach in the Furnace (1976). A look at the 1975 work will surely make readers wonder why Silverberg ever thought of taking a break at all, as the book is as imaginative, beautifully written and mind expanding as any other in the author's canon. Nominated for both the Hugo and Nebula Awards, the novel lost out, on both fronts, to Joe Haldeman's The Forever War, yet remains an eminently entertaining and thought-provoking work, now almost 40 years later.

The tale is told by Lew Nichols in the, uh, futuristic, cusp-of-the-millennia (December 2000) setting of a decayed and strife-ridden New York City… Using mathematical formulae… Nichols is able to make better-than-educated guesses regarding future events. Married to a beautiful Indian woman and residing away from the urban violence in his protected Staten Island enclave, life is certainly good for Nichols. And that life becomes even more exciting when he meets NYC mayoral hopeful Paul Quinn at a party and joins his staff. With Nichols' assistance, Quinn wins the election in a landslide and then sets his eyes on the presidency. Meanwhile, Nichols' stochastic gifts soon begin to seem like weak tea indeed when he encounters a little old man named Martin Carvajal, who has the uncanny knack of being able to look into the future with perfect accuracy, and who claims that that future is unalterable….

While The Stochastic Man is as gripping and entertaining a sci-fi tale as any fan might hope for, its underlying message of mankind living in an inflexibly rigid, deterministic universe is one that many readers might feel uncomfortable with. Not since Cornell Woolrich's great 1945 thriller The Night Has a Thousand Eyes, perhaps, has such a bleak vision been presented… As in his hallucinatory 1971 novel of the far-distant future, Son of Man, here, the Earth of a billion years hence is imagined by Nichols in one surreal sequence ("Mechanical birds, twittering like creaky gates, flutter overhead")… [a] wonderfully inventive piece of work.
I know I said I'd stay on the text, but it's just too much fun too look at the various editions over the years, and the ways the cover artists interpreted the source material (or totally ignored it, as the case may be). Here's three fine examples.
The Stochastic Man Fawcett Gold Medal paperbacks: 1976 (artist unknown) and 1981 (artist unknown,
but probably Jerome Podwil), and Open Road digital edition (2014, artist unknown again)
I'm trying to stay focused, I swear. But the mystery of the unknown cover artist for the 1981 Fawcett edition (above middle) just bugs me.
Seriously, the artist has to be Jerome Podwil. I'm no expert on Podwil (at all), but come on. Have a look at Podwil's cover for Bester's The Demolished Man.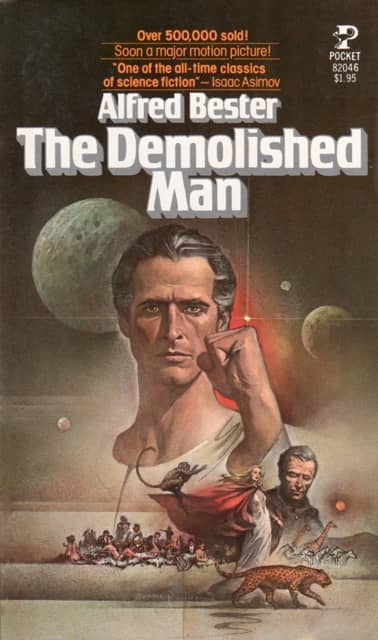 The Demolished Man by Alfred Bester (Pocket Books, 1978). Cover by Jerome Podwil.
Just to drive home the point, here's detail from both covers.

Close-ups of The Demolished Man (art by Jerome Podwil) and The Stochastic Man. You know I'm right here.
Q.E.D.
Anyway, back to The Stochastic Man. (Almost done. Just stay focused for a few… more… minutes….)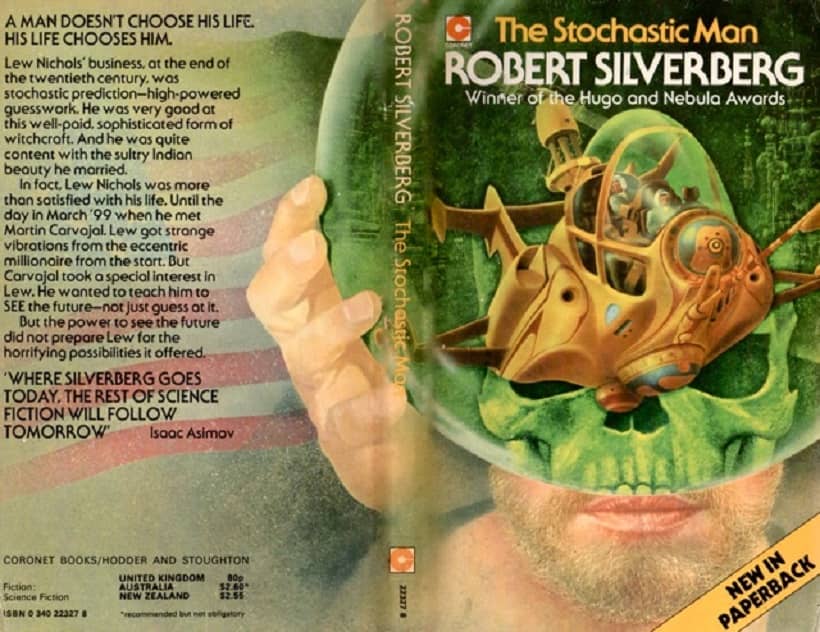 1981 Coronet Books edition. Cover by Jim Burns
The Stochastic Man is still in print, a pretty amazing accomplishment for a 1975 midlist science fiction novel. It's got over 1,000 ratings and reviews at Goodreads, and continues to be one of Silverberg's most read and discussed novels. If you're curious about Robert Silverberg, it's a fine place to start.
The Stochastic Man was published in paperback by Fawcett Gold Medal in 1976, and reprinted by Warner Books in 1987. It is 240 pages, priced at $3.95. The cover is by Don Dixon.
See all our recent Vintage Treasures here.