New Treasures: Murder Ballads and Other Horrific Tales by John Horner Jacobs
New Treasures: Murder Ballads and Other Horrific Tales by John Horner Jacobs
Covers by Jeffrey Alan Love
John Horner Jacobs's new collection Murder Ballads and Other Horrific Tales has arrived from JournalStone, and my, my. It looks very handsome on my bookshelf right next to A Lush and Seething Hell, his 2019 collection of two novellas of cosmic horror. Yes indeed. The fabulous covers are by Jeffrey Alan Love, and they do look very sharp side by side.
Murder Ballads collects 10 tales of weird horror, and has been called "masterful… marvelously eerie" by Publishers Weekly, in case you let things like reviews sway you (instead of cool cover art, which is the way we prefer to be swayed here at Black Gate.) Here's the description.
A terrifying collection of horror and crime noir from the author of Southern Gods and A Lush and Seething Hell.

Featuring ten tales, two never before in print, Murder Ballads and Other Horrific Tales is an exciting glimpse into the dark territories of the human heart.

These are coming-of-age stories. Stories of love and loss, grief and revenge. Survival and redemption. From old gods to malevolent artificial intelligences, vampires to zombies to ghosts, Jacobs exposes our fears and worst imaginings.

CONTAINS THE SEQUEL TO SOUTHERN GODS
The sequel to Southern Gods they mention so breathlessly in that last line is the title story, a novella that PW calls "a southern gothic extravaganza." Here's a look at the back cover.
[Click the images for cosmic-horror-sized versions.]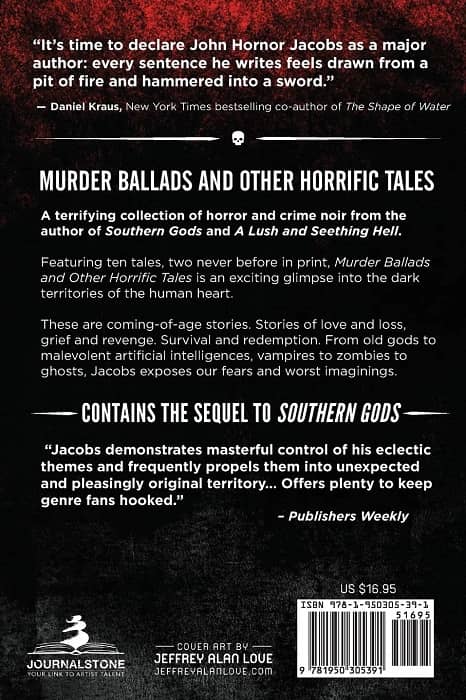 Back cover to Murder Ballads
Our previous coverage of John Horner Jacobs' work includes:
A Lush and Seething Hell: Two Tales of Cosmic Horror
The Incorruptibles and Foreign Devils
Here's an excerpt from that PW review:
This collection of 10 weird fiction tales from Jacobs, two of which are original to this volume, bristles with energy and style. "The Children of Yig," a work of cosmic horror, sees an otherworldly scourge blindside a horde of Viking berserkers. In the title novella, a southern gothic extravaganza, Jacobs traces the aftermath of his 2011 novel Southern Gods through the lives of its younger characters as they struggle to evade an infernal menace in rural Arkansas in the 1950s and '60s. Several stories skillfully splice horror with science fiction, notably "Verrata," in which the narrator's Virtual Reality implant becomes infected, inducing ghostly visions… This marvelously eerie collection offers plenty to keep genre fans hooked.
Murder Ballads and Other Horrific Tales was published by JournalStone on June 26, 2020. It is 228 pages, priced at $16.95 in trade paperback and $7.95 in digital formats. The cover is by Jeffrey Alan Love. Order a copy from the publisher's website here.
See all our recent New Treasures here.