Future Treasures: Mexican Gothic by Silvia Moreno-Garcia
Future Treasures: Mexican Gothic by Silvia Moreno-Garcia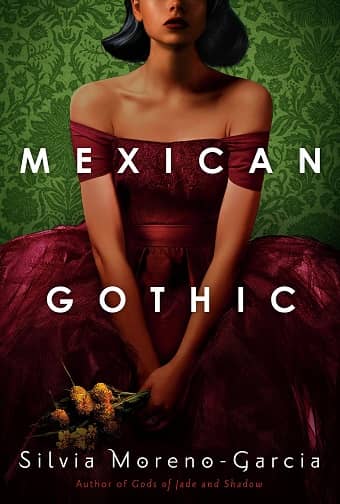 Silvia Moreno-Garcia is the author of Signal to Noise (2015), Gods of Jade and Shadow (2019), Certain Dark Things (2018), and Untamed Shore, just released in February. Her second novel for 2020 is Mexican Gothic, which Booklist calls "A shiver-inducing tale," and which Kirkus raves over, calling it,
A terrifying twist on classic gothic horror . . . Moreno-Garcia weaves elements of Mexican folklore with themes of decay, sacrifice, and rebirth, casting a dark spell all the way to the visceral and heart-pounding finale. Fans of gothic classics like Rebecca will be enthralled as long as they don't mind a heaping dose of all-out horror.
Mexican Gothic is set in glamorous 1950s Mexico, and has all the ingredients for a good beach read (providing you can find an open beach) — an isolated mansion, a suavely charismatic aristocrat, and a spunky young socialite to expose their mysterious secrets. Here's the publisher's description.
After receiving a frantic letter from her newly-wed cousin begging for someone to save her from a mysterious doom, Noemí Taboada heads to High Place, a distant house in the Mexican countryside. She's not sure what she will find — her cousin's husband, a handsome Englishman, is a stranger, and Noemí knows little about the region.

Noemí is also an unlikely rescuer: She's a glamorous debutante, and her chic gowns and perfect red lipstick are more suited for cocktail parties than amateur sleuthing. But she's also tough and smart, with an indomitable will, and she is not afraid: Not of her cousin's new husband, who is both menacing and alluring; not of his father, the ancient patriarch who seems to be fascinated by Noemí; and not even of the house itself, which begins to invade Noemi's dreams with visions of blood and doom.

Her only ally in this inhospitable abode is the family's youngest son. Shy and gentle, he seems to want to help Noemí, but might also be hiding dark knowledge of his family's past. For there are many secrets behind the walls of High Place. The family's once colossal wealth and faded mining empire kept them from prying eyes, but as Noemí digs deeper she unearths stories of violence and madness.

And Noemí, mesmerized by the terrifying yet seductive world of High Place, may soon find it impossible to ever leave this enigmatic house behind.
Mexican Gothic will be published by Del Rey on June 30, 2020. It is 320 pages, priced at $27 in hardcover and $13.99 in digital formats. Read the first chapter at Entertainment Weekly.
See all our coverage of the best upcoming SF and fantasy here.