Future Treasures: Certain Dark Things by Silvia Moreno-Garcia
Future Treasures: Certain Dark Things by Silvia Moreno-Garcia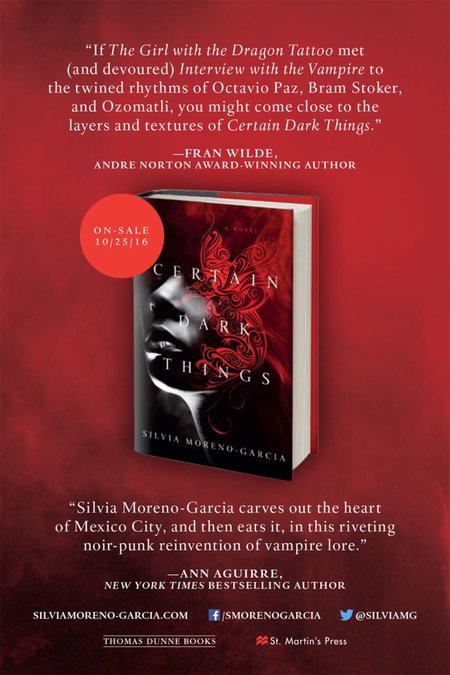 Silvia Moreno-Garcia is a Mexican born Canadian fantasy writer. Her debut novel, Signal to Noise, was a finalist for the British Fantasy, Locus, Aurora and Solaris awards, and made seven year's best lists, including B&N's Sci-Fi & Fantasy Blog, Buzzfeed, i09, and Tor.com. Earlier this year she was also nominated for a World Fantasy Award for her Lovecraftian anthology She Walks in Shadows.
Her second novel, Certain Dark Things, is one of the most highly anticipated releases of the fall. Paul Tremblay (A Head Full of Ghosts) says it "is steeped in the history of Mexico City and vampire lore and yet manages to deftly re-invent the bloodsucker… Certain Dark Things packs a wallop." And Lavie Tidhar says:
Not since Anne Rice's seminal Interview with the Vampire has the vampire story been so radically reimagined. Silvia Moreno-Garcia reinvents it for the 21st century in this high-concept, explosive tale of narco-vampires in Mexico City, and just when you thought it was safe to step out of the coffin. Certain Dark Things is dark, inimitable, and so very, very cool. Unmissable.
Sounds pretty intriguing already! Here's the description.
Welcome to Mexico City… An Oasis In A Sea Of Vampires…

Domingo, a lonely garbage-collecting street kid, is busy eeking out a living when a jaded vampire on the run swoops into his life.

Atl, the descendant of Aztec blood drinkers, must feast on the young to survive and Domingo looks especially tasty. Smart, beautiful, and dangerous, Atl needs to escape to South America, far from the rival narco-vampire clan pursuing her. Domingo is smitten.

Her plan doesn't include developing any real attachment to Domingo. Hell, the only living creature she loves is her trusty Doberman. Little by little, Atl finds herself warming up to the scrappy young man and his effervescent charm.

And then there's Ana, a cop who suddenly finds herself following a trail of corpses and winds up smack in the middle of vampire gang rivalries.

Vampires, humans, cops, and gangsters collide in the dark streets of Mexico City. Do Atl and Domingo even stand a chance of making it out alive?
Certain Dark Things will be published by Thomas Dunne Books on October 25, 2016. It is 323 pages, priced at $25.99 in hardcover and $12.99 for the digital edition. The cover was designed by Kerri Resnick. Get more details at Silvia's website.