Goth Chick News: Watch Halloween with Jamie Lee Curtis this Saturday? Yes Please!
Goth Chick News: Watch Halloween with Jamie Lee Curtis this Saturday? Yes Please!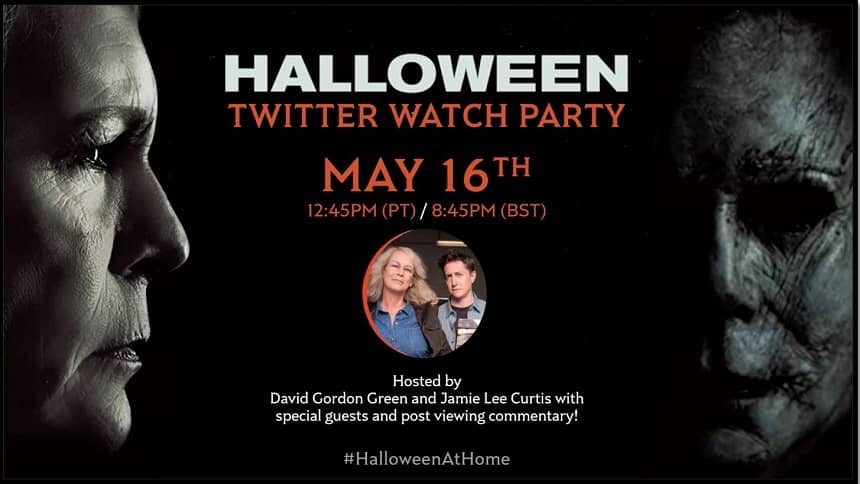 Just when we thought the boredom might overtake us, Universal Pictures comes up with the best idea with the crappiest amount of promotion behind it. When this came to my attention from another industry writer, I actually had a heck of a time finding the details on directly from Universal. Which in a way makes it all the cooler and more exclusive.
The studio has come up with a way to promote existing movies with an added twist, and this Saturday's offering is about the best news I've heard since I found out I can work in sweatpants for two months. Universal Pictures Home Entertainment has announced plans to host interactive watch parties on Twitter each weekend, featuring some of their most iconic films. This Saturday (May 16), Jason Blum of Blumhouse will play host to David Gordon Green, joined by Curtis, John Carpenter, Judy Greer, James Jude Courtney and Nick Castle, to watch the 11th installment of the Halloween franchise, while providing live commentary.
According to Universal's event website:
No one does horror quite like Blumhouse and Michael Myers. Join the production company that specializes in horror as they watch the return of Halloween along with the cast. Lee Curtis returns to her iconic role as Laurie Strode, who comes to her final confrontation with Michael Myers, the masked figure who has haunted her since she narrowly escaped his killing spree on Halloween night four decades ago. #HalloweenAtHome
So, how does this magic happen?
Purchase or rent Halloween (2018) from your favorite source, unless of course, you already own it.
Follow the guests on Twitter (I've included each link below)
Join the event by tweeting with the hashtag #HalloweenAtHome
Press play at exactly 1pm PT / 4pm ET / 9pm BST
David Gordon Green will be commenting using Blumhouse's Twitter handle, and Green and Curtis will stay online after the movie, which should end around 5:45 p.m. ET, to answer questions from fans.
And when the chance presents itself, don't forget to ask about the next installment of the franchise, Halloween Kills, tentatively expected to arrive this October 16th, pandemic allowing. In preparation, you can check out that teaser trailer below.
If horror isn't quite your thing, don't despair. Universal has announced their watch-party movies for the next couple of Saturdays and they may be more to your liking:
May 23rd: Apollo 13 hosted by former NASA astronaut Scott Kelly. #Apollo13AtHome
May 30th: The Breakfast Club hosted by Nerdist #BreakfastClubAtHome
Beyond the hosts, Universal hasn't announced any special guests who may join these viewings. But if they continue as they have, staying connected to the host's feed will eventually reveal who else will attend. From the looks of the official site for the watch parties, Universal intends to them at least through the end of June, with the June line up still TBD.