New Treasures: Providence by Max Barry
New Treasures: Providence by Max Barry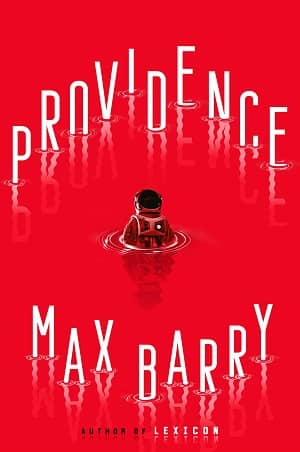 Max Barry is the author of Lexicon, the tale of a secret war between rival poet factions, which Time called "Unquestionably the year's smartest thriller;" the New York Times Notable Book Jennifer Government; and Syrup, adapted as a 2013 film starring Amber Heard.
His latest is an interstellar thriller which Publishers Weekly calls "a terrific sci-fi thriller," and which Paul Di Filippo describes as "a blend of Starship Troopers, UK cult TV show Red Dwarf and the cinematic Alien franchise, with Barry's own unique slant and voice." That sounds pretty compelling to me. Here's an excerpt from Paul's Locus Online review.
We are in a future era — say, fifty to one hundred years ahead of 2020…  this world has FTL travel, and pretty soon there's a First Contact. The aliens, eventually dubbed "salamanders," are inherently and implacably hostile… After witnessing the initial slaughter of kindly human ambassadors, we jump ahead to a time when humanity seems to be winning the war against the salamanders. A fleet of enormous battle-ready starships, the Providence class, has taken the fight to the native territory of the aliens, who seem to occupy not planets, but artificial "hives," located at various random points in interstellar space. The Providence ships, run by very clever but non-self-aware artificial intelligences, each have a crew of four humans, who are present mainly as operational backups — and also as media-friendly faces for humanity's self-esteem.

Our focus is on the crew of the newest war vessel: Isiah "Gilly" Gilligan, the techie; Paul Anders, the warrior; Jolene Jackson, the captain; and Talia Beanfield, the life-support expert… However, two years into their intermittently deadly cruise (a section that occupies about the first third of the book, during which we learn all the important parameters of the war and the emotional mechanics of the crew interactions), after effortlessly wiping out all the salamanders they encounter, things start to go wrong. Anders begins to go screwy, as does the ship's AI. And the salamanders exhibit new refinements of strategy that eventually pose a mortal threat to the crew and their ship. How the humans react in the face of these challenges forms the last two-thirds of the tale…

When the battle klaxon sounds, Barry shifts into suspenseful military-SF mode, delivering tense and suspenseful depictions of warfare. His speculative elements are top-notch, as is his technological gadgetry. And when we eventually get a peek into the salamander home world, his crafting of their ecology and culture surprises and astounds.
Providence was published by G.P. Putnam's Sons on March 31, 2020. It is 320 pages, priced at $27 in hardcover and $13.99 in digital formats. The cover artist is uncredited. Read a lengthy excerpt here.
See all our recent coverage of the best new SF and fantasy here.