Future Treasures: Lexicon by Max Barry
Future Treasures: Lexicon by Max Barry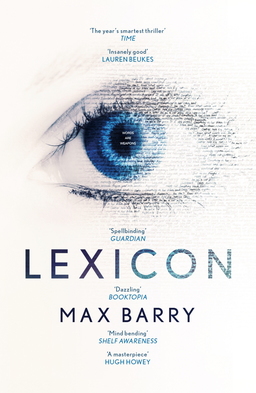 At first I thought Max Barry's latest novel was just another high-tech thriller. But a closer look revealed that Lexicon is a lot more than that: a glimpse at a secret war between rival factions of poets, where the weapons are words; the most feared agents have names like Bronte, Eliot, and Lowell; whole towns have been annihilated; and the most dangerous thing you can do is fall in love.
Lexicon was released in hardcover last June and Time called it "Unquestionably the year's smartest thriller" and listed it as one of the Top 10 Fiction Books of 2013. Over at Tor.com, Niall Alexander called it "Simply gripping from the get-go… Lexicon twists and turns like a lost language, creating tension and expectations… awesome," and at Boing Boing, Cory Doctorow said it was "Gripping… a pitch-perfect thriller, a jetpack of a plot that rocketed me from page one to page 400 in a single afternoon."
At an exclusive school somewhere outside of Arlington, Virginia, students aren't taught history, geography, or mathematics — at least not in the usual ways. Instead, they are taught to persuade. Here the art of coercion has been raised to a science. Students learn that every person can be classified by an extremely specific personality type, his mind segmented and ultimately controlled by the skillful and sometimes magical application of words. The very best will become part of a secretive organization of "poets" — elite manipulators of language who can wield words as weapons and bend others to their will.

Whip-smart orphan Emily Ruff is running a three-card Monte game on the streets of San Francisco when she attracts the attention of the organization's recruiters. She is flown across the country for the school's rigorous and mysterious entrance exams. Once admitted, she learns the fundamentals of persuasion by Bronte, Eliot, and Lowell — master teachers who have adopted the names of famous poets to conceal their true identities. Emily becomes the school's most talented prodigy until she makes a catastrophic mistake: She falls in love.
Meanwhile, a seemingly innocent man named Wil Jamieson is brutally ambushed by two strange men in an airport bathroom. Although he has no recollection of anything they claim he's done, it turns out Wil is the key to a secret war between rival factions of poets and he's quickly caught in an increasingly deadly cross country chase. Eventually led all the way to the toxically decimated town of Broken Hill, Australia, Wil realizes that everything he thinks he knows about his past could be wrong, and that he may in fact be the key to understanding what blew Broken Hill off the map.

As the two narratives converge, the shocking work of the Poets is fully revealed, the body count rises, and the most destructive weapon the world has ever seen appears to be in just the wrong hands. Max Barry's most ambitious novel yet, Lexicon connects very modern questions of privacy, identity, and the rising obsession of data collection to centuries-old ideas about the power of language and coercion.
Max Barry is the author of Syrup (1999), Jennifer Government (2003), Company (2006), and Machine Man (2011). He lives in Melbourne, Australia.
Lexicon will be published by Penguin Books on March 25. It is 391 pages, priced at $16 in trade paperback and $10,99 for the digital version.