Vintage Treasures: Beyond the Beyond by Poul Anderson
Vintage Treasures: Beyond the Beyond by Poul Anderson
Beyond the Beyond paperback original (Signet first edition, August 1969). Cover artist unknown.
When I pick up an old paperback these days, it tends to be an anthology or collection. There aren't very many published nowadays, and I miss them.
So naturally I'm reading many of the old paperbacks I missed out on in my youth. One of my recent favorites is Beyond the Beyond, a thick collection of six stories by Poul Anderson. Anderson was one of the most prolific SF writers of the 20th Century, and he produced dozens of collections in his lifetime. This one is particularly interesting to me because, as far as I know, it's his only collection of novellas.
Anderson was a terrific science fiction short story writer, and he was even better at length. Beyond the Beyond contains six long tales published between 1954-1967, including a story in his David Falkayn: Star Trader series, one in his Technic History, and two in his popular and long-running Psychotechnic League saga. These aren't Anderson's best-known stories, not by a long shot, but this is a decent snapshot of his work in the SF magazines during his most productive period in the 50s and 60s.
[Click the images for versions that are Beyond.]
Variant editions of Beyond the Beyond: Science Fiction Book Club, July 1970 (hardcover,
cover by Brad Holland); Coronet, 1973 (artist unknown) Signet, November 1977 (Gene Szafran)
Beyond the Beyond was a paperback original, and was popular enough to enjoy multiple reprintings, including a hardcover edition from the Science Fiction Book Club in 1970, a UK reprint from Coronet (1973), and a mass market edition from Signet eight years after its original publication.
Here's the complete Table of Contents.
"Memory" (Galaxy Science Fiction, July 1957)
"Brake" (Astounding Science Fiction, August 1957) — a Psychotechnic League tale
"Day of Burning" (Analog, January 1967, as "Supernova") — featuring David Falkayn
"The Sensitive Man" (Fantastic Universe, January 1954) — a Psychotechnic League tale
"The Moonrakers" (Worlds of If, January 1966)
"Starfog" (Analog, August 1967) — a tale in the Technic History cycle
Beyond the Beyond makes a decent sampler of some of Anderson's more popular series.
Tor paperback editions of the collected Psychotechnic League stories: The Psycho-Technic League (1981),
Cold Victory (1982), and Starship (1982). The most excellent covers are by Vincent DiFate
"Brake," the tale of a starship crew defending their vessel from a pirate attack, and "The Sensitive Man," a van Vogt-style superman spy thriller, are both part of Anderson's popular Psychotechnic League series, which span… woof, I dunno. Like a zillion short stories and novels. The short fiction has been collected multiple times; in the early 80s by Tor (above), and then again in a trilogy of trade paperbacks from Baen just a few years ago.
"Day of Burning" (originally published in Analog in 1967 as "Supernova") features David Falkayn, resourceful assistant to the unstoppable interstellar trader Nicholas Van Rijn. It was also included in David Falkayn: Star Trader, the second volume in Baen's comprehensive Technic Civilization Saga Series.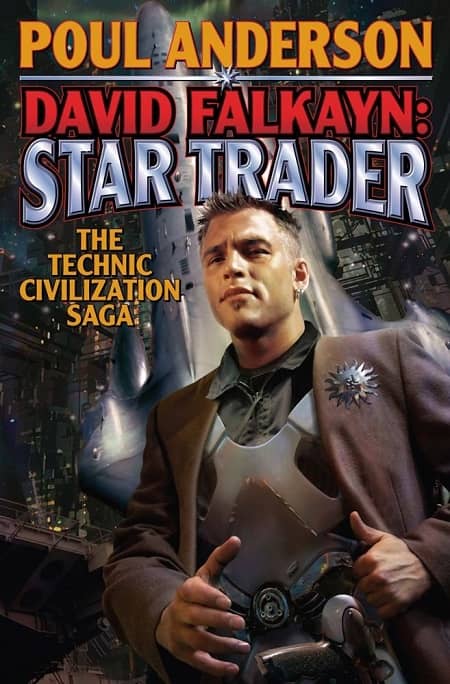 David Falkayn Star Trader (Baen, 2009). Cover by David Seeley
At his Poul Anderson Appreciation blog, Paul Shackley describes "The Moonrakers" quite succinctly:
Mars, colonized and terraformed, handles most Solar merchant shipping. The asteroids, colonized and hollowed out with barbaric opulence, have broken free from Mars, prey on Martian ships and sell to the Incorporated State on Earth.

The terraforming of Mars was financed by "the Great Swindle." (p. 143) I will have to reread the rest of the story but what I remember from before is that this "Swindle" was never explained, thus, I thought, implying that this story is a sequel to another.
"The Moonrakers" is (probably) a loose sequel to "The Innocent at Large" (Galaxy, July 1958), the story of a Mars colony who use an innovative approach to raise the capital they need to terraform the planet.
My favorite review of "Starfog," brief as it is, is this 1-line summary at Risingshadow.
Experience the terrible fiery Starfog, where the normal laws of Creation are suspended, and ships wander hopelessly for centuries.
Poul Anderson gets the cover: Astounding, August 1957 (cover by Kelly Freas), Analog, January 1967
(cover by Chesley Bonestell), and Analog, August 1967 (Bonestell again)
Half of the stories in Beyond the Beyond were edited by John W. Campbell, and originally appeared in Astounding/Analog. ("Day of Burning," from the January 1967 issue, was originally published as "Supernova.") The rest appeared in Galaxy, Fantastic Universe, and Worlds of IF.
It's a testament to Anderson's enduring popularity among SF readers that he received the cover (or at least cover credit) for five of the six stories in this collection.
Fantastic Universe, January 1954 (cover by Joe Richards), Worlds of If, January 1966 (Gray Morrow)
Beyond the Beyond was published by Signet in August 1969. It is 263 pages, priced at 75 cents. It has been out of print for 43 years, and there is no digital edition. The cover artist is unknown.
Our previous coverage of Poul Anderson includes many dozens of articles. You can find them here.
See all our recent Vintage Treasures here.