Goth Chick News: Beetlejuice Gets a Documentary and It's Everything We Ever Wanted
Goth Chick News: Beetlejuice Gets a Documentary and It's Everything We Ever Wanted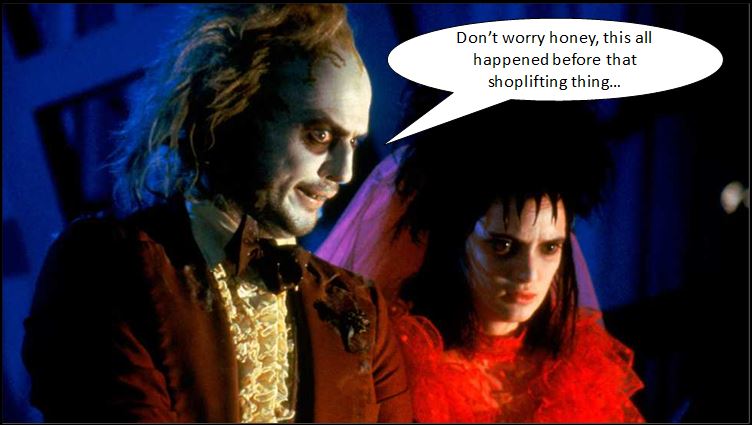 In an attempt to not succumb to the stresses of working above ground near windows, rather than in the cozy, underground bunker of the Black Gate offices, I have been systematically making a list of my favorite movies. I am then ranking them in watch order, with a view to not overindulge in too much of a single genre. I do know people who have done Friday the 13th or Halloween marathons during the lockdown, but most of them are on the verge of not being suitable to ever be in public again. Therefore, my movie list, though heavy on the horror, still runs the gambit from hardcore to light-hearted fun; from Evil Dead to High Spirits and a whole lot in between.
But any list I compile, regardless of how it is organized, would have Beettlejuice right up there near the top. Yes, I'm partial to Tim Burton on most days, but the ghost with the most is nothing short of a classic.
Hard to believe that it's been just over 33 years since Michael Keaton offered to chew on a dog to get the hapless, recently deceased Maitlands to hire him to scare the living out of their charming, New England farmhouse. The movie, also starring Geena Davis, Alec Baldwin and Winona Ryder among others, earned close to $75 million at the box office, which is roughly five times its $15 million budget, and bagged an Oscar for costume and makeup. Since then, Halloween costumes, pop-up bars and museum exhibits have paid homage to this comedy-fantasy-horror flick to the point you'd think it would have all been done.
Thankfully, we're wrong.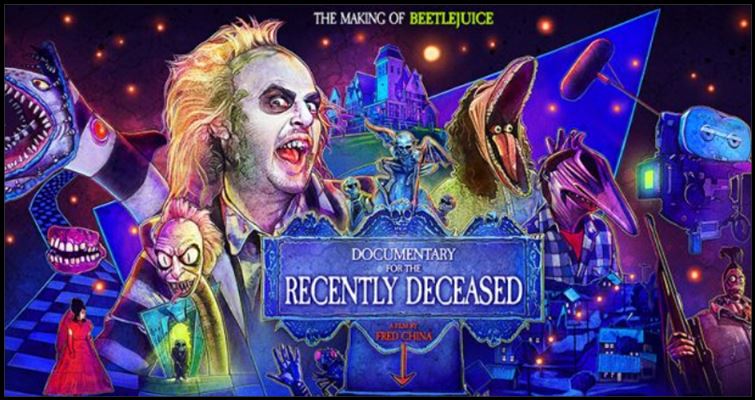 French filmmaker Fred China, Adam F. Goldberg, creator of The Goldbergs, and Lee Leshen, producer of Ghostheads and Back in Time, have teamed up to bring us a feature on Beetlejuice called the Documentary for the Recently Deceased (how much more perfect could this be?). This upcoming project dives into the making of Beetlejuice and will explore aspects related to shooting in the small town of East Corinth, Vermont and detailing the crafting of intricate stop motion animated creatures, as well as effects.
Leshen tells io9:
The doc will cover all aspects of the Beetlejuice production: from filming in East Corinth, Vermont to stop motion and special effects work and will include a series of exclusive interviews with cast and crew, as well as rare behind the scenes footage acquired by the production.
There's currently a trailer which I've already watched several times. It shows how much fun this project is actually going to be. Check it.
The documentary did have a Kickstarter campaign which I'm embarrassed to say closed at the end of last month without a contribution from me. However, the site is still a great place for updates including the people who have been interviewed so far and had detailed plans to release DVDs and Blu-rays. "This is the very first documentary about the making of Beetlejuice. We believe in our project. We believe in the fans of the movie. We really hope to finalize this project in 2020," the makers said in the campaign.
Documentary for the Recently Deceased was scheduled to make its debut later in 2020, so let's hope this whole zombie apocalypse hasn't caused a delay.