Future Treasures: Sixteenth Watch by Myke Cole
Future Treasures: Sixteenth Watch by Myke Cole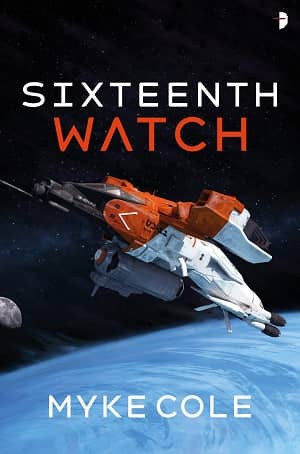 Myke Cole's fourth short story sale was "Naktong Flow" (2009), which appeared in Black Gate 13 in Spring 2009. It was a terrific tale, and when I met Myke in person a few months later at the World Fantasy Convention, I urged him to send more fiction my way.
By then, however, he'd already moved on to better things. His first novel Control Point, the opening volume in the ultra-realistic military SF/superhero series Shadow Ops, was published in 2012; five more in the series followed in quick succession. His fantasy series The Sacred Throne became a trilogy last year with the arrival of The Killing Light.
His latest is near-future SF featuring a US Coast Guard team racing to prevent the first Lunar War. It's already getting great reviews, including this one from SFX:
It's incredibly refreshing to find a sci-fl novel with a female protagonist who's a confident woman in her fifties… The author's experience in the Coast Guard lends a strong sense of verisimilitude to his portrayal of military operations, and his action scenes sizzle with the rush of adrenaline… Briskly paced, the book strikes a fine balance between military minutiae and imagination.
Here's the description.
The Coast Guard must prevent the first lunar war in history.

A lifelong Search-and-Rescuewoman, Coast Guard Captain Jane Oliver is ready for a peaceful retirement. But when tragedy strikes, Oliver loses her husband and her plans for the future, and finds herself thrust into a role she's not prepared for. Suddenly at the helm of the Coast Guard's elite SAR-1 lunar unit, Oliver is the only woman who can prevent the first lunar war in history, a conflict that will surely consume not only the moon, but earth as well.
Myke Cole's guest blogs for us include "Drizzt Do'Urden Simply Won't Stop Adventuring: Learning to Love Serial Fantasy" (2015) and "Selling Shadow Ops: Control Point" (2012), not to mention this 2012 interview with Patty Templeton.
Sixteenth Watch will be published by Angry Robot on March 10, 2020. It is 432 pages, priced at $14.99 in trade paperback and $9.99 in digital formats. The cover is by Isaac Hannaford. Read an excerpt at the Angry Robot website, and see all our recent coverage of the best upcoming SF & Fantasy here.