So… I Watched The Witcher
So… I Watched The Witcher

Good morning, Readers!
As promised when I first blogged my thoughts about the then-upcoming now-released Netflix adaptation of The Witcher IP, I did, in fact watch it.  To prepare myself for the first season, I read The Last Wish, which I thought I ought to do before I watch the series, and enjoyed it enough to look forward to the rest. I'm going to run down to the bookshop in a bit to buy The Sword of Destiny, which I think is another collection of short stories set before the saga with Ciri. When I'm done with that, I'll head back for the rest of the books. They're pretty good. That's neither here nor there, however.
I'm very pleased to say that the show followed the books quite closely, near as I'm able to tell, with only a few changes, all of which made sense for an adaptation; and also helped make Geralt appear less like a twit in some cases. That said, he still falls in love at the drop of a hat, and that will never not make me laugh at the ridiculousness of it.
The point is, I watched the show – more than once… because I was going to review it here. Yes. That's totally why – and I have thoughts, people. Quelle suprise.
Let me get the most basic impression out of the way: I loved it. It was a lot of fun, with some genuinely exceptional moments, and enough wholesome camp to make my grit-fatigued brain latch on eagerly. Is it perfect? Absolutely not. It is, however, a great watch all the same.
Right, now, let's get to the meat.
I was absolutely hooked on the first episode. It wasn't the fight with the kikimora that did it. That was one of the more campy moments that felt a little like the joyous camp of shows from the '90s. This is not a bad thing. Too much grit and it gets fatiguing.
What got me was near the end of the episode. The fight in the marketplace.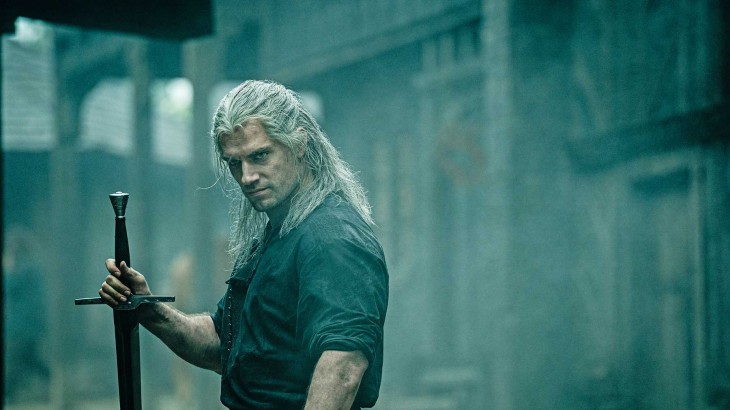 Pro Tip: Don't challenge this dude to a sword fight.
Oh. My. Giddy. Aunt.
Okay, this fight was a thing of absolute beauty. It is easily the best swordplay I have seen on any screen. Anywhere. I cannot tell you the number of times I have paused and rewound (can we even say rewound if there's no tape to wind? Gods, I'm old) that fight scene just to watch over and over and over again.
More than being the best fight choreography I've seen, it also put to rest my biggest concern with the casting of Henry Cavill as the titular character. While I still feel that Mr. Cavill is too bulky to play a man who lives on the road, often without coin, perhaps missing a few meals in the week, I can very happily say that his mass has not seemed to affect the speed at which he can move. The fight in the market felt like Geralt fighting – there were pirouettes, there were signs, he deflected a crossbow bolt… I cannot rave about this scene enough.
So, well done to the fight choreographer and also to Mr. Cavill for pulling that off brilliantly.
Honestly, if you watch nothing else of The Witcher, watch that one scene.
Such a beautiful fight was never replicated in the rest of the series, alas, though I cannot fault them for it. The time it would take to plan, choreograph, practice and then shoot such scenes would be astronomical, I think, to speak nothing of the cost.
A striga. Poor thing.
Having been sold with that fight, it was quickly easy for me to overlook some of the more ridiculous stuff. The Striga, for example, pausing before the window to scream at the camera made me guffaw just a tad. Other than that particular shot, however, I am an enormous fan of the fact that they used as many practical effects as possible. It did give the show a groundedness that CGI often lacks, and also helps to avoid the age-old CGI fix of "hide the flaws in the dark" which was nice.
In fact, the monsters in this, that we actually got to see, were great. Better yet were the monsters that looked human. Stegobor, for example, was a horrific person that I would consider absolutely monstrous. Then there were some people that appeared to be monstrous, but were actually quite lovely in the end, like Tissaia de Vries.
Speaking of female characters, hoy boy, do I love this series for how well it treats women. By this I don't mean that they placed women on pedestals. Quite the opposite, actually. They made their women whole, and individual, variously competent, bullish, dainty, boorish, sweet, ambitious, cruel, kind, and so on. More, it offers no apologies for placing women at the center of power, from the mighty Queen Calanthe, to the more subtle guidance (read here: manipulations) offered by the sorceresses, to Cirilla, who is naive and sweet but in possession of extraordinary magical power. This kind of variety and fullness of womanhood is rarely offered in mainstream genre fiction; books or film.
As a woman watching this show, it was incredibly gratifying.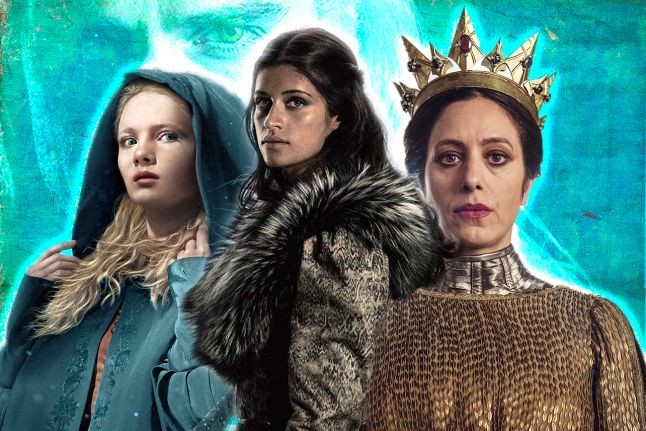 Three of the badass women in this series: naive Ciri, ambitious and conflicted Yennifer, and Queen Calanthe, who was both mighty and incredibly flawed.
Note: I'm not going to argue on the merits of having women engage in battle in such settings, other than to say that real world archaeological evidence absolutely supports the existence of women warriors, and anyone who claims otherwise is purposefully ignoring the plethora of evidence that exists proving them wrong. Get it? Got it? Good.
Another thing I loved about this series is the Shrek-Donkey relationship we see in Jaskier (English language readers and gamers will know him better as Dandelion) and Geralt. Heavens, this is some of the most fun I've had watching people on screen. It never stops making me smile. Joey Batey's puppy-dog character is the perfect foil for Henry Cavill's lone wolf, and the pair of them are fantastic when we see them together.
Speaking of Joey Batey, I'm fairly certain he can play the lute for real, and also, I cannot get Toss a Coin to Your Witcher out of my head and oh my god make it stop!
Now, of course this series isn't without it problematic elements, particularly when it comes to ableism. I can't exactly comment on this, being an abled-bodied gal, but there are certainly really interesting analyses of the issues by disabled folk, and it's worth seeking those out for a better understanding than I could ever give. Also, this ableism is present in the books and is very much a part of the world in which these characters inhabit, informing their decisions and, importantly I think, regrets. Again, though, I'm not really the one to be talking about it.
I've seen some criticisms, too, of the jumbled timeline and the fact that the show doesn't make which timeline we're watching explicit at all. I want to jump in with an alternate opinion. I loved that. I'm not a dullard. I like to think, and realize, and notice, and I adored that the show did not question my intelligence by spoon-feeding me absolutely everything. There are enough context clues, from dialogue mentioning past or current events, to clues in the costumes for anyone paying attention to figure it all out.
I can understand the criticism, but I whole-heartedly disagree with it.
Now, there were some silly moments that were unintentionally so, I feel, but overall, I honestly have pretty much nothing bad to say about the series as it stands. It was well worth the, uh, multiple watches. I do recommend you check it out.
Oh, and for the fans of the games who might be wondering if they offer fan service, I give you Geralt in a bathtub: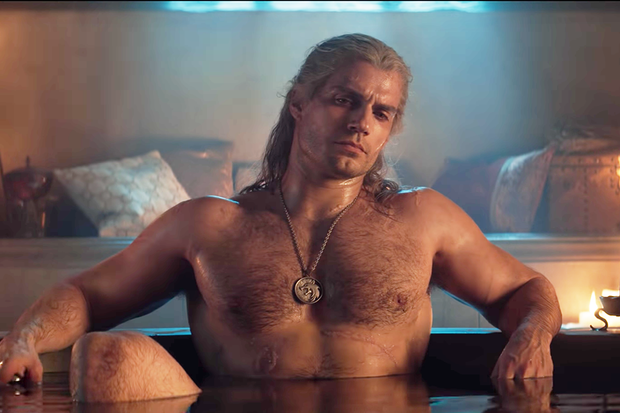 You're welcome.