New Treasures: Down Among the Dead, Book 2 of The Farian War by K. B. Wagers
New Treasures: Down Among the Dead, Book 2 of The Farian War by K. B. Wagers
Covers by Lauren Panepinto and Stephan Martiniere
Down Among the Dead, the second novel in K. B. Wagers' Farian War series, arrives from Orbit tomorrow, and it's one of the most anticipated SF books of the month. It's the sequel to the The Indranan War trilogy featuring gunrunner empress Hail Bristol, which put Wagers on the map for serious space opera fans. The Barnes & Noble Sci-Fi & Fantasy Blog said the opening novel, There Before the Chaos, was ""A perfect blend of political intrigue and realistically-conveyed action…. [with] Kick-butt women, space battles, complex relationships, and fiendish plots." Publishers Weekly was even more enthusiastic:
Hailimi "Hail" Bristol, an Indranan princess turned selectively ruthless gunrunner, was forced to take her empire's throne after conspirators murdered her family. She saved the empire, but now a war between Indrana's centuries-long allies, the Farians, who can heal or kill with a touch, and the Farians' ancient enemy, the Shen, threatens to spill over to all of humankind, with disastrous consequences… Wagers achieves a rare balance of action… tension, and quiet moments, keeping pages turning while deepening the portraits of Hail and the friends and foes around her. Fans of the original trilogy will welcome Hail's return, and any space opera reader can easily jump in here.
We covered There Before the Chaos last November. Down Among the Dead will be published tomorrow by Orbit; it is 448 pages, priced at $16.99 in trade paperback and $11.99 in digital formats. The cover is by Stephan Martiniere.
Surprisingly (well surprising to me, anyway), The Farian War is not the only space opera series Wagers has on the go at the moment. Early next year she's launching a brand new military science fiction series that looks extremely interesting. Check it out below.
[Click the images for space-opera sized versions.]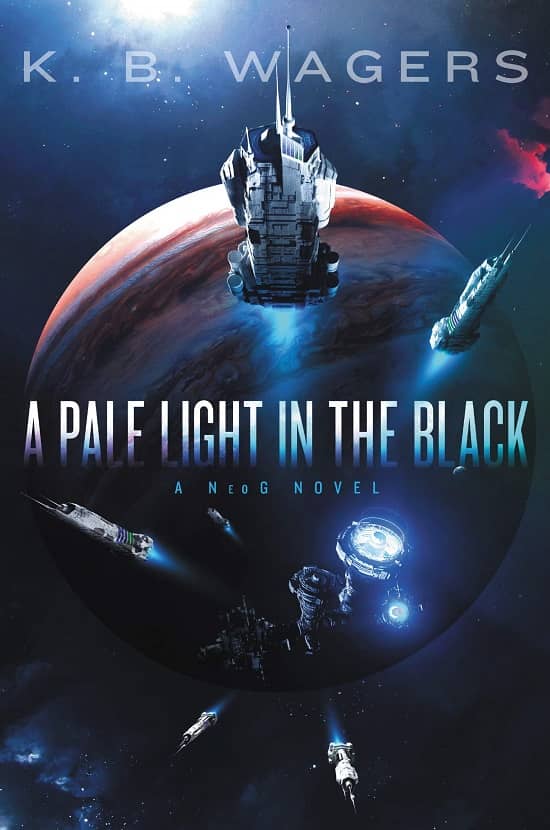 A Pale Light in the Black is the first entry in a new series that introduces the Near-Earth Orbital Guard (NeoG), a military force patrolling and protecting space inspired by the real-life mission of the U.S. Coast Guard. It is Wagers' hardcover debut, and it ships from Harper Voyager on March 3, 2020. Here's the description.
For the past year, their close loss in the annual Boarding Games has haunted Interceptor Team: Zuma's Ghost. With this year's competition looming, they're looking forward to some payback — until an unexpected personnel change leaves them reeling. Their best swordsman has been transferred, and a new lieutenant has been assigned in his place.

Maxine Carmichael is trying to carve a place in the world on her own — away from the pressure and influence of her powerful family. The last thing she wants is to cause trouble at her command on Jupiter Station. With her new team in turmoil, Max must overcome her self-doubt and win their trust if she's going to succeed. Failing is not an option — and would only prove her parents right.

But Max and the team must learn to work together quickly. A routine mission to retrieve a missing ship has suddenly turned dangerous, and now their lives are on the line. Someone is targeting members of Zuma's Ghost, a mysterious opponent willing to kill to safeguard a secret that could shake society to its core… a secret that could lead to their deaths and kill thousands more unless Max and her new team stop them.

Rescue those in danger, find the bad guys, win the Games. It's all in a day's work at the NeoG.
Read more here.
See all our recent New Treasures here.