A Tale of Two Covers: Gunslinger Girl by Lyndsay Ely
A Tale of Two Covers: Gunslinger Girl by Lyndsay Ely
Covers by Mark Owen/Trevillion Images (left) and uncredited
While I was at Windycon here in Chicago last week, I stopped by Larry Smith's booth in the Dealer's Room and ended up buying a small pile of books from Sally Kobee. Gunslinger Girl by Lyndsay Ely was an impulse buy, but a good one, I think. It's part of the James Patterson Presents line, and was an Amazon and B&N Best Book of the Month, and an Indie Next pick. It's also the tale of a female sharpshooter in a dystopian near-future West, and I like the sound of that. Here's the description.
Seventeen-year-old Serendipity "Pity" Jones inherited two things from her mother: a pair of six shooters and perfect aim. She's been offered a life of fame and fortune in Cessation, a glittering city where lawlessness is a way of life. But the price she pays for her freedom may be too great….

In this extraordinary debut from Lyndsay Ely, the West is once again wild after a Second Civil War fractures the U.S. into a broken, dangerous land. Pity's struggle against the dark and twisted underbelly of a corrupt city will haunt you long after the final bullet is shot.
My problem with the book is that I bought the trade paperback on the left, and when I was checking out the details online I discovered the mass market paperback edition on the right, with the gorgeously colorful cover. It was vividly different and inexpensive enough ($5.49) that I decided to get a copy of that one as well, this time as a gift for my daughter. I ordered it from Amazon… and promptly received a second copy of the book at left. Every edition Amazon lists online has the cover at right (including the audio, paperback and hardcover editions), but I don't see any way to actually get one.
Well, I love a book challenge, and I'm not ready to give up yet. I'll let you know how it turns out. Here's the back cover of the trade edition.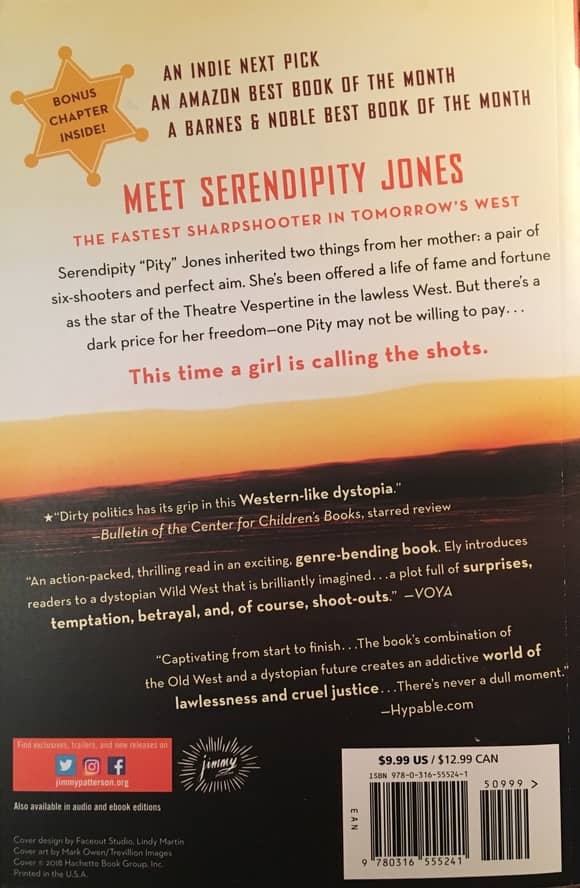 Back cover for Gunslinger Girl (trade paper edition)
Gunslinger Girl was published by Little Brown in 2018. It is 433 pages, priced at $9.99. The cover is by Mark Owen/Trevillion Images.
See all of our Tales of Two Covers here.