New Treasures: An Easy Death by Charlaine Harris
New Treasures: An Easy Death by Charlaine Harris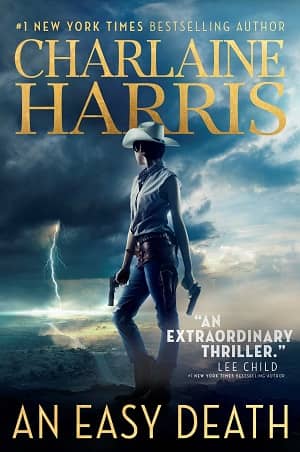 Charlaine Harris was the first really big interview we ever scored at Black Gate. This was thirteen years ago, before the breakout success of the True Blood HBO series based on her Sookie Stackhouse novels, but she was already hugely popular. Goth Chick met with her at a restaurant, before a big signing event here in the suburbs of Chicago, and came back totally charmed. We included the interview in Black Gate 8, the Summer 2005 issue, and it was a big hit with readers.
Harris has reached a point in her career where she can do whatever she wants. Fortunately for us, what she wants to do appears to be tell Weird Western tales. Her latest, An Easy Death, is set in a southwestern country known as Texoma, where magic is common and a young gunslinger named Lizbeth Rose takes a job to be a local guide for a pair of Russian wizards. But all is not what it appears to be, and dark forces are aligning against Lizbeth and her clients. It was published in hardcover earlier this month by Saga Press.
The beloved #1 New York Times bestselling author of the Sookie Stackhouse series, the inspiration for HBO's True Blood, and the Midnight Crossroad trilogy adapted for NBC's Midnight, Texas, has written a taut new thriller — the first in the Gunnie Rose series — centered on a young gunslinging mercenary, Lizbeth Rose.

Set in a fractured United States, in the southwestern country now known as Texoma. A world where magic is acknowledged but mistrusted, especially by a young gunslinger named Lizbeth Rose. Battered by a run across the border to Mexico Lizbeth Rose takes a job offer from a pair of Russian wizards to be their local guide and gunnie. For the wizards, Gunnie Rose has already acquired a fearsome reputation and they're at a desperate crossroad, even if they won't admit it. They're searching through the small border towns near Mexico, trying to locate a low-level magic practitioner, Oleg Karkarov. The wizards believe Oleg is a direct descendant of Grigori Rasputin, and that Oleg's blood can save the young tsar's life.

As the trio journey through an altered America, shattered into several countries by the assassination of Franklin Roosevelt and the Great Depression, they're set on by enemies. It's clear that a powerful force does not want them to succeed in their mission. Lizbeth Rose is a gunnie who has never failed a client, but her oath will test all of her skills and resolve to get them all out alive.
An Easy Death was published by Saga Press on October 2, 2018. It is 306 pages, priced at $26.99 in hardcover and $7.99 for the digital edition. The cover is by Colin Anderson. Read the complete first chapter here.