Birthday Reviews: John Gregory Betancourt's "The Weird of Massal Dey"
Birthday Reviews: John Gregory Betancourt's "The Weird of Massal Dey"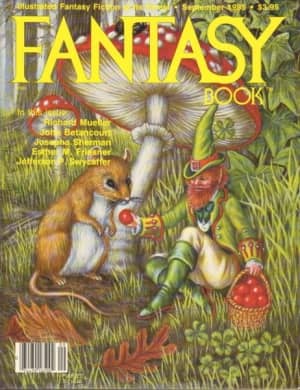 John Gregory Betancourt was born on October 25, 1963.
Betancourt has been nominated for three World Fantasy Awards, in 1993, 1995, and 2000, for his work at Wildside Press. The first two nominations were in the non-professional category and shared with Kim Betancourt, the final one was in the professional category. Betancourt has also worked as an assistant editor at Amazing Stories, and editor at Horror: The Newsmagazine of the Horror Field, Weird Tales, H.P. Lovecraft's Magazine of Horror, and Adventure Tales.
"The Weird of Mazel Dey" was originally written for Susan Shwartz's anthology Arabesques, but Betancourt missed the deadline and sold the story to Dennis Mallonee and Nick Smith at Fantasy Book, where the story ran in the September 1985 issue. When Betancourt elected to reprint the story in his collection of Zelloquan stories, Slab's Tavern and Other Uncanny Places, he changed the names to match his series' setting and published the story as "The Weird of Massal Dey." The revision also removed the references to Islam that appeared in the original form.
Massal Dey is a thief who uses the occurrence of a great festival to steal a mirror which captures his attention. The mirror is of such beauty that Dey decides to keep it rather than try to fence it. Unfortunately, once he gets the mirror home and set up, he sees his own reflection and realizes that he is so ugly that he shouldn't defile the mirror by viewing his image.
However, as the story progresses, Dey finds that he looks into the mirror in his dreams and finds himself in other worlds where he is not as ugly as he believes himself to be. Each time he looks in the mirror in his dreams the situation is different, from a world in which he is the object of infatuation by young beauties, to a world in which he and his long-time wife of that world live a comfortable, if unremarkable existence.
Although the worlds through the mirror have some appeal to Massal Dey, they do not make him wish to give up his own existence in Zelloquan, but the choice is not necessarily his, and while Dey makes a contented life for himself with his other-world wife, a different, more handsome Massal Dey, carves out a place for himself in Zelloquan. The story is slight and Betancourt could have lengthened it to provide more depth to both versions of Massal Dey who appear.
Reprint reviewed in the collection Slab's Tavern and Other Uncanny Places, by John Gregory Betancourt, W. Paul Ganley: Publisher, 1990.
---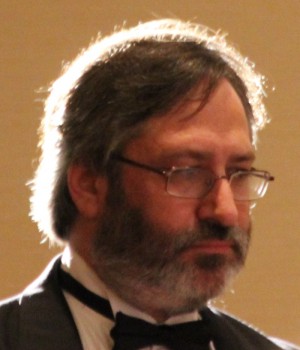 Steven H Silver is a sixteen-time Hugo Award nominee and was the publisher of the Hugo-nominated fanzine Argentus as well as the editor and publisher of ISFiC Press for 8 years. He has also edited books for DAW and NESFA Press. He began publishing short fiction in 2008 and his most recently published story is "Webinar: Web Sites" in The Tangled Web. Steven has chaired the first Midwest Construction, Windycon three times, and the SFWA Nebula Conference 6 times, as well as serving as the Event Coordinator for SFWA. He was programming chair for Chicon 2000 and Vice Chair of Chicon 7. He has been the news editor for SF Site since 2002.