Dark Cults and Alien Mysteries: Warhammer 40,000: The Magos by Dan Abnett
Dark Cults and Alien Mysteries: Warhammer 40,000: The Magos by Dan Abnett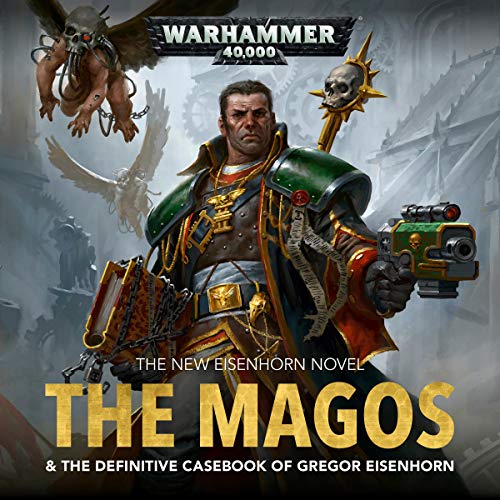 I've gotten in the habit of listening to audiobooks as I take the train into Chicago every morning. Yes, it's a little risky to be wearing headphones in the middle of that jostling crowd, completely caught up in tales spun by skilled narrators while blithely stepping out into traffic. Someday you may read a somber obituary that claims I was splatted by a fast-moving cab. But know that I died happy.
This morning I was enjoying the new Eisenhorn "novel" by Dan Abnett, The Magos, which is really a fat collection of short stories (plus a new novel). And I was completely and utterly caught up in Toby Longworth's brilliant narration of "The Curiosity," the short tale of a taxonomist who finds himself in a life-and-death hunt for an alien beast in the mist-crowded hills of a backward province. I found this brief review at Track of Words that let me know there are other tales featuring Valentin Drusher, magos biologis, and that makes me happy.
First published in 2003 in Inferno! magazine, Dan Abnett's short story "The Curiosity" offers the first glimpse of Valentin Drusher, magos biologis… Dispatched to a bleak, distant province to investigate sightings of an unknown beast that's left a trail of corpses behind it, it's not long before he realises this is more than just an apex predator he somehow missed. Caught up in the hunt for the beast, Drusher is out of his league and in terrible danger…

Drusher may be an amateur sleuth rather than an inquisitor, but that just makes the situation that bit more dangerous. It's a nicely self-contained story, complete with all the descriptive scene-setting and strong, effective characterisation that you'd expect from Abnett, and the slightly baffled, eccentric Drusher is instantly engaging. In the grand scheme of 40k the stakes are small, but away from the battlefields and in context of a simple, rural community there's more than enough drama for this to be gripping and entirely satisfying.
The Magos is available in print and on audio, but you really haven't experienced this story until you've listened to Longworth's deep, resonant (and surprising versatile) voice bring it to life — preferably while watching Chicago slide by through a rain-slicked window. Highly recommended. The audio version is 20 hours, and sells for $22.90 on Audible.