Ralph Arnote: In the Middle of Interesting Stories
Ralph Arnote: In the Middle of Interesting Stories
Paperback editions of Ralph's Willy Hanson novels: Fallen Idols (Tor, 1992), False Promises (Forge, 1995), and Evil's Fancy (Forge, 1996)
Note: Most of this comes straight out of my wee tiny brain. So, dates may be off, but I'm telling these stories as best as my memory allows. I also have a few people from the industry vetting some of my stories.
Ralph Arnote was in the middle of many interesting book and magazine stories. Ralph was manager of sales for Ace (where I worked for him), for Ballantine, and Beagle Books, and, he finished his sales career heading up sales for Tom Doherty and Tor Books.
After retiring, Ralph wrote several novels for Tor. We lost Ralph in 1998 after a heart attack. Harry Hills called and let me know Ralph had passed.
During a brilliant career, Ralph was known and welcome everywhere. He always wanted to build a ship, sail to Singapore, and drink a Singapore Sling at Raffles. I'm certain Ralph had his share of Singapore Slings, but he never got around to building that boat.
One of my favorite stories, Ralph was working for Capital Distribution. Capital was a small magazine and book distributor. Ralph had just lost his book line, so he had a sales force but nothing to sell.
That year, the ABA (American Booksellers Association) met in Washington DC. One afternoon, Ralph was dining al fresco, when an older gentleman asked to share Ralph's table. This man was Ian Ballantine, founder of many successful publishing companies, one of the people, if not "the" person who brought paperback books into their greatest glory (Several Ian Ballantine stories will appear here at a later date.).
[Click the images to embiggen.]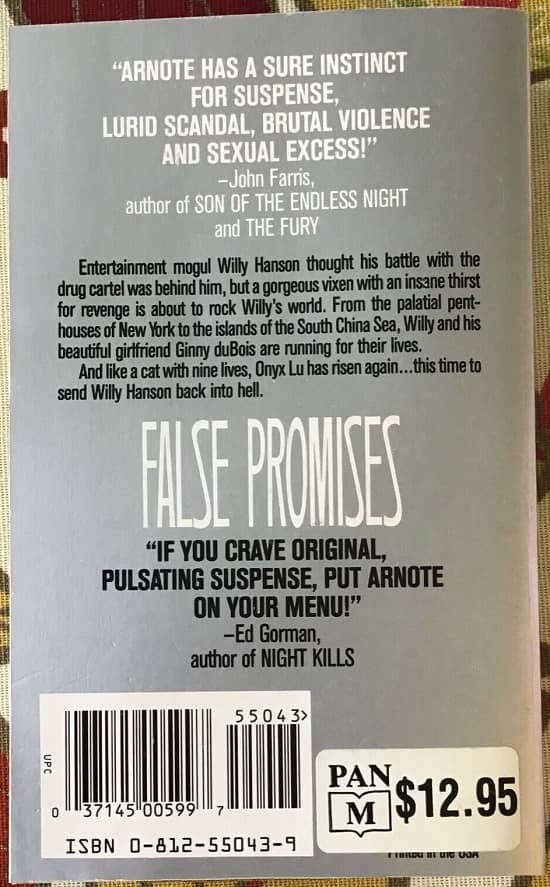 Back cover for False Promises (Forge, 1995)
So, Ralph was looking for a book line. He had thirty days to find one before Capital dismantled their book sales force.
Ian had just lost a publishing house (Ballantine, I think). He and Ralph talked. Soon, they were creating Beagle Books. Ian had access to a goth writer in the UK, Lucy Walker. Lucy was very prolific. And thus began Beagle. They survived for a period of time, and, I suspect, partially  thanks to Betty Ballantine and her great knowledge of science fiction. I first discovered Cordwainer Smith via Beagle Books. I believe Ballantine eventually bought Beagle.
Ralph was a mover and a shaker, and I am proud to say he was one of my mentors, along with Ian Ballantine.
Three Beagle paperbacks: Pool of Dreams by Lucy Walker (1973), Plunder by Ron Goulart (1972,
cover by Vincent DiFate), and The Trail of Cthulhu by August Derleth (1971, cover by Victor Valla)
Now, let us go back, back to World War II. Ralph was an eager young kid out of the Midwest. He joined the Navy, eager to help in the war effort. Ralph was not involved in the way he had hoped…but he had New Orleans.
If the Navy lost your enlistment papers, you went to New Orleans until they were found. They lost Ralph's papers. He haunted the Navy offices, wanting badly to contribute. Finally, someone said, "Kid, can you pilot a boat?" Ralph thought, "Sure, I used to man a motorboat in the hot Midwest summers." So, Ralph had a job.
Ralph was given the task of putting Navy prisoners in a boat, and piloting them across the harbor to the jail. I suspect many of the prisoners had been in fights. The prisoners were handcuffed. Ralph started the boat and proceeded toward the concrete dock on the other side of the harbor.
As the boat neared its destination, Ralph had a sudden thought. "No one showed me how to stop the boat." At full speed, the boat rammed the concrete dock. The (probably) flat bottomed boat split in two, dumping the handcuffed prisoners into the water.
The prisoners were fished out and no one was hurt. But that ended any hope for Ralph to work, until his papers were found. The papers remained missing long enough for Ralph to earn a degree at Tulane University.
The Gaudy Shadows by John Brunner (1971)
Ralph lived in a boarding house in the French Quarter. It had one famous resident, Tennessee Williams, who was writing "A Streetcar Named Desire."
The war passed, including VE Day and VJ Day, and still no papers. Then they arrived. Ralph was ecstatic. He kept asking until finally they put him on a ship headed for the Pacific. The ship sailed, and eventually took up watch off an island…Bikini Atoll. Ralph's one big contribution was to be on a ship that observed the nuclear explosion tested on Bikini.
Ralph continued in publishing until his retirement. I learned many things from him.
---
Pierce Watters is Director of Sales at Paizo Publishing. His last article for us was On the Virtue of Patience in Publishing.