A Glorious Tapestry of Alternate History: The Empire of Fear by Brian Stableford
A Glorious Tapestry of Alternate History: The Empire of Fear by Brian Stableford
British science fiction writer Brian Stableford has published more than 70 novels across a career spanning nearly five decades. His first novel was The Days of Glory (Ace, 1971), his most recent was The Tyranny of the Word (Black Coat Press, 2019), which appeared just last month. He's produced a number of popular series, including six Hooded Swan science fiction novels, beginning with The Halcyon Drift (DAW 1972), six Daedalus Mission books, his famous werewolf trilogy (The Werewolves of London, The Angel of Pain, and The Carnival of Destruction), the Genesys trilogy, and the more recent six-volume Emortality series from Tor, beginning with Inherit the Earth (1998) and Architects of Emortality (September).
Back in 2013 I wrote a brief Vintage Treasures piece on his 1998 horror novel The Empire of Fear, and in the Comments section BG blogger Joe Bonadonna offered a splendid mini-review.
I read this one right after reading George R.R. Martin's Fevre Dream, and these are 2 of my favorite vampire novels, because they are so much more than that. Empire of Fear is a glorious tapestry of alternate history a, "what mine have been," had Van Helsing not slain Dracula. Beautifully written, with flesh-and blood characters, and quite well told. My only complaint — it's too bloody short.
Joe's comments stayed with me, and as I celebrate the spooky season by selecting classic horror novels to read in October, I picked up a copy to read this weekend.
[Click the images for October-sized versions.]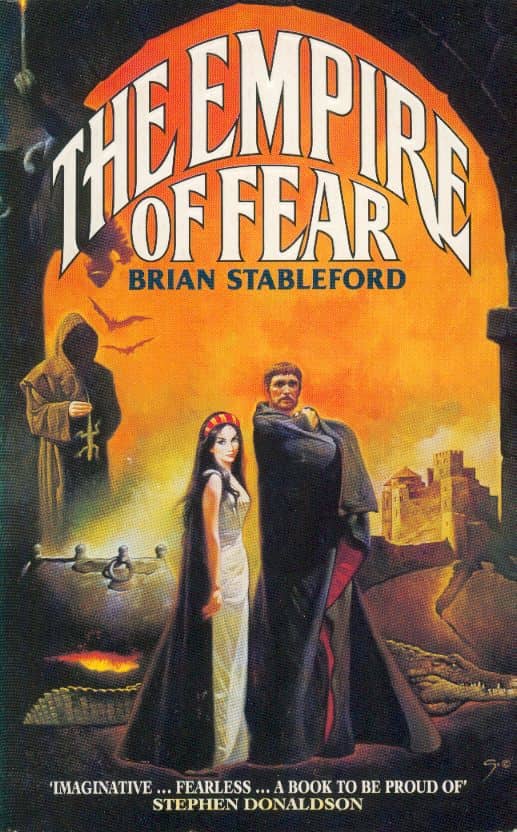 The Empire of Fear (Pan Books, 1990). Cover by Sanjulian
The Empire of Fear was widely praised when it first appeared, and drew the inevitable comparisons to Anne Rice. It came in 7th in the Locus Poll for Best Horror Novel, and 2nd for the Arthur C. Clarke for Best Science Fiction Novel, which is the kind of crossover acclaim you don't see very often.
Here's a clip from the (extremely spoilery, so read the full thing with caution) review at Kirkus.
Stableford details the sociobiology of vampires with a fineness that puts top vampirist Anne Rice in the shade as a cultural chronicler. His story largely is laid three centuries ago in England when the civilized world, led out of the Dark Ages by the rise of vampires, is governed by an aristocracy of vampires who rule by fear. Vampires seemingly cannot love or feel pain; females are barren, and males have a low sex drive. They feed on — and draw their number from — common men. But how do the vampires reproduce from the commoners? This question haunts Edmund Cordery, courtier to Richard the Lion-Hearted (a vampire, of course), who has just devised a microscope that reveals the small world of microbes that he thinks can help overthrow vampire rule if the spermatic base of vampirism can be found. When Edmund kills a lady vampire by purposefully inoculating himself with the black plague before she drinks his blood, his son Neil — a budding social revolutionary — flees England, seeking the microbial code. Neil… joins a pirate band and goes to Africa, fabled homeland of vampires, and in the wonderfully described Uruba tribe finds himself in vampire paradise… Terrific vampire fiction, with well-humanized puppet characters.
Here's a closer look at Sanjulian's wraparound cover for the British edition.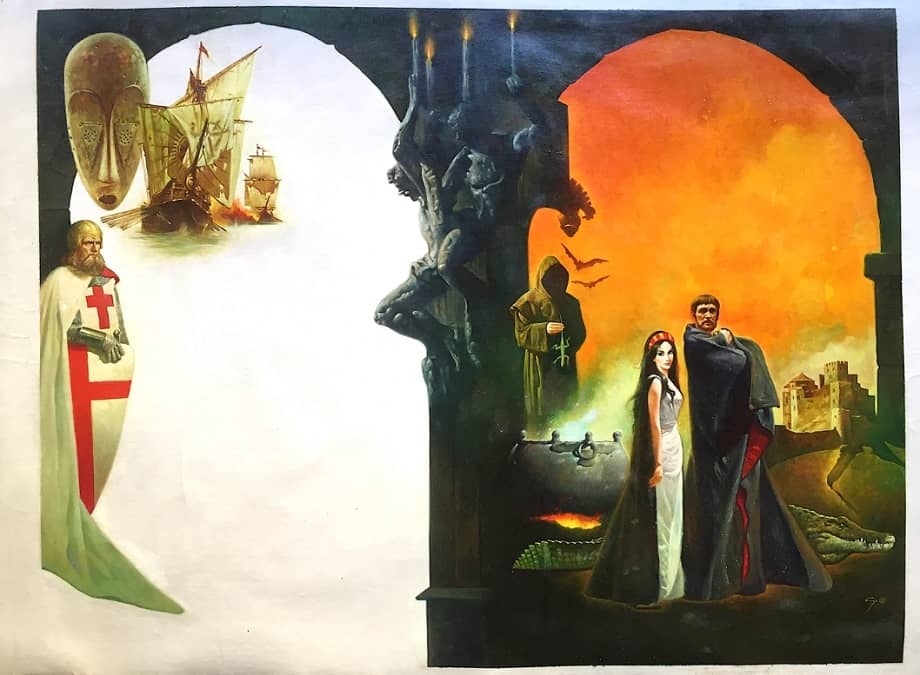 Wraparound cover art by Sanjulian
Our previous coverage of Brian Stableford includes:
Birthday Reviews: Brian M. Stableford's "The Growth of the House of Usher" by Steven H Silver
Vintage Treasures: The Empire of Fear by Brian Stableford
The Empire of Fear was published in hardcover by Simon & Schuster UK, and reprinted in paperback in the US by Ballantine Books in 1993. The Ballantine edition is 469 pages, priced at $5.99. The cover is uncredited. A digital edition was published by Skyhorse Publishing in 2011.
See all our recent Vintage Treasures here.