What Happens After the Greatest Con in History: The Quantum Garden by Derek Kunsken
What Happens After the Greatest Con in History: The Quantum Garden by Derek Kunsken
Covers by Justin Adams
Derek first appeared in Black Gate in issue 15 with his short story "The Gifts of Li Tzu-Ch'eng." He's been our regular Saturday evening blogger since 2013, producing nearly 150 articles on diverse topics such as web comics, Alan Moore, Star Trek, New York ComicCon, Percy Jackson, Science Fiction in China, and much more.
His first novel, The Quantum Magician, was published by Solaris on October 2, 2018. In his Black Gate review Brandon Crilly said,
The worldbuilding here is intricate, compelling and absolutely fascinating. From the moment concepts were introduced I wanted to know more, especially the different subsets of humanity that Künsken presents, each the product of generations of genetic manipulation. I mean, an entire population of neo-humans nicknamed Puppets because of their diminutive size, who double as religious zealots worshipping their divine beings' cruelty? Or an intergalactic political hierarchy based on the economics of patrons and clients, complete with the inequalities and social issues you might expect?…

The core plot is a con game perpetrated by a team of ragtag scoundrels, trying to sneak a flotilla of warships through a wormhole controlled by another government… but don't ask me to explain more than that. Künsken does an amazing job of presenting a bunch of quirky protagonists who play off each other well, but the characters that stand out do so powerfully; between that and the rich worldbuilding of things like the Puppets, I forgot about that flotilla and the original aim of the con for a good third of the novel, until they came back into focus.

Much as I rooted for protagonist Belisarius (who would be the Danny Ocean of these scoundrels) and his partner/love interest Cassandra (who I suppose is Tess and Rusty from Ocean's Eleven combined), the secondary characters stole the spotlight for me, particularly AI-on-a-religious-mission Saint Matthew and the creepily dangerous Scarecrow hunting these scoundrels down.
Solaris releases the sequel The Quantum Garden tomorrow. Here's a look at the back cover.
[Click the images for cosmic-sized versions.]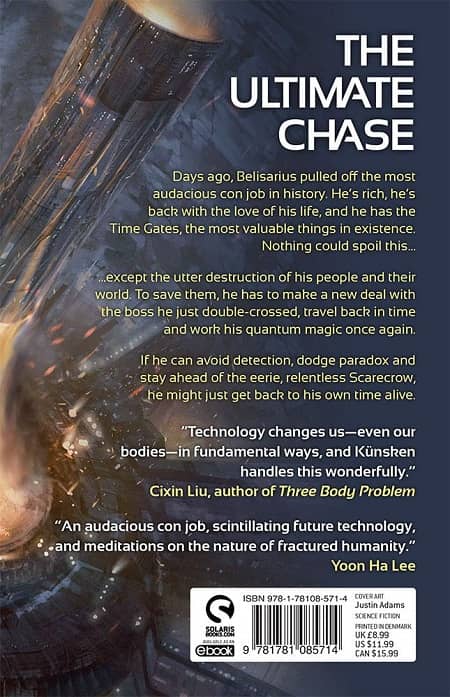 The Quantum Garden will be published by Solaris on October 15, 2019. It is 300 pages, priced at $11.99 in paperback and $6.99 in digital formats. The cover is by Justin Adams.
Interested in keeping up to date on the latest from BG bloggers and staff? We do our best to share  news with you here, and you always see the latest from our talented crew by reading posts with the BG Staff tag.