The Golden Age of Science Fiction: Donald A. Wollheim
The Golden Age of Science Fiction: Donald A. Wollheim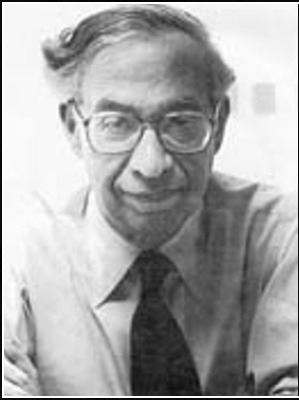 The Milford Award was created by Robert Reginald and was first presented in 1980 at the J. Lloyd Eaton Conference on Science Fiction and Fantasy Literature at the University of California, Riverside. It is presented for lifetime achievement in published and editing. The award recipient is chosen by a jury that was originally chaired by Reginald. Originally, the award was a hand-lettered scroll mounted under glass, although beginning in the award's second year, it took the form of a bronze plaque mounted on a wood base. The first recipient of the award was Donald A. Wollheim. The award was discounted following 1997. It was won by David Pringle in its final year.
Donald A. Wollheim is one of those people who is seminal to the creation of modern science fiction. From his early days as a fan in New York to his career as an author and eventually as an editor and publisher, he has touched every aspect of the field.
He was born on October 1, 1914 in New York and joined the International Stf Guild in 1934 and joined a variety of New York based clubs. He published several early fanzines and helped organize the 1936 trip by members of the NYB-ISA to Philadelphia to visit the Philly branch in what some have termed the first science fiction convention. The following year he helped found the Fantasy Amateur Press Association, which is still in existence in the 1938, he was one of the founding members of the Futurians, a science fiction club in New York that counted numerous future science fiction authors among its members.
After making his first sale to Wonder Stories in 1934, he learned that Hugo Gernsback not only hadn't paid him, but hadn't paid several other authors and Wollheim sued Gernsback for payment. Gernsback declared Wollheim to be a disruptive influence. Along with John Michel and Will Sykora, Gernsback expelled Wollheim from the Science Fiction League in September 1935.
Wollheim and several of the Futurians were barred from the first Worldcon in New York in 1939 with the group running the event concerned that the Futurians, especially Wollheim and his friend John Michel, would try to take over the event to espouse pro-Communist talking points at the convention.
In the early 1940s, Wollheim edited the magazines Stirring Science Stories and Cosmic Stories and in 1943 he was the editor of The Pocket Book of Science Fiction, the first hardcover anthology from a major publisher. He went on the publish the first science fiction omnibus, The Viking Portable Novels of Science Fiction, and the first original anthology, The Girl with the Hungry Eyes. He worked as an editor at Avon Books until 1951 and in 1952 he left for Ace Books, which he helped establish as a genre publisher.
In the 1960s, he infamously made use of a loophole in copyright law to published an unauthorized edition of J.R.R. Tolkien's The Lord of the Rings. Because Ace didn't have to pay Tolkien royalties, they were able to undersell the official release of the books and Tolkien and the SFWA promoted a campaign for Americans to buy the official publications. Ace eventually pulled their copies from the shelves and paid Tolkien full royalties with the promise not to print the book again.
Wollheim left Ace Books in 1971 to established DAW, an imprint whose title came from his initials. Beginning with the publication of Andre Norton's Spell of the Witch World, DAW claims to be the first publishing company devoted exclusively to science fiction and fantasy. DAW not only published reprints and original novels, but also a variety of anthologies and also made an effort to publish works by foreign authors in translation.
He was named Worldcon Guest of Honor at Nolacon II in 1988 and he died two years later, on November 2, 1990. Throughout his life, Wollheim worked closely with his wife, Elsie Wollheim, who was a member of many of the same clubs as Donald, and who was co-founder of DAW Books. She inherited the company upon his death, and following her death left the company to their daughter, Betsy, who still runs it. Elsie was named a Worldcon Guest of Honor for L.A. Con III in 1996, but unfortunately died several months before the convention.
Donald Wollheim was inducted into the Science Fiction Hall of Fame posthumously in 2002 and in 2010, he was awarded the Solstice Award for his contributions to science fiction by SFWA.
I had the privilege of meeting Donald and Elsie Wollheim at the first science fiction convention I ever attended and they were both friendly and gracious to a young fan, giving me their time. Little could any of us have known that eventually their company would publish my first anthologies.
---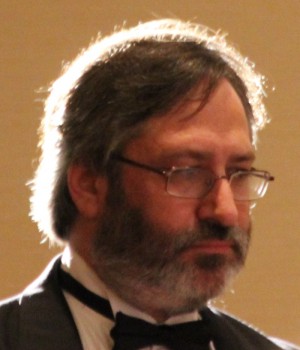 Steven H Silver is a sixteen-time Hugo Award nominee and was the publisher of the Hugo-nominated fanzine Argentus as well as the editor and publisher of ISFiC Press for 8 years. He has also edited books for DAW, NESFA Press, and ZNB. He began publishing short fiction in 2008 and his most recently published story is "Webinar: Web Sites" in The Tangled Web. His most recent anthology, Alternate Peace was published in June. Steven has chaired the first Midwest Construction, Windycon three times, and the SFWA Nebula Conference 6 times, as well as serving as the Event Coordinator for SFWA. He was programming chair for Chicon 2000 and Vice Chair of Chicon 7.