The Golden Age of Science Fiction: Betty and Ian Ballantine
The Golden Age of Science Fiction: Betty and Ian Ballantine
The Balrog Award, often referred to as the coveted Balrog Award*, was created by Jonathan Bacon and first conceived in issue 10/11 of his Fantasy Crossroads fanzine in 1977 and actually announced in the final issue, where he also proposed the Smitty Awards for fantasy poetry. The awards were presented for the first time at Fool-Con II at the Johnson County Community College in Overland Park, Kansas on April 1, 1979. The awards were never taken particularly seriously, even by those who won the award. The final awards were presented in 1985. The first Balrog Special Awards were presented in 1980 to Ian and Betty Ballantine. Special Awards were also presented in 1981, 1983, and 1985.
I wrote the following about Betty Ballantine in 2005 in my fanzine, Argentus, with the aim of having a Worldcon present a Special Committee Award to Ballantine. In 2006, L.A.con IV presented her with such an award.
Betty Ballantine (1919-2019) introduced paperbacks to the United States and founded, along with her husband, Ian, Bantam Books in 1945. Seven years later, they founded Ballantine Books which eventually launched the Ballantine Adult Fantasy line and later started Del Rey for science fiction and fantasy in 1977. In the 1960s, she bought the rights to publish an authorized edition of J.R.R. Tolkien's The Lord of the Rings in the US, helping to introduce Tolkien's writings to the masses and pay Professor Tolkien for his work.
For all that she has done, Betty Ballantine's name does not necessarily come to mind when one thinks of the pioneers of science fiction. Nevertheless, she has done as much for the field as John W. Campbell, Jr., Hugo Gernsback, or Robert A. Heinlein. While Judith Merril's name comes to mind among pioneering women in science fiction, it was Betty Ballantine who published Merril's 1950 anthology Shot in the Dark.
Ballantine also wrote the young adult novel The Secret Oceans, published in 1994. Over the years, she has been a guest of honor at World Fantasy Con and at Noreascon 3 and has been awarded the World Fantasy Award three times, the Balrog Award, the Milford Award, a special President's Award for SFWA, and in 2008 was inducted into the Science Fiction Hall of Fame.
Ian Ballantine's (1916-1995) career closely matched Betty's. In 1939, he began the US distribution of Penguin Books and, with Betty, formed Bantam Books in 1945, of which Ian was the President from 1945-1952, when Ian and Betty formed Ballantine Books. They ran the company until 1973, when it was acquired by Random House, after which both Ballantines served as consulting editors and publishers. Ian shared Betty's guest of honorships and awards up until his death and when Betty was inducted into the Science Fiction Hall of Fame in 2008, Ian was inducted posthumously as well.
*Rich Horton has taken me to task for consistently referring to this as "the coveted Balrog Award," so I quote from Fancyclopedia, which states: "The award never was taken very seriously — probably because they gave out so many awards with a limited set of non-mainstream voters (and let's not mention that naming an award after an evil demon is a bit odd) — and by tradition it is referred to as the 'Coveted Balrog Award'."
---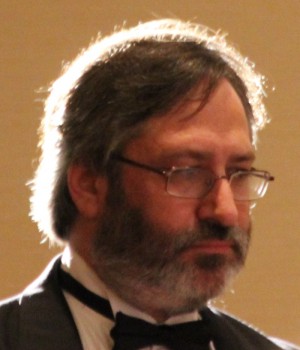 Steven H Silver is a sixteen-time Hugo Award nominee and was the publisher of the Hugo-nominated fanzine Argentus as well as the editor and publisher of ISFiC Press for 8 years. He has also edited books for DAW, NESFA Press, and ZNB. He began publishing short fiction in 2008 and his most recently published story is "Webinar: Web Sites" in The Tangled Web. His most recent anthology, Alternate Peace was published in June. Steven has chaired the first Midwest Construction, Windycon three times, and the SFWA Nebula Conference 6 times, as well as serving as the Event Coordinator for SFWA. He was programming chair for Chicon 2000 and Vice Chair of Chicon 7.