Future Treasures: The Warrior Moon by K Arsenault Rivera
Future Treasures: The Warrior Moon by K Arsenault Rivera
Cover art by Jamie Jones
I've gotten in the comfortable habit of not starting trilogies until all three books are published. It's served me well (very well) over the years. But what happens when the third book in a series appears and you're not sure it's a trilogy? What if you waited all this time and and there's still a damn cliffhanger??
I guess a life of literary ambition is never truly free of risk. The third novel in K Arsenault Rivera's maybe-trilogy Ascendant series arrives in bookstores September 24 and, hidden on the author page of the copy the publisher sent me is a novel called Sixteen Swords (listed as "forthcoming.") But I've waited impatiently to start this series ever since Liz Bourke gave a rave review to the first two novels at Tor.com.
The Tiger's Daughter recounted the adventures of their youth from Shefali's perspective, including Shefali's infection the blackblood plague — the first person ever to be infected and survive, albeit changed — culminating in their marriage and Shefali's exile by Shizuka's uncle, the emperor. Shefali may only return to the lands ruled by the empire once she has completed an impossible quest: acquire and bring back a phoenix feather.

The Phoenix Empress is essentially two stories at once. It is the story of Shefali and Shizuka, rediscovering each other after eight years apart, facing the deep problems of their potential destinies—and it's the story that Shizuka tells to Shefali to explain how she's changed. Why Shizuka drinks so much and wakes nightly from nightmares, and why she has no tears to cry…
This is a glorious, powerful epic fantasy, a thing of destinies and powers, old secrets and human cruelties amplified by inhuman powers. Its greatest successes, though, are in the relationships between the characters: the steadfast and lasting intimacy between quiet, careful Shefali and impetuous, passionate Shizuka; the complicated feelings that both Shefali and Shizuka have towards Shefali's brother, who betrayed them both to the emperor and caused their long separation…An elegant, lyrical epic of a story, The Phoenix Empress is full of emotion and incident and high stakes. K. Arsenault Rivera brings us believable, compelling, relatable characters in a fantastical setting, and gives us a heroic and touching romance to boot. I loved this book. It's amazing. I'm really looking forward to reading more.
Read Liz's full review here.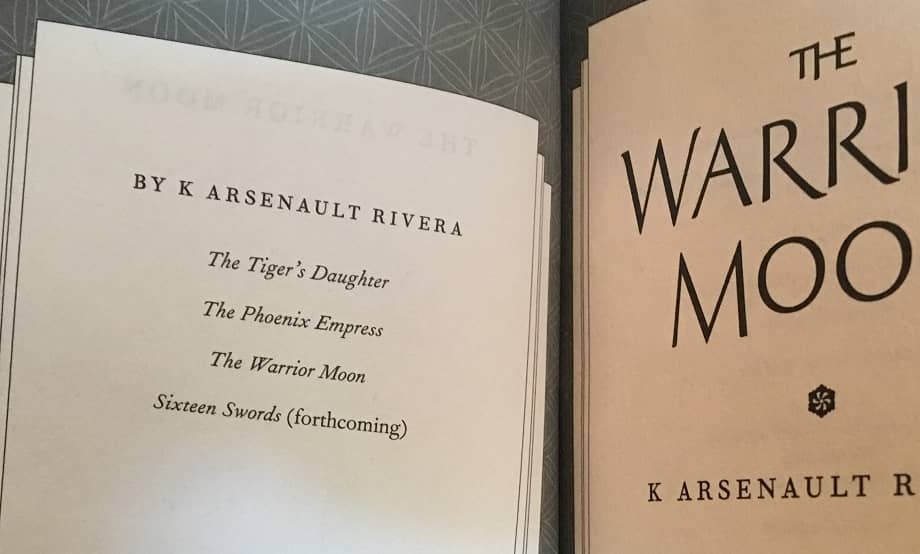 I have to admit though, it wasn't a review that first interested me in The Tiger's Daughter. It was the brilliant marketing campaign, which included a seed-laden bookmark that contained instructions to plant it in "1/8″ of soil.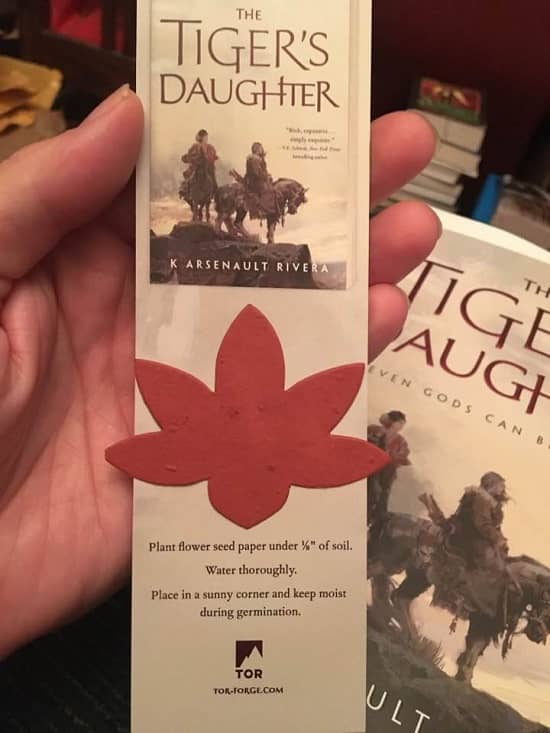 Yes, but… but… what does it grow??
You can read about my adventures with this mysterious and fascinating bookmark here.
Here's the details on the entire series.
The Tiger's Daughter (526 pages, $17.99 in trade paperback/$9.99 digital, October 3, 2017)
The Phoenix Empress (544 pages, $16.99 in trade paperback/$9.99 digital, October 9, 2018)
The Warrior Moon (650 pages, $19.99 in trade paperback/$9.99 digital, September 24, 2019)
Read the complete first chapter of The Tiger's Daughter at Tor.com.
See all our recent coverage of the best upcoming fantasy here.