Vintage Treasures: Emergence by David R. Palmer
Vintage Treasures: Emergence by David R. Palmer
Cover by Jim Burns
The mid-80s were a good time to be a science fiction short story author. If you had a pair of popular tales in top-selling magazines like Analog or Asimov's SF, that's all it took to catapult you near the top of the field.
Take David R. Palmer, for example. His first published story, "Emergence," was published in the January 1981 issue of Analog; it won the magazine's Readers Choice awards, and was nominated for a Hugo Award for Best Novella. He followed it with his second (and last) short piece, the novella "Seeking," in the February 1983 Analog, which also won the Analog award, and was nominated for both a Hugo and Locus Award for Best Novella. Palmer used the stories as the first two parts of his first novel Emergence (Bantam Spectra, 1984) and voila. He had a best seller.
Emergence made a major splash, especially for a first novel. It won the Compton Crook Award for Best First Novel, and was nominated for the Hugo, Locus, and Philip K. Dick Awards. The long-awaited sequel, Tracking, appeared 14 long years later. It was serialized in Analog magazine between the July and October issues, but has never been published in book form. In fact, other than a single follow up novel (Threshold, 1985), Palmer has never published another book — or short story, for that matter. Despite rumors over the years, he has yet to deliver on the astonishing promise of his first book.
[Click the images to embiggen.]
Analog magazine, January 1981 and February 1983 issues. Covers by Rick Sternbach, and Val & John Lakey
Palmer introduced Threshold as the first book in the To Halt Armageddon trilogy. The first sequel was to be titled Spēcial Education, but it has yet to appear. There are also reports of at least one unpublished novel, Schrödinger's Frisbee, unrelated to the others.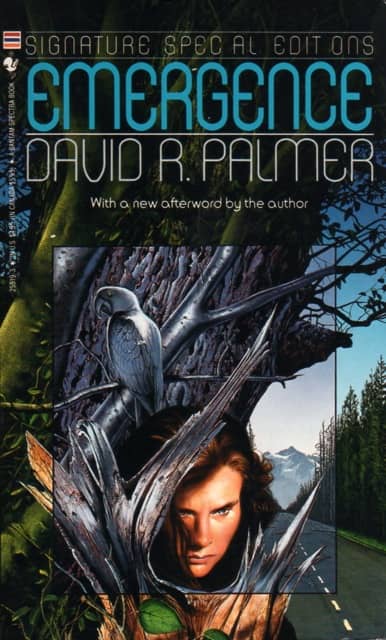 Cover by Mark Harrison
Emergence was reprinted in a new Spectra edition in November 1990 with a new cover by Mark Harrison (above).
Eric Flint's Ring of Fire Press, which publishes authors such as David Gerrold, Charles E. Gannon, and others, recently made arrangements to reprint Palmer's long-out-of print Emergence and Threshold, starting with the former in June 2018. It has also made digital copies available. At last report, it is scheduled to publish Spēcial Education as well.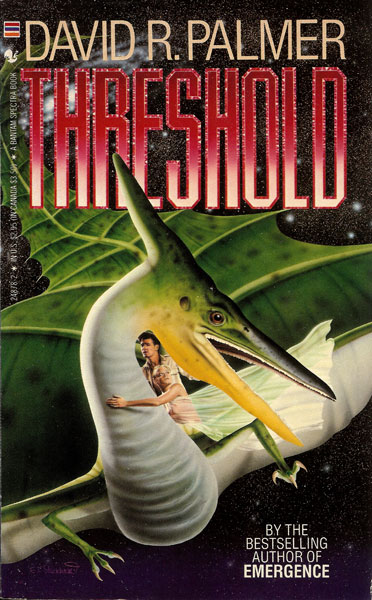 Threshold (Bantam Spectra, Bantam Spectra 1985).
Cover by E. T. Steadman
Emergence was published by Bantam Spectra as a paperback original in November 1984. It is 292 pages, priced at $2.95. The cover is by Jim Burns.
See all of our recent Vintage Treasures here.