An Offshore Haul
An Offshore Haul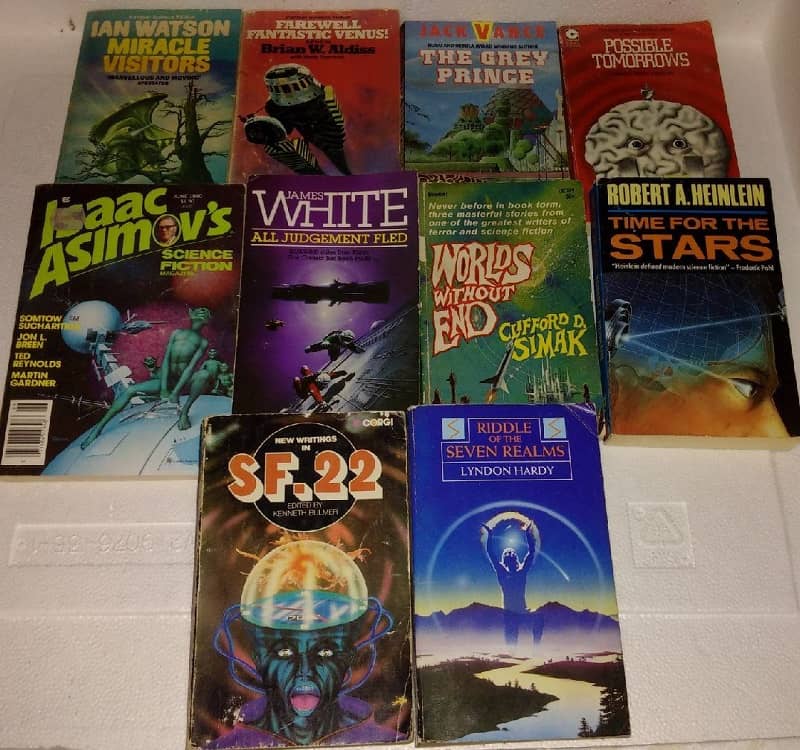 Latest Haul
As I'm sure regular visitors have noticed, Black Gate has over time become a home for like-minded people, introducing readers to new authors. The regular posts that really appeal to me are, not surprisingly, John O'Neill's reports on the book collections he's secured online, or via visits to local conventions like Windy City Pulp & Paper. Nick Ozment has also come across the odd windfall while glancing about thrift stores.
Not to be outdone this side of the Atlantic, I've also made some cool finds, often at bargain prices. Recently I killed an hour in a second hand bookshop, and it's a testament to Black Gate that the books I came away with were far different from what I would have sought out a decade ago.
The shop in question is a bit of a mess, with volumes haphazardly stacked. They have (for the most part) separated books into genres, but between inattentive browsers — and perhaps just lack of diligence on the part of the owners — the books are all over the show, with only a minor nod to any sort of alphabetic sorting. Faced with this challenge, I dug in and soon found myself sporting a decent pile of overlooked volumes, including the sought after Panther version of Farewell Fantastic Venus (discussed at Black Gate some time back).
While nowhere near the size of many of John's hauls, I am fair impressed with what I managed to pick up for the princely sum of ZAR97 (about USD6.75). The only duplicate, that I am aware of (mistakes have been made before), is the Lyndon Hardy, which I chose to complete the set by the same publisher.
[Click the images for lifesize versions.]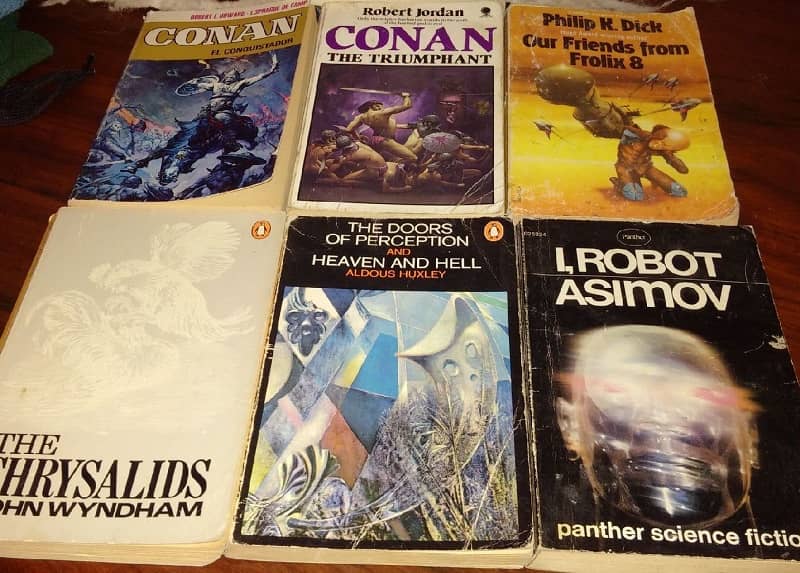 Previous Haul
For the sake of completeness (or maybe just gloating), above is a small selection I picked up in a furniture junk shop while browsing for a cabinet for my garage. Never found a decent cabinet, but I did find these items. And no, I do not speak or read Spanish, but that Conan volume was too cool to leave behind. While I cannot recall precisely what I paid, it was assuredly not a lot.
---
Tony Den posts occasional retro reviews to keep the light of eighties fantasy burning. His most recent contribution has been the coverage of Carole Nelson Douglas' seminal Six of Swords and Exiles of the Rynth books.