The Golden Age of Science Fiction: Douglas Adams
The Golden Age of Science Fiction: Douglas Adams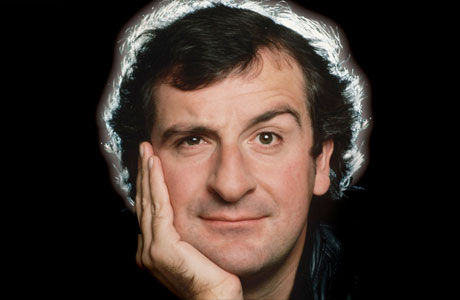 Pat Terry was an Australian fan who was born in the mid-1880 and died in 1970. The Sydney Science Fiction Foundation established an award in his name to recognize Humour in science fiction. The award was only presented 8 times over the course of 12 years, from 1970, when it was given to John Sladek for Mechasm until 1982, when it was presented to Randall Garrett. Despite being an Australian Award, in 1971 and 1980, the award was presented at the Worldcon, which happened to be in Boston both of those years. The 1980 award, for work done in 1979, was presented to Douglas Adams for The Hitchhiker's Guide to the Galaxy and was accepted on his behalf by Chris Priest at Noreascon II.
Douglas Adams was born on March 11, 1952. He attended Cambridge, where he formed a comedy troupe called Adams-Smith-Adams with Will Adams and Martin Smith before becoming a member of the Footlights. His work with Footlights brought him to the attention of Graham Chapman, and the two wrote a few sketches together, with Adams being one of only two non-Pythons to receive a writing credit on Monty Python's Flying Circus. Adams would also later contribute to Chapman A Liar's Autobiography.
I first became aware of Douglas Adams in the late 1970s when I received recordings of The Hitchhiker's Guide to the Galaxy radio show sometime between the first series and the second series, before the publication of the first book based on them. By that time, of course, I had already seen some of his work on Monty Python's Flying Circus.
1979 was, in fact a good year of Adams. Not only had the first series of Hitchhiker's Guide to the Galaxy aired the previous year, but his novel based on the series was published, he was working for Doctor Who as the script editor and two of his own scripts, Destiny of the Daleks and City of Death, would be produced, although he received no credit for the former and the later was credited pseudonymously to David Agnew. He was also writing for the British sketch comedy Not the Nine O'Clock News.
Adams would return again and again to the universe of the Hitchhiker's Guide to the Galaxy, by far his most popular work, eventually writing a total of five novels and a short story using the characters. He also saw the series adapted to a variety of media, including records, books, towels, stage play, computer game, and television. Although he worked throughout his life to bring the series to the big screen, the film adaptation, which included input from Adams, didn't begin to shoot until 2004, nearly three years after his own untimely death, although his widow, Jane Belson, was involved with the production.
Around 1984, I realized that Adams would be doing a book tour for So Long, and Thanks for All the Fish. At the time, I was writing for my high school newspaper and realized I had a chance to meet him. I reached out to his publicist about the possibility of interviewing Adams. I was given his hotel information and a time to call him. Unfortunately, Adams was not given the same information, which resulted in his answering the phone, essentially by groggily asking me if I had any idea what time it was. The interview did not happen, although I would eventually meet and speak to Adams on multiple occasions.
In addition to The Hitchhiker's Guide to the Galaxy, Adams worked on several other projects. His second most famous property are the novels about Dirk Gently, Dirk Gently's Holistic Detective Agency and The Long Dark Teatime of the Soul, as well as comic book adaptations and two different television versions. I had a more successful conversation with Adams between the publication of the two Dirk Gently novels.
While living in England in 1987, I bumped into him on the street one day while I was in London. We got to talking and I mentioned that one of the difficulties we had at my college in a small village, was getting pizza. Being from America, most of the students were used to simply calling up a pizzeria and placing an order, but in England, we had to place the order with the pizzeria and then call the local taxi service, which would pick up the pizza and then deliver it to us at college, since the pizzerias didn't have delivery drivers. I was stunned the next year to see that elements of our conversation seemed to inspire part of The Long Dark Teatime of the Soul.
The novel Starship Titanic and related videogame were both based on his ideas and a throw-away line from his books. He wrote the books The Meaning of Liff and The Deeper Meaning of Liff with John Lloyd, both based off a game the men played in which they assigned definitions to place names from around the world.
Perhaps the most important work Adams wrote, and one which I feel is one of his most humorous, is Last Chance to See, in which Adams chronicles his travels around the world with Mark Carwardine to find several endangered species in the world. The topic of the book was deadly serious and it led to Adams working on endangered species preservation for the rest of his life, but his treatment of the topic was very funny, making it quite approachable.
Douglas Adams tragically died from an heart attack at the age of 49 on May 11, 2001. One of Adams's famous sayings when he was facing writer's block was that he loved deadlines, especially they sound they made as they flew by, a statement which infuriated his publishers and collaborators. Perhaps if he hadn't take it so much to heart, the world would have more of his work to enjoy. A year after his death, a volume containing short stories, sketches, and essays, as well as an unfinished portion of a novel, which at various times in its development was considered a Hitchhiker novel or a Dirk Gently novel, was published as The Salmon of Doubt.
---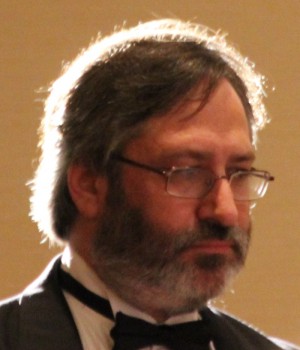 Steven H Silver is a sixteen-time Hugo Award nominee and was the publisher of the Hugo-nominated fanzine Argentus as well as the editor and publisher of ISFiC Press for 8 years. He has also edited books for DAW and NESFA Press. He began publishing short fiction in 2008 and his most recently published story is "Webinar: Web Sites" in The Tangled Web. Steven has chaired the first Midwest Construction, Windycon three times, and the SFWA Nebula Conference 6 times, as well as serving as the Event Coordinator for SFWA. He was programming chair for Chicon 2000 and Vice Chair of Chicon 7.