Goth Chick News: As If Reliving Your Childhood Wasn't Horror Enough…
Goth Chick News: As If Reliving Your Childhood Wasn't Horror Enough…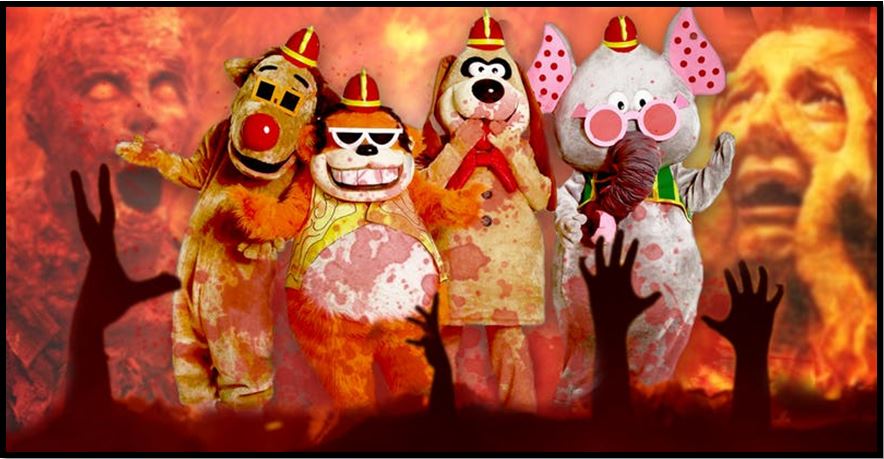 Long before doctors decided that television as an electronic babysitter was probably not the best idea, an entire generation of kids grew up thinking Sesame Street was a real place and dreaming of solving mysteries with friends and a Great Dane from the back of a psychedelic minivan. And if you weren't old enough to catch all this TV goodness the first time around, the after-school reruns continued through nearly three generations via local cable access channels, The Cartoon Network and YouTube.
A particularly trippy offering called The Banana Splits originally aired on NBC from 1968 to 1970 and has since become famous for both being unintentionally creepy and resembling a bad acid trip. The classic children's variety show, whose full name was The Banana Splits Adventure Hour, teamed executive producers William Hanna and Joseph Barbera with Sid and Marty Krofft, who designed the costumes for the show's four main characters, Fleegle the beagle, Bingo the gorilla, Drooper the lion and Snorky the elephant. The Krofft brothers then went on to produce other 70's favorites such as H.R. Pufnstuf and The Donny and Marie Hour along with a host of others. Hanna Barbera were already children's entertainment icons, giving birth to Hanna Barbera Studios which was ultimately absorbed into Warner Brothers Animation.
Some people suggested that the Krofft brothers were influenced by marijuana and LSD, although they have always denied these claims. In a 2005 interview with USA Today, Marty Krofft said, "No drugs involved. You can't do drugs when you're making shows. Maybe after, but not during. We're bizarre, that's all." Referring to the alleged LSD use, Marty said in another interview, "That was our look, those were the colors, everything we did had vivid colors, but there was no acid involved. That scared me. I'm no goody two-shoes, but you can't create this stuff stoned."
Okay, we'll take their word for it but looking back, The Banana Splits was more than subtly frightening, which makes the idea of adapting it into a horror flick quite inspired.
Yep, you read that right – The Banana Splits is being made into a horror movie.
Produced by Warner Bros. Television Group's Blue Ribbon Content the movie, with the current working title staying true to the source material, The Banana Splits will premiere later this year through Warner Bros. Home Entertainment before it makes its television debut on Syfy.
In the new, darker adaptation, a boy named Harley is spending his birthday with his family at a taping of The Banana Splits TV show. But the outing takes an unexpected turn that involves a rising body count.
And that is the definition of "nightmare fuel" if I've ever heard it.
If you're uninitiated and would like a small taste of what I'm talking about, check out the opening / closing theme song, which incidentally made it to #96 in the Billboard Hot 100 singles chart in 1968.
But, you've been warned.
Assuming that hasn't sent you screaming out of the room, what do you think of this concept? Post a comment or drop a line to sue@blackgate.com.