Galaxy Science Fiction, June 1954: A Retro-Review
Galaxy Science Fiction, June 1954: A Retro-Review
Cover by Emsh
The June, 1954 issue of Galaxy Science Fiction opens with a new serialized novel (Gladiator at Law) in addition to other fiction. The cover art by Ed Emshwiller is for the novel.
Gladiator at Law by Frederik Pohl and C. M. Kornbluth (Part 1) — Charles Mundin is a capable, dedicated lawyer who lacks a degree from the right school to rise in his career. An associate recommends Charles as a lawyer for Norma Lavin and her brother, Don. Their father was one of the owners of G-M-L Homes, the creators of the bubble houses used across the world. When their father died, the company had his stock impounded for years. After Don finally received the stock, he hid it, but the company hired people to arrest him and gave him 50 hours of conditioning — a technique typically used on criminals to reform them. Now, Don can't speak as to the stock's location.
Charles realizes that he was given the case because no one thought he could get anywhere with it. But as his investigation deepens, he realizes that he's becoming a nuisance or possibly a minor threat to those who wish to retain control of G-M-L and all of the other businesses it controls.
Gladiator at Law has a good beginning that sets the stage for later installments. I'm looking forward to them. Pohl and Kornbluth worked together on multiple novels, including Gravy Planet (The Space Merchants), in Galaxy in 1953.
[Click the images for Gladiator-sized versions.]
"Something For Nothing" by Robert Sheckley — Joe Collins discovers a machine near his bed in his shabby apartment. Its brass plaque identifies it as a CLASS-A UTILIZER, which is to be used only by those with Class-A ratings. Joe has no idea what a Class-A rating means, but the machine only has one red button on it. He soon discovers that if he asks for something and presses the button, he will be granted whatever he asks. In some cases, the item may appear immediately; in other cases, people appear and build what's requested. What could possibly go wrong?
And like any good story with this principle, we all know something can and will go wrong. A story of an infinite wish machine must have a conflict somewhere, and this one is no exception. But it's fun watching it play out.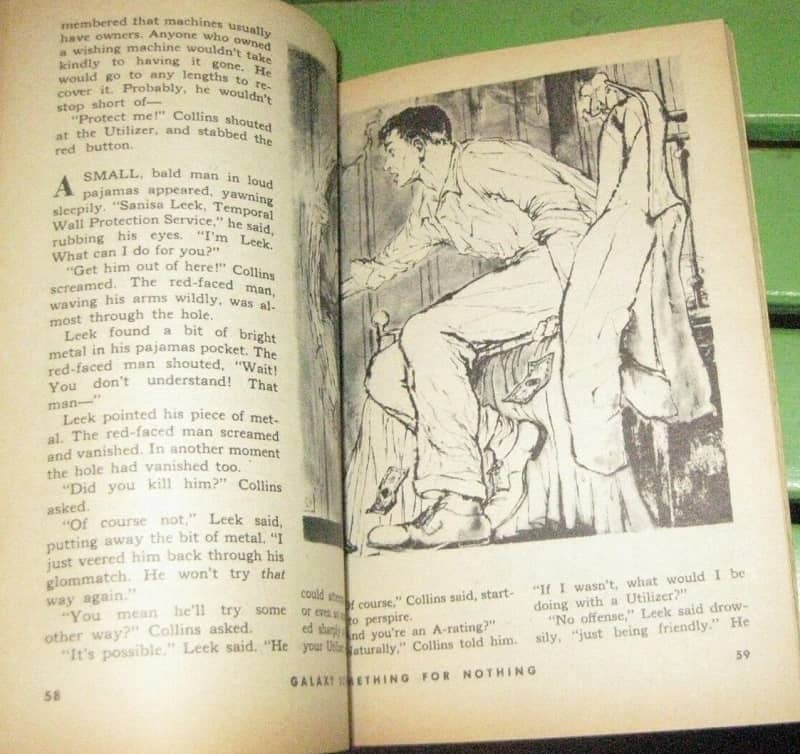 "High Man" by Jay Clarke — Roger and Anne are engaged and correspond to one another through letters. Roger has disappeared in America, after having received quite a bit of money from his fiancé in England. Roger explains that he met a professor who had tested an anti-gravity belt on him, and it lifted him into the air with no way back down until the batteries ran out weeks later. And the professor apparently had little interest in his rescue or in contacting any next of kin. It's a rather preposterous story, yet is there an inkling of truth within it?
This is a humorous tale, and what I enjoyed the most is that I couldn't be certain for a while if it really was a science-fiction story or simply used science-fiction ideas as a character's excuse. And really, I think it could have worked either way.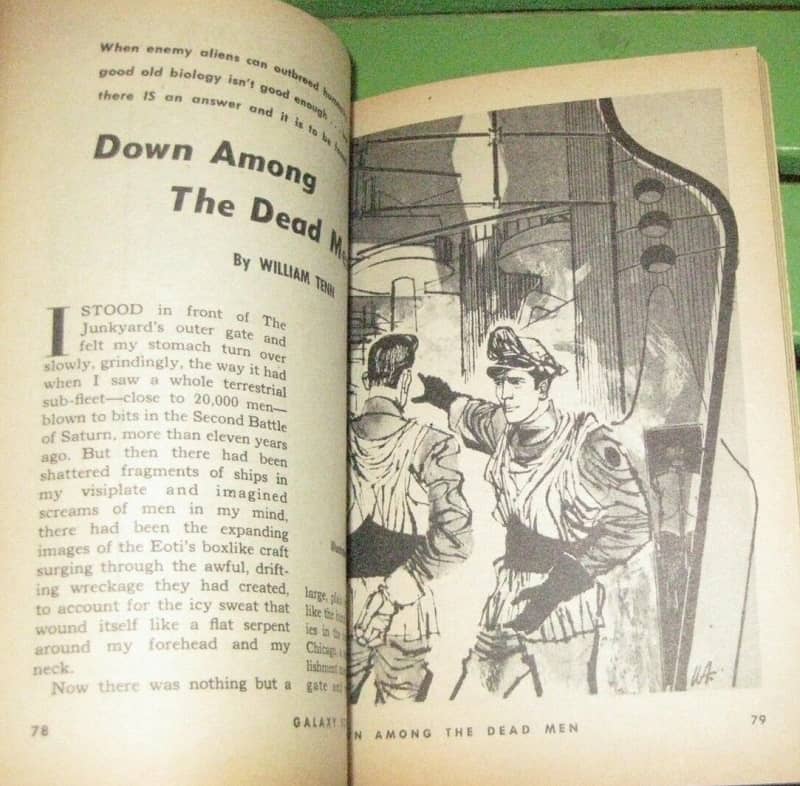 "Down Among the Dead Men" by William Tenn — Humans are at war with the Eoti — a ruthless race of creatures from elsewhere in the galaxy. It's been a costly war in terms of people and physical resources. Even with breeding regulations, there aren't enough people for the war effort. So the military also uses the dead as raw material to create new people — not the brainless models of years past but ones the protagonist can really command and lead into battle. Or so he hopes.
I wanted more out of this story. It felt like the opening chapters of something much greater and instead ended with a mild twist of how the commander meshed with his crew. But I enjoyed the feel of the protagonist and some of his recollections from the war.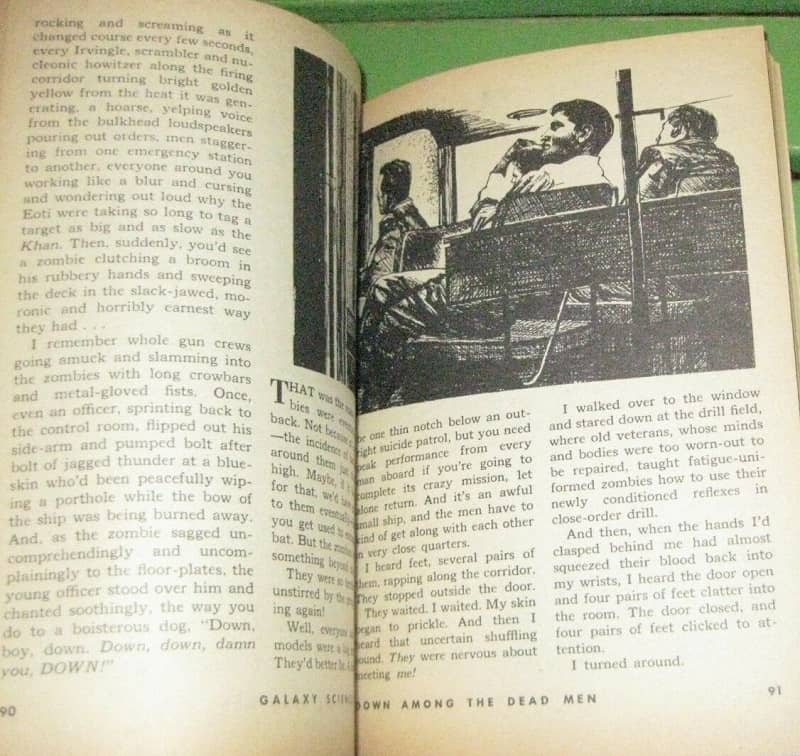 "See?" by Edward G. Robles, Jr. — A group of hobos discover an object that looks different to each of them. For one person, it looks like a razor, and for another a bottle of alcohol. No two people see the same thing, and each person sees something that repulses them. But what could it be?
The story is well written and concise. I couldn't find much information on Robles, at least not through Google. His short story "The Fool" appeared in a 1955 issue of Spaceway. He also had a few of his letters published in Analog.
"Forget Me Nearly" by F. L. Wallace — The protagonist has no memory. He was shot with a retrogression gun and left in one of the city's shelters where the police found him. Now, having completed days of relearning, he has the option of leaving the police and trying to rejoin society. And though he has no direct memories, the protagonist realizes he has an investigative mind, and he wants to follow what clues may exist to find out who wiped his memory and why.
I enjoy detective stories or stories that have that feel — trying to solve a mystery. This has a unique angle since the protagonist doesn't know who he is, so anyone he encounters could be someone significant, possibly even the person who wiped his memory.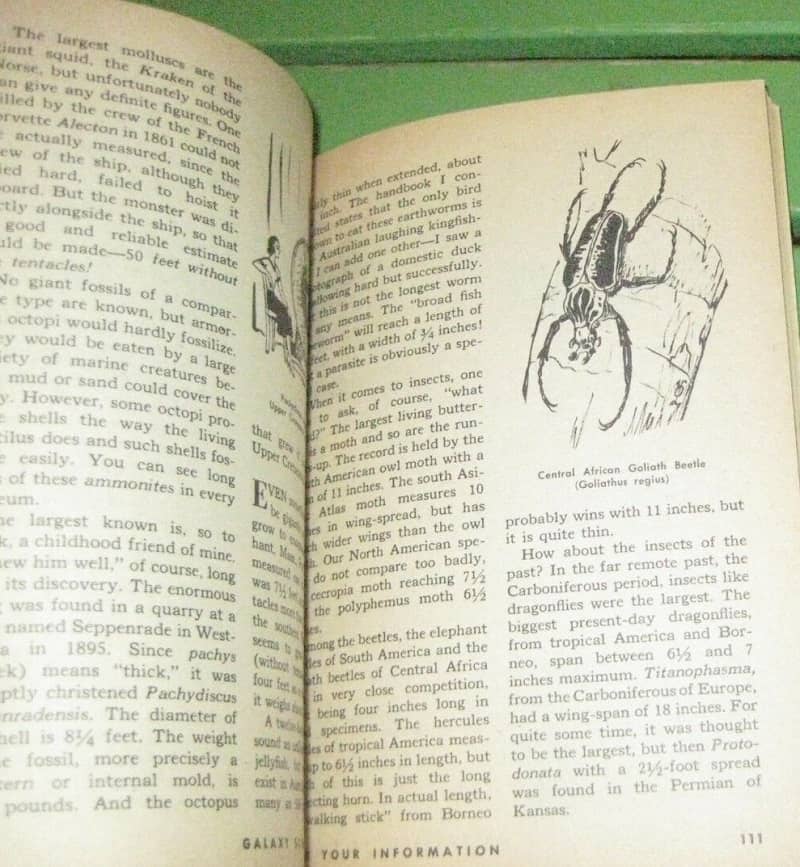 In addition to the fiction in the issue, Willy Ley has a science article ("For Your Information") focused around the largest living things in various categories (e.g. largest fish, largest mammal). I'm uncertain how accurate his article remains, given that it was written almost 65 years ago. But this is the case with any of Ley's articles, through no fault of his own, of course. It's the nature of scientific study to continue amending historical knowledge and theories as we gain new information (e.g. Mars isn't covered with vegetation, Pluto isn't categorized as a planet). But I still find his articles interesting.
Ley was born in Germany but left in 1935, greatly concerned about the control of the Nazi party. He wrote science articles as well as books on rocketry. His "For Your Information" series in Galaxy appeared in every issue from March, 1952 until his death. He died on June 24, 1969; the Apollo moon landing happened 26 days later. There is a crater on the far side of the moon named Ley, in his honor.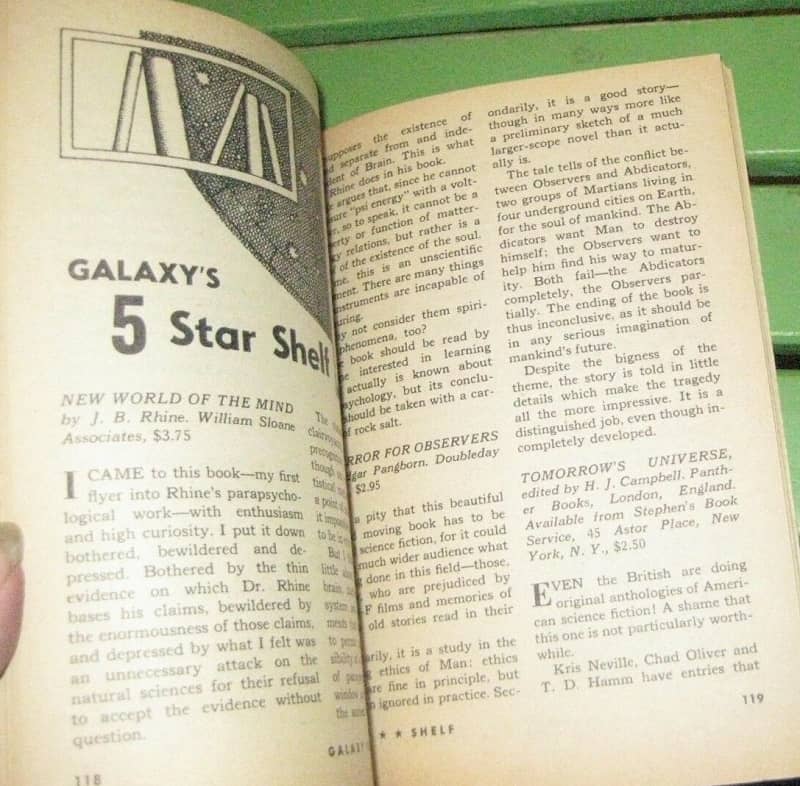 Another article within the issue was by Groff Conklin — "Galaxy's 5 Star Shelf." Conklin gives favorable reviews in the few paragraphs he devotes to each title, which include both science fiction and non-fiction science. His reviews are of the following:
New World of the Mind by J. B. Rhine
A Mirror For Observers by Edgar Pangborn
Tomorrow's Universe, edited by H. J. Campbell
Search the Sky by Frederik Pohl and C. M. Kornbluth
Born Leader by J. T. McIntosh
Tales From Gavagan's Bar by L. Sprague de Camp and Fletcher Pratt
The Lights in the Sky are Stars by Frederic Brown
Tomorrow's Revolution in Weather by William J. Baxter
Riders to the Stars by Curt Siodmak and Robert Smith
Planet of Light by Raymond F. Jones
Attack From Atlantis by Lester del Rey
Besides writing reviews for Galaxy, Conklin was an editor of 40 science-fiction anthologies.
---
Matthew Wuertz's project to review every issue of Galaxy magazine began with the January 1950 issue. See all his reviews here.