Solving Crimes in a War-Torn Tokyo: Ninth Step Station, created by Malka Older
Solving Crimes in a War-Torn Tokyo: Ninth Step Station, created by Malka Older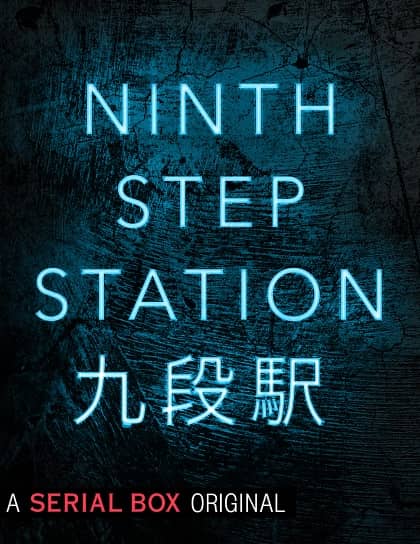 Serial Box is one of the most exciting new genre publishers to arrive on the scene in the past few years. They've brought a very old concept — serialized fiction — into the 21st Century, and attracted an incredible line-up of top-notch writers to give it new life. So how does it work? Serial Box offers multiple stories in a rich variety of genres, and they release new episodes every week. Each serial typically runs for a "season" of 10-16 weeks, and each is written by a team of talented writers. Just check out this list of contributors: Max Gladstone, Amal El-Mohtar, Ellen Kushner, Delia Sherman, Ian Tregillis, Michael Swanwick, Mary Robinette Kowal, Brenda Clough, Michael R. Underwood, Marie Brennan, Alyssa Wong, Paul Cornell, Paul Tremblay, Christopher Golden, Yoon Ha Lee, Becky Chambers, and many, many more. The stories are easy to jump into, individual episodes are standalone (but contribute to a larger story arc), and each episode is available in ebook and audio formats, and takes about 40 minutes to enjoy.
Their newest serial Ninth Step Station launches this week. Created by Malka Older and written by Older, Fran Wilde, Jacqueline Koyanagi, and Curtis C. Chen, Ninth Step Station is the tale of two unlikely partners in a future Tokyo who solve a series of murders. Here's the description.
A local cop. A US Peacekeeper. A divided Tokyo.
In the future, two mismatched cops must work together to solve crimes in a divided Tokyo.

Years of disaster and conflict have left Tokyo split between great powers. In the city of drone-enforced borders, bodymod black markets, and desperate resistance movements, US peacekeeper Emma Higashi is assigned to partner with Tokyo Metropolitan Police Detective Miyako Koreda. Together, they must race to solve a series of murders that test their relationship and threaten to overturn the balance of global power. And amid the chaos, they each need to decide what they are willing to do for peace.
Ninth Step Station is only one of the many offerings from Serial Box. Here's a few of the others.
Tremontaine — The prequel to Ellen Kushner's famed Riverside series (Swordspoint, The Privilege of the Sword, The Fall of The Kings) (4 Seasons)
Bookburners — A secret team of agents hunts down dangerous books containing deadly magic (4 Seasons)
ReMade — 23 teenagers all die the same minute, and wake up in a world of robots, space elevators, and dense jungle (2 Seasons)
Whitehall — An historical tale of Catherine of Braganza, filled with Intrigue, romance, and scandal (2 Seasons)
The Witch Who Came In From the Cold — Spies and sorcerers battle for home and country in Cold War Prague (2 Seasons)
False Idols — An FBI language expert investigates a terrorist in Cairo (1 Season)
Geek Actually — Through a shared love of all things geek, five friends face the world together (1 Season)
Born to the Blade — An epic fantasy of youth, ambition, and power (1 Season)
Dead Air — Mackenzie Walker uses her college radio show to solve a decades-old murder (1 Season)
Exquisite Corpse — Ten horror authors stitch together a haunting tale of sci-fi horror (1 Season)
The Vela — In the fading light of a dying star, a soldier for hire searches for a missing refugee ship and uncovers a universe-shattering secret (Coming Soon)
The Triangle — A shipwrecked team of experts must unravel the secrets of the Bermuda Triangle, before it kills them all (Coming Soon)
Last year Saga Press published handsome print omnibus collections of the first three Serial Box offerings: Bookburners, Tremontaine, and The Witch Who Came in from the Cold.
Our previous coverage of Serial Box includes:
Check Out the Serial Box Omnibus Collections from Saga Press
Caffeine, Snacks, and a Thousand Notecards: How the Story Summit was the Key to Tremontaine's Success by Tessa Gratton
Serial Box will release Ninth Step Station on January 9 in bundled ebook and audio. Get all the details here, and read an excerpt at The Verge.
See all of our recent coverage of the best new release in fantasy and SF here.