Birthday Reviews: Molly Gloss's "Interlocking Pieces"
Birthday Reviews: Molly Gloss's "Interlocking Pieces"
Cover by Peter R. Kruzan
Molly Gloss was born on November 20, 1944.
In 2001, Gloss's novel, Wild Life received the James Tiptree Jr. Memorial Award. Her story "The Grinnell Method" won the Theodore Sturgeon Memorial Award in 2013. Her short story "Labming Season" was nominated for both the Hugo Award and the Nebula Award.
"Interlocking Pieces" was Gloss's first professionally published short story, appearing in Terry Carr's anthology Universe 14 in 1984. Gardner Dozois selected the story for inclusion in The Year's Best Science Fiction: Second Annual Collection and in 1993, Ursula K. Le Guin and Brian Attebery included it in The Norton Book of Science Fiction: North American Science Fiction, 1960-1990. John Kessel and James Patrick Kelly also reprinted the story in their 2009 anthology The Secret History of Science Fiction.
There are numerous stories which start with the protagonist waking up in a hospital and neither they nor the reader knowing their situation. Although "Interlocking Pieces" seems to open this way, it quickly becomes apparent that Teo, the patient, knows exactly who she is, where she is, and why she is there. It is only the reader who slowly gathers the detail that Teo is a government minister who is in the hospital awaiting a cerebellum transplant.
As a government employee, it is clear that Teo lives in a society in which she can claim perks that don't exist for most of the citizens. One of these is the be bumped up the list for a cerebellum transplant. However, Gloss is intent on showing that for all her privilege, Teo is still a person. When her doctors refuse to give her any information about the donor, she sneaks out of her hospital room, manages to find a computer she can access, and learns the identity. Furthermore, she finds him so she can meet him and get to know the person who is giving up his life for her.
The story is a reminder that people are human and feel the need to make a human connection. Even more, it is a look at the debt owed by an organ done to the person who has given up their life in order that the done can thrive and live a better life in the future. It is necessary to Teo not only that she knows who gave his life for her, but something about the person so she can pay tribute to him once her surgery has been complete.
Reprint reviewed in the anthology The Secret History of Science Fiction, edited by James Patrick Kelly & John Kessel, Tachyon Publications, 2009.
---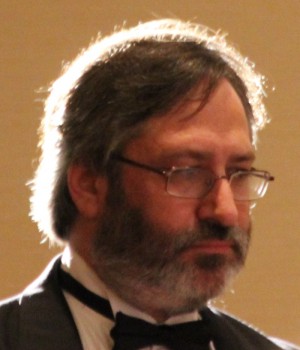 Steven H Silver is a sixteen-time Hugo Award nominee and was the publisher of the Hugo-nominated fanzine Argentus as well as the editor and publisher of ISFiC Press for 8 years. He has also edited books for DAW and NESFA Press. He began publishing short fiction in 2008 and his most recently published story is "Webinar: Web Sites" in The Tangled Web. Steven has chaired the first Midwest Construction, Windycon three times, and the SFWA Nebula Conference 6 times, as well as serving as the Event Coordinator for SFWA. He was programming chair for Chicon 2000 and Vice Chair of Chicon 7.